AIRWAY MANAGEMENT IN A PATIENT WITH AN INCIDENTAL FINDING OF VALLECULAR CYST DURING INDUCTION OF GENERAL ANESTHESIA
Abstract
Vallecular cysts are benign retention cysts of the minor salivary glands and the most common site is the lingual surface of epiglottis, which causes distortion to the epiglottis when increased in size and eventually fill the vallecular that can block the laryngeal inlet causing severe respiratory distress. Although not common this is a potentially dangerous condition that causes stridor and this has been associated with sudden airway obstruction resulting to death.  This is a case of a 9-day old male neonate referred from General Surgery as a direct to Operating Room case due to imperforate anus. He is full term, delivered normally via vaginal delivery with a birth weight of 3kg. Upon administration of general anesthesia, the vallecular cyst was initially identified and during the PACU stay of the patient, stridor was noted after extubation, which resulted reintubation to stabilize him. Appropriate referral was made and a confirmed diagnosis of vallecular cyst was made. Patient then underwent marsupialization of the cyst. In conclusion, the presence of vallecular cysts poses a challenge to anesthesiologists especially on incidental findings during the administration of general anesthesia. They must be familiar with the algorithms of care for patients with vallecular cysts and should have necessary skills in identifying signs of distress to avoid unfavorable circumstances and demise.
Keywords:
Airway Management, Vallecular Cyst, General Anesthesia
Downloads
Download data is not yet available.
References
Al Abdulla, A.F. (2015) Congenital Vallecular Cyst Causing Airway Compromise in a 2-Month-Old Girl. Hindawi: Case Reports in Medicine. Retrieved from: https://www.hindawi.com/journals/crim/2015/975859/
Aziz, A.A., Abdullah, A.F. & Ahmad, R.A.R.L. (2010) Two Cases of Congenital Vallecular Cyst: A Reminder of the Potentially Fatal Cause of Upper Airway Obstruction in Infants. The Malaysian Journal of Medical Sciences. 17(3) pp: 68–73.
Batra, U. B., Kale, S. & Malik, A. (2012). Anaesthetic management of an infant with vallecular cyst: A challenging situation. Indian Journal of Anaesthesia, 56(4) pp:423-425.
Cheng, K. S., Ng, J. Li, H. & Hartigan, P. M. (2002). Vallecular cyst and laryngomalacia in infants: Report of six cases and airway management. Anesthesia & Analgesia, 95(5) pp:1248-1250
Coban, K., Bas, C. & Aydin, E. (2018) Vallecular Cyst in a 1 Month Old Infant. Journal of Otolaryngology Research. (1)1.
Gangwar, A., Kuchhai, V. & Srivastava, P. (2016) A Rare Case of Vallecular Cyst. International Journal of Advanced & Integrated Medical Sciences. 1(2) pp:88-90.
Goel, N., Bhardwaj, N., Gupta, A. & Gowtham, K. (2018) Giant vallecular cyst excision in infant: Should we proceed without a definite airway? Saudi Journal of Anesthesia. 12(4) pp: 647-649.
Gogia, S., Agarwal, S.K. & Agarwal, A. (2014) Vallecular cyst in neonates: case series-a clinicosurgical insight, Case Reports in Otolaryngology. 2014(764860)
Kothandan, H., Ho, V.K., Chan, Y.M. & Wong, T. (2013) Difficult intubation in a patient with vallecular cyst. Singapore Medical Journal; 54(3) pp:e62-e65.
Lauro, H. V. (2017). Congenital cysts involving airway (vallecular cyst, lingual thyroglossal duct cyst). Clinical Pain Advisor. Retrieved from https://www.clinicalpainadvisor.com/home/decision-support-in-medicine/anesthesiology/congenital-cysts-involving-airway-vallecular-cyst-lingual-thyroglossal-duct-cyst/
Leibowitz, J.M., Smith, L.P., Cohen, M.A., Dunhan, B., Guttenberg, M. & Elden, L.M. (2011) Diagnosis and treatment of pediatric vallecular cysts and pseudocysts. International Journal of Pediatric Otorhinolaryngology, 75(7) pp:899-904.
Mulcahy, CF, Reddy, SK, Wikner, EE & Mudd, PA. (2017) Neonatal airway anomaly: vallecular cyst. BMJ Case Reports. Retrieved from: https://casereports.bmj.com/content/2017/bcr-2017-223082
Namshikar, V. N., Dukle, N. V. & Sukhthanker, D. S. (2016). Anesthetic management of vallecular cyst excision in an infant: An airway challenge. Saudi Journal of Anaesthesia, 10(3) pp:356–358.
Namshikar, V.N., Dukle, N.V. & Sukhthanker, D.S. (2016) Anesthetic management of vallecular cyst excision in an infant: An airway challenge. Saudi Journal of Anaesthesia. 10(3) pp:356–358.
Nolder, A.R. & Richter, G.T. (2015) The infant with noisy breathing. Current Treatment Options in Pediatrics, 1(3) pp: 224–233.
Oelsen, J.M., Hewett, K.M., Discolo, C.M., & Jackson, B.F. (2018) Congenital vallecular cyst as a cause of neonatal stridor and apnea. Pediatric Emergency Care. 34(8) pp:152-154.
Parelkar, S.V., Patel, J.L., Sanghvi, B.V., Joshi, P.B., Sahoo, S.K., Sampat, N., Oak, S.N., & Sathe, N. (2012) An Unusual Presentation of Vallecular Cyst with near Fatal Respiratory Distress and Management Using Conventional Laparoscopic Instruments. Journal of Surgical Technique & Case Report. 4(2) pp:118–120.
Rodríguez, H., Cuestas, G. & Solernou, V. (2015) Quiste de valléculacongénitoen un lactante. Acta Otorrinolaringologica Española; 66(1) pp: 59–60.
Torer, B., Cetinkaya, B., Yilmaz, S., Yilmazer, C., Gulcan, H. (2015) Upper Airway Obstruction in a Newborn with Vallecular Cyst. Journal of Neonatal Surgery. 4(4) pp:45.
Torres, O., Tena, N.M., Murray, B., Sarkar, A. (2017) Novel starch based emulsion gels and emulsion microgel particles: Design, structure and rheology, Eselvier; 178(15) pp:86-94
Tsai, Y.T., Lee, L.A., Fang, T.J. & Li, H.Y. (2013) Treatment of vallecular cysts in infants with and without coexisting laryngomalacia using endoscopic laser marsupialization: fifteen-year experience at a single-center. International Journal of Pediatric Otorhinolaryngoly, 77(3) pp:424-428.
Zamfir-Chiru-Anton, A. & Gheorghe, D.C. (2016) Vallecular cysts in clinical practice: report of two cases. Journal of Medicine and Life, 9(3) pp:288–290.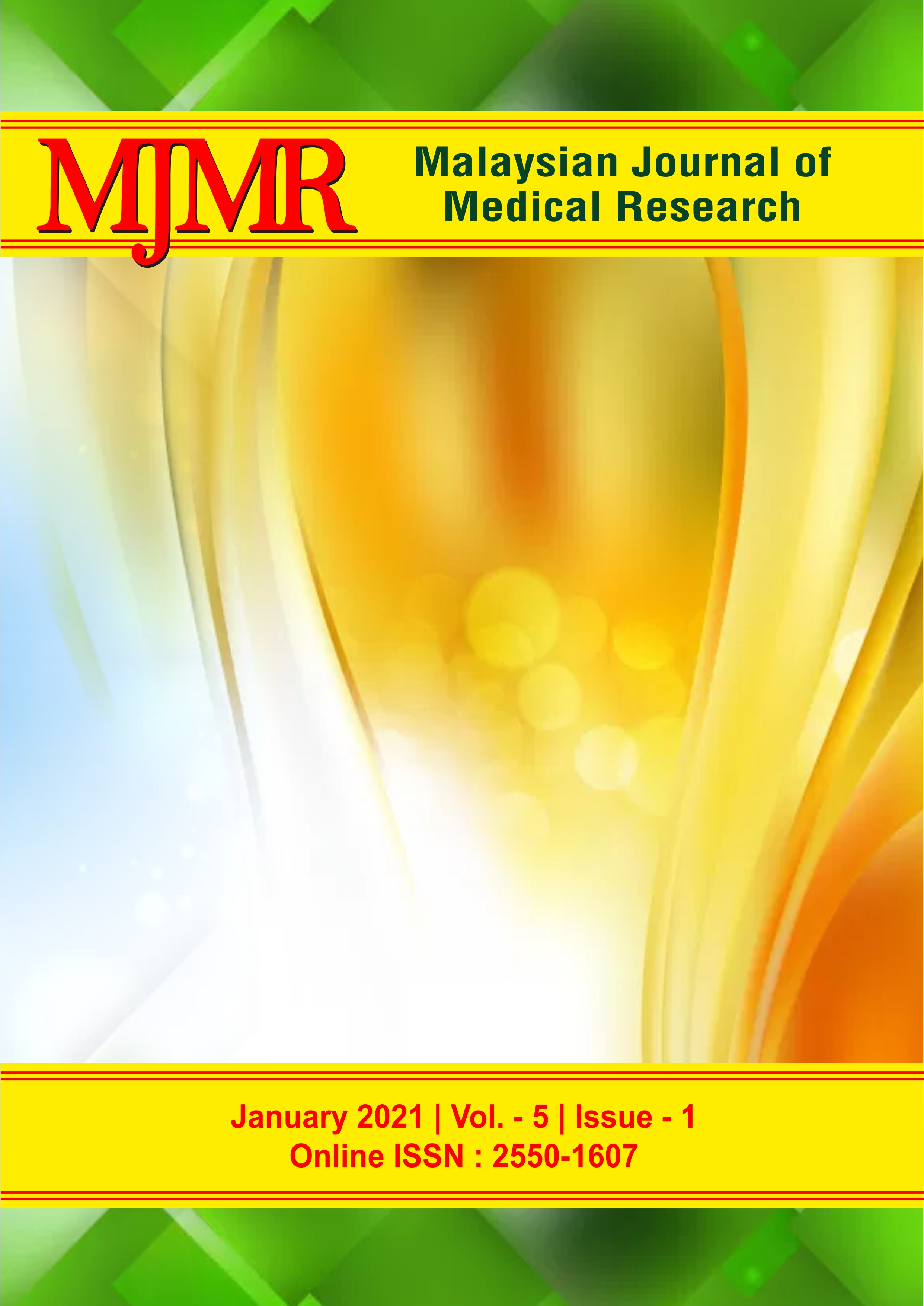 How to Cite
Io Camille D. Garcia, & Mark Gilbert S. Milallos. (2021). AIRWAY MANAGEMENT IN A PATIENT WITH AN INCIDENTAL FINDING OF VALLECULAR CYST DURING INDUCTION OF GENERAL ANESTHESIA. Malaysian Journal of Medical Research (MJMR), 5(1). Retrieved from https://ejournal.lucp.net/index.php/mjmr/article/view/1262