DISASTER PREPAREDNESS AWARENESS AMONG CRITICAL CARE NURSES AT A TERTIARY HOSPITAL IN PAHANG, MALAYSIA
Abstract
Background:Disaster preparedness should be taken seriously as preventive measures and it is one of the elements in the disaster risk reduction framework but the status the country is unknown. Methods and materials: A cross-sectional study was done using Disaster Preparedness Evaluation Tool to investigate the relationship between factors contributing to disaster preparednessof on 125 critical care nurses toward their preparedness in a disaster. Findings:Thefacility where the nurses workshowed significant contributionto disaster preparedness (p <0.05). Variables that shows strong relationship and positively correlated are knowledge (r = 0.654, p = 0.001), skills (r = 0.727, p = 0.001) and perception:  r = 0.737, p = 0.001). Discussion: The finding is similar to (Tzeng et al., 2016) that found disaster preparedness to have a significant association with participants' educational level, emergency or intensive care experience, number of years in nursing and their background. Disaster experience was found to be influencing the willingness to respond (Goodhue, et al., 2012; Baack and Alfred, 2013). (Sonneborn, Miller, Head, and Cross 2018) also emphasized the nurses' required disaster training annually.Conclusion:Overall, there was a significant association between the level of knowledge, skills and perception toward disaster preparedness with the level of disaster preparedness. Training is needed to create awareness and preparedness.
Keywords:
Disaster Preparedness, Critical Care Nurses, Awareness
Downloads
Download data is not yet available.
References
Ahayalimudin, N.A., & Osman, N.N.S., (2016) Disaster management: Emergency nursing and medical personnel's knowledge, attitude and practices of the East Coast region hospitals of Malaysia. Australasian Emergency Nursing Journal, 19(4), pp:1-7.
Al Khalaileh, M.A., Bond, E., Alasad, J,A., (2012) Jordanian nurses' perceptions of their preparedness for disaster management. International Emergency Nursing, 20(1), pp:14-23.
Al-Ali, N., Abu Ibaid, A.H., (2015) Health-care providers' perception of knowledge, skills, and preparedness for disaster management in primary health-care centres in Jordan. Eastern Mediterranean Health Journal, 21(10), pp:713-721.
Alfred, D., Chilton, J., Connor, D., Deal, B., Fountain, R., Hensarling, J., & Klotz, L., (2015) Preparing for disasters: Education and management strategies explored. Nurse Education in Practice, 15(1), pp:82-89.
Alzahrani, F., & Kyratsis, Y. (2017), Emergency nurse disaster preparedness during mass gatherings: A cross-sectional survey of emergency nurses' perceptions of hospitals in Mecca, Saudi Arabia. BMJ Open, 7, e013563.
Baack, S., & Alfred, D. (2013), Nurses' preparedness and perceived competence in managing disasters. Journal of Nursing Scholarship, 45(3), pp:281-287.
Belfroid, E., Timen, A., van Steenbergen, J.E., Huis, A., & Hulscher, M.E., (2017), Which recommendations are considered essential for outbreak preparedness by first responders? BMC Infectious Diseases, 17(1), pp:95.
Corrigan, E., Samrasinghe, I. (2012), Disaster preparedness in an Australian urban trauma center: Staff knowledge and perceptions. Prehospital and Disaster Medicine, 27(5), pp: 432-438.
Goodhue, C.J., Burke, R.V., Ferrer, R.R., Chokshi, N.K., Dorey, F., & Upperman, J.S. (2012), Willingness to respond in a disaster: A pediatric nurse practitioner national survey. Journal of Pediatric Health Care, 26(4), e7-20.
Hammad, K.S., Arbon, P., Gebbie, K.M. (2010). Emergency nurses and disaster response: An exploration of South Australian emergency nurses' knowledge and perceptions of their role in disaster response. Australasian Emergency Nursing Journal, 14(2), pp: 87-94.
Henderson,J.C. (2010), Sharia-Compliant Hotels, Tourism and Hospitality Research, 2010(10) pp: 246-254
International Strategy for Disaster Reduction. (2003). UN-ISDR: Terminology on disaster risk reduction (working document). Retrieved from http://www.adrc.asia/publications/terminology/top.htm
Jorgensen, A.M., Mendoza, G.J., Henderson, J.L. (2010), Emergency preparedness and disaster response core competency set for perinatal and neonatal nurses. Journal of Obstetric, Gynecologic& Neonatal Nursing, 39(4), pp: 450-467.
Labrague, LJ., Yboa, BC., McEnroe-Petitte, DM., Lobrino, LR., & Brennan, MG2016, Disaster preparedness in Philippine nurses. Journal of Nursing Scholarship, 48(1), pp: 98-105.
Lim, G.H., Lim, B.L., & Vasu, A., (2013), Survey of factors affecting health care workers' perception towards institutional and individual disaster preparedness. Prehospital and Disaster Medicine, 28(4), pp: 353-358.
Sangkala, M.S., Gerdtz, M.F. (2018), Disaster preparedness and learning needs among community health nurse coordinators in South Sulawesi Indonesia. Australasian Emergency Care, 21(1), pp:23-30.
Sonneborn, O., Miller, C., Head, L., Cross, R., 2018, Disaster education and preparedness in the acute care setting: A cross-sectional survey of operating theatre nurse's disaster knowledge and education. Nurse Education Today, 65, pp:23-29.
Tzeng, W., Feng, H., Cheng, WT., Lin, CH., Chiang, LC., Pai, L., & Lee, CL2016, Readiness of hospital nurses for disaster responses in Taiwan: A cross-sectional study. Nurse Education Today, 47, pp: 37-42.
Usher, K., Mills, J., West, C., Casella, E., Dorji, P., Guo, A., Woods, C2015, Cross-sectional survey of the disaster preparedness of nurses across the Asia-Pacific region. Nursing Health & Science, 17(4), pp: 434-443.
Yan, YE., Turale, S., Stone, T., &Petrini, M2015, Disaster nursing skills, knowledge and attitudes required in earthquake relief: Implications for nursing education. International Nursing Review, 62(3), pp: 351-359.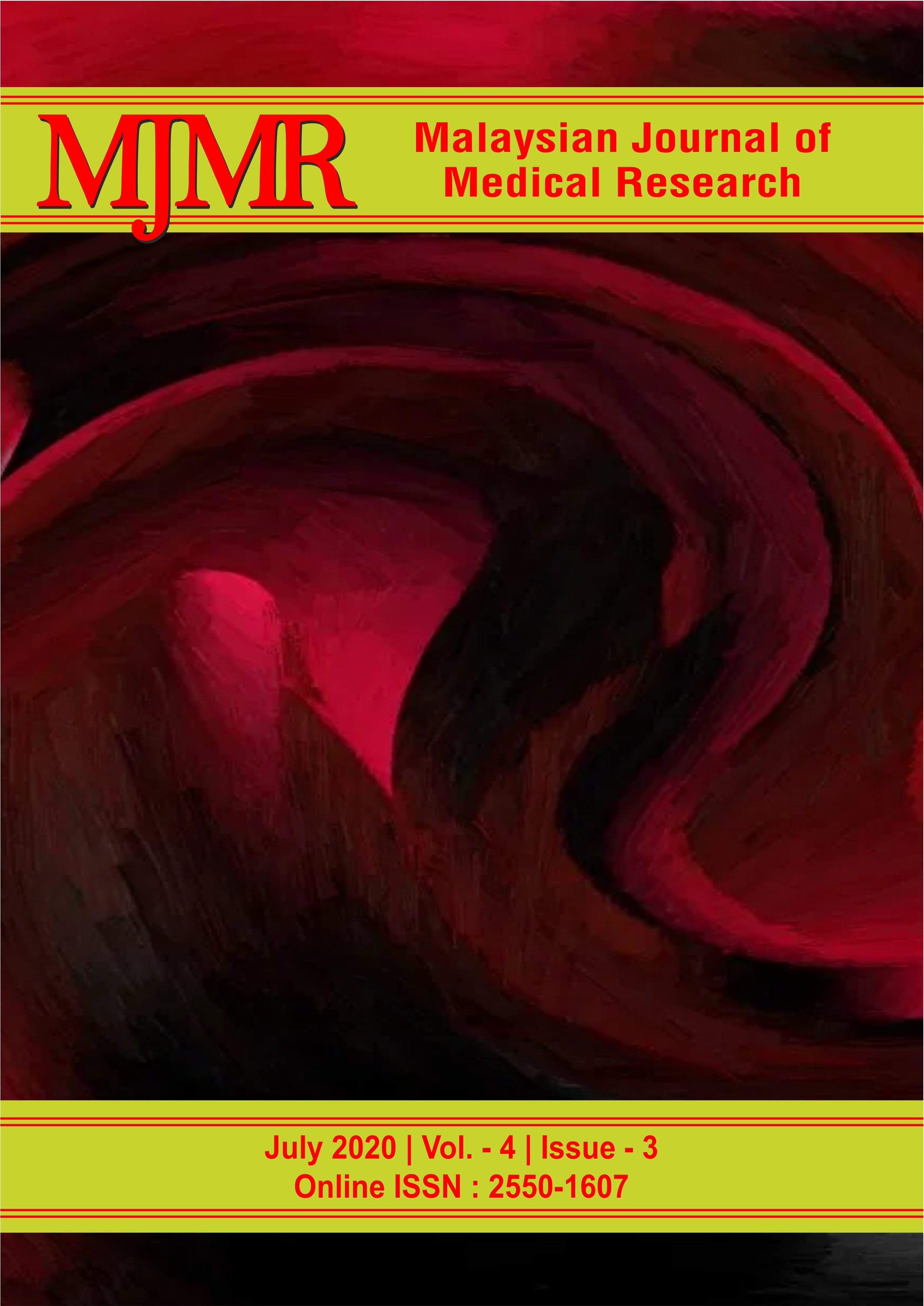 How to Cite
Nurul Aqila Azali, & Salizar Mohamed Ludin. (2020). DISASTER PREPAREDNESS AWARENESS AMONG CRITICAL CARE NURSES AT A TERTIARY HOSPITAL IN PAHANG, MALAYSIA. Malaysian Journal of Medical Research (MJMR), 4(3), 26-34. https://doi.org/10.31674/mjmr.2020.v04i03.005