A STUDY TO ASSESS THE ILLNESS PERCEPTION AMONG POST MYOCARDIAL INFARCTION PATIENTS IN CARDIOLOGY WARDS OF TERTIARY CARE HOSPITALS KOLKATA
Abstract
Background: Illness perceptions are the organized cognitive representations or beliefs that patients have about their illness and medical conditions. Objectives: The objective was to assess the illness perception of Myocardial Infarction patients. Research Method: A descriptive survey design was adopted to assess the illness perception among patients with Myocardial Infarction at Cardiology Wards of Tertiary Care Hospitals, Kolkata. The conceptual framework was based on Leventhal's Self-regulatory model of illness cognition. Hundred (100) patients were recruited by non-probability purposive sampling technique. A semi-structured interview schedule and IPQ-R (by Moss-Morris, Weinman, Petrie, Horne, Cameron & Buick, 2002) were applied for collection of data. Results: Result showed that majority of MI patients were male (80%), married (76%), rural habitat (62%) and age group of 50-59 years (48%). 99% patients perceived chest pain as related symptom. Among seven areas, perception in treatment control area was found high (10.50±1.40). Significant positive relationship was found among Timeline (acute / chronic) and Timeline cyclical; Consequences and Personal control, Illness coherence, Emotional representations; Personal control and Illness coherence, Emotional representations; Illness coherence and Emotional representations. There was significant association between Illness perception and Habitat, Educational status, Per capita income. Conclusion: In this study positive perception was found in Treatment control area. This study has important implication in nursing service and research. Further studies are required in large number of samples for generalization.
Keywords:
Illness Perception, Myocardial Infarction, Leventhal's Self-regulatory Model, IPQ-R
Downloads
Download data is not yet available.
References
De Luca G., Suryapranata, H., Ottervanger, J.P., Antman, E.M. (2019). Time delay to treatment and mortality in primary angioplasty for acute myocardial infarction: every minute of delay counts. Circulation.109(10), pp: 1223-1225
Huber, D., Henriksson, R., Jakobsson, S., Stenfors, N. and Mooe, T. (2019). Implementation of a telephone-based secondary preventive intervention after acute coronary syndrome (ACS): participation rate, reasons for non-participation and 1-year survival. Trials.17(85).
Moss-Morris, R., Weinman, J., Petrie, K.J., Horne, R., Cameron, L.D. and Buick, D. (2002). The Revised Illness Perception Questionnaire (IPQ-R), Psychology and Health, 17(1), pp. 1-16
Paryad, E., Balasi, L., Kazemnejad, E. and Booraki, S. (2017). Predictors of Illness Perception in Patients Undergoing Coronary Artery Bypass Surgery. Journal of Cardiovascular Disease Research, 8(1), pp.16-18.
Petrie, K., Jago, L. and Devcich, D. (2007). The role of illness perceptions in patients with medical conditions. Current Opinion in Psychiatry, 20(2), pp.163-167.
Pramila R. (2013). Assess the Illness perception among post-myocardial infarction patients. Indian Journal of Surgical Nursing, 2(1), pp. 5-11.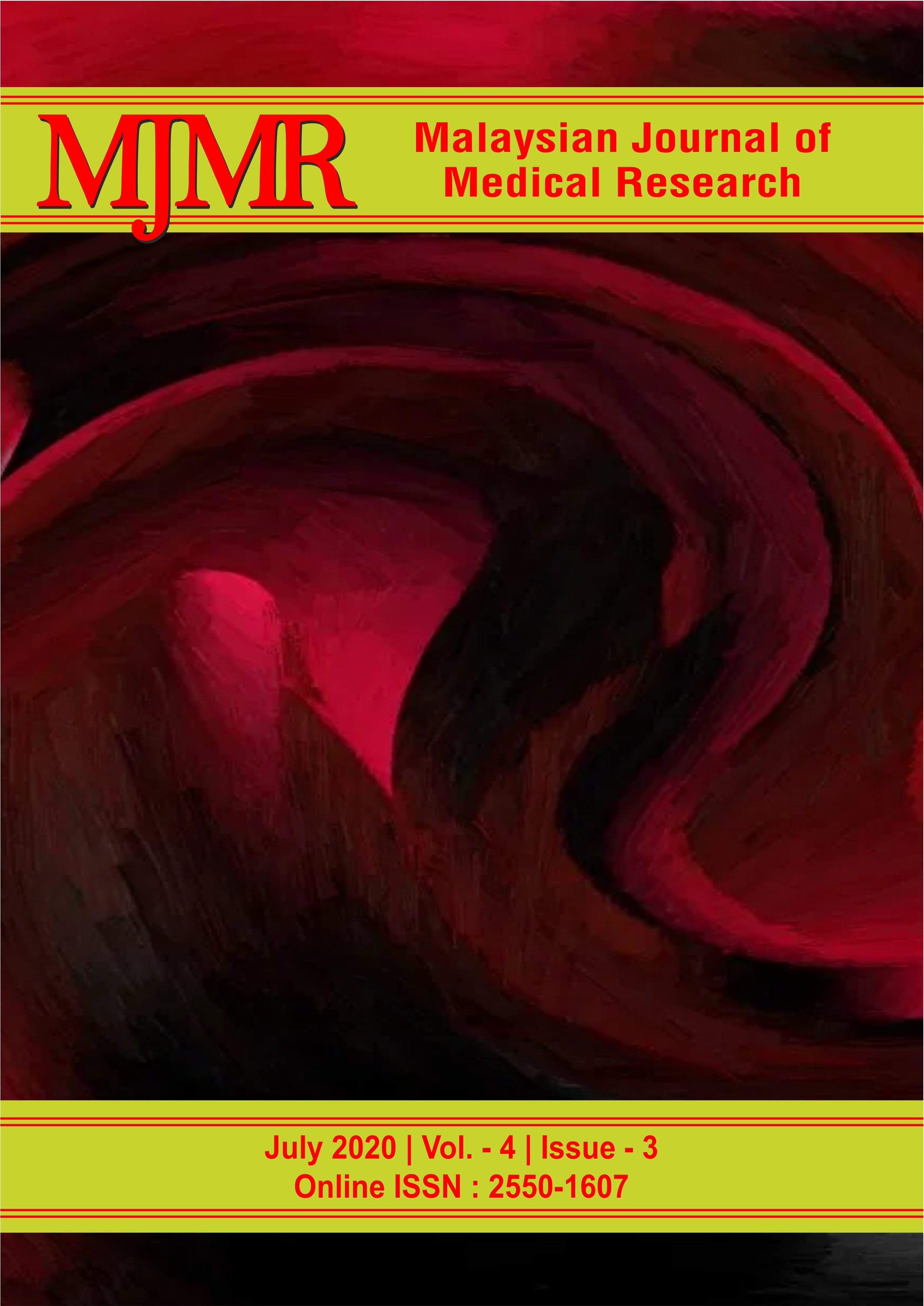 How to Cite
Subhra Chakraborty, & Subhra Aditya. (2020). A STUDY TO ASSESS THE ILLNESS PERCEPTION AMONG POST MYOCARDIAL INFARCTION PATIENTS IN CARDIOLOGY WARDS OF TERTIARY CARE HOSPITALS KOLKATA. Malaysian Journal of Medical Research (MJMR), 4(3), 55-60. https://doi.org/10.31674/mjmr.2020.v04i03.009