RADIOACTIVE INJECTIONS FOR CHRONIC SWOLLEN LEGS: CASE SERIES OF BILATERAL LYMPHOEDEMA
Abstract
Lymphoedema is a chronic condition due to lymphatic drainage abnormality causing swollen limbs. Although less-known, lymphoscintigraphy or evaluation of lymphatic system following radioactive injections is a relatively simple and valuable functional imaging. This case series report 3 cases of bilateral lower limb lymphoedema in order to highlight the usefulness and complementary diagnostic role of lymphoscintigraphy as well as clinical characteristics and scintigraphy findings of these patients. They were obese, but none had any lower limb trauma or documented deep vein thrombosis. Clinical history and manifestations were not suggestive of filarial infections. Case 1; 61 years old male with bilateral chronic swollen legs and underlying liver cirrhosis demonstrated abnormal tracer progression with bilateral mild diffuse dermal backflow on scintigraphy. Case 2; 43 years old male with a prominent right leg swelling and history of cellulitis demonstrated scintigraphically abnormal tracer progression in right leg and bilateral dermal backflow with popliteal nodes. Case 3; 46 years old male with bilateral chronic swollen legs and history of cellulitis demonstrated abnormal tracer progression in left leg with contralateral right dermal backflow on scintigraphy. All patients had revealed scintigraphy findings suggestive of bilateral lower limb lymphoedema.
Keywords:
Swollen Legs, Lymphoedema, Lymphoscintigraphy, Radioactive
Downloads
Download data is not yet available.
References
Al-Niaimi, F. & Cox, N. (2009) Cellulitis and lymphoedema: A vicious cycle. Journal of Lymphoedema, 4(2) pp:38-42
Barral, C.M., Stehling, A.P., da Silva, A.C.M., Castro, A.C., Ivo, C.S., Korman, D.E., Couto, E.M., Magalhães, L.N., Carvalho, L.A., Félix, M.T.M., Machado, F.S. (2013) Lymphoscintigraphy of the lower limbs: A retrospective study of 154 cases from March 2009 to June 2010. Revista Médica de Minas Gerais, 23(2) pp: 182-192.
Greene, A.K., Grant, F.D. & Maclellan, R.A. (2015) Obesity-induced Lymphedema Nonreversible following Massive Weight Loss. Revista Médica de Minas Gerais, 3(6): e426
Heinig, B., Lotti, T., Tchernev, G. & Wollina, U. (2017) Hereditary Lymphedema of the Leg - A Case Report. Open Access Macedonian Journal of Medical Sciences, 5(4) pp:451-453.
Hennessy, M.M., O'Brien, G.C. (2017) Gross-dependent lower limb lymphoedema. Clinical Case Reports, 5(2) pp: 150–153.
Kalawat, T.C., Chittoria, R.K., Reddy, P.K., Suneetha, B., Narayan, R. & Ravi, P. (2012) Role of lymphoscintigraphy in diagnosis and management of patients with leg swelling of unclear etiology. Indian Journal of Nuclear Medicine, 27(4) pp:226–230.
Lam, M.C., Luk, W.H. & Tse, K.H. (2014) Lymphoscintigraphy in the evaluation of lower extremity lymphedema: Local experience. Hong Kong Medical Journal, 20(2) pp:121-125.
Mehrara, B.J. & Greene, A.K. (2014) Lymphedema and Obesity: Is There a Link? Plastic and Reconstructive Surgery., 134(1):154e-160e
.
Nganga, E.C., Gitau, S. & Makhdomi, K. (2018) Lower limb lymphoscintigraphy patterns among patients with lower limb lymphedema: A pictorial essay. Clinical and Translational Imaging, 6 pp:135–143.
Sadeghi, R., Kazemzadeh, G. & Keshtgar, M. (2010) Diagnostic application of lymphoscintigraphy in the management of lymphoedema. Hellenic Journal of Nuclear Medicine, 13(1) pp: 6-10
Szuba, A. & Rockson, S.G. (1998) Lymphedema: classification, diagnosis and therapy. Vascular Medicine, 3(2) pp:145–156
Yuan, Z., Chen, L., Luo, Q., Zhu, J., Lu, H. & Zhu, R. (2006) The role of lymphoscintigraphy in extremity lymphedema. Annals of Nuclear Medicine, 20(5) pp:341-344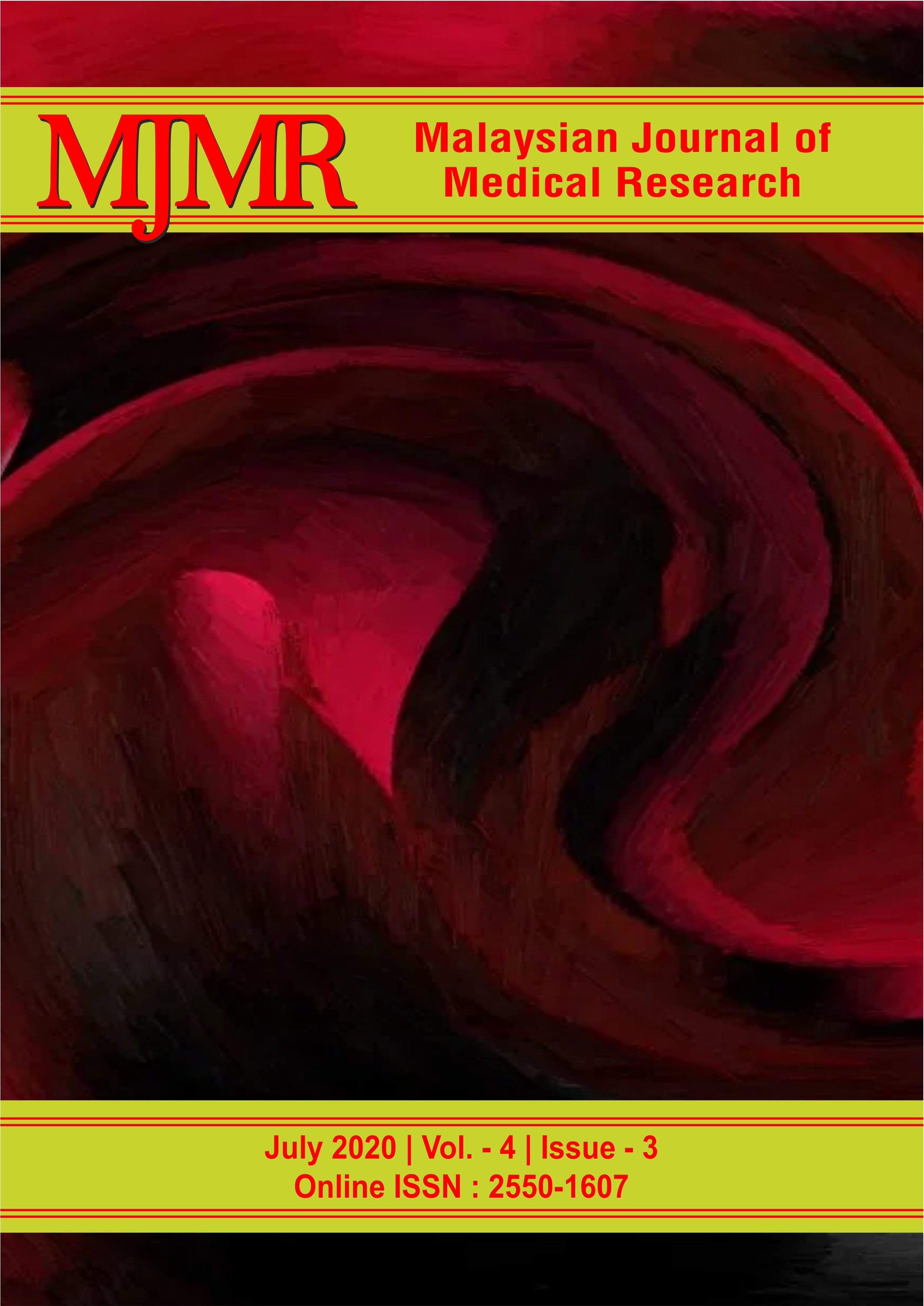 How to Cite
Ahmad Zaid Zanial. (2020). RADIOACTIVE INJECTIONS FOR CHRONIC SWOLLEN LEGS: CASE SERIES OF BILATERAL LYMPHOEDEMA. Malaysian Journal of Medical Research (MJMR), 4(3), 1-5. https://doi.org/10.31674/mjmr.2020.v04i03.001