EFFECT OF CERTAIN INDIGENOUS DRUGS ON DIARRHEA – A CLINICAL TRIAL
Keywords:
Diarrhea, Balatisara, Indigenous drugs, Clinical Trial
Abstract
Diarrheal diseases constitute one of the leading causes of morbidity and mortality in children world wide, causing for 9 per cent of all deaths among children under age 5 in 2015. This translates to over 1,400 young children dying each day, or about 526,000 children a year, (UNICEF 2016). Most of the diarrheal episodes are self limited. All patients with diarrhea require fluid and electrolyte therapy a few need other non specific support and some may benefit from antimicrobial therapy. But the antimicrobials and antibiotics are not safe. Treatment of Diarrhea or 'Balatisara' has been described in different ayurvedic classics and various indigenous drugs have been recommended for the said disease. Research works have been undertaken on various compositions with satisfactory results. The present study has been carried out to evaluate the efficacy of 'Bilvadyavaleha' (the indigenous drug compound stated by Bangasen) through assessment of clinical potentiality and laboratory findings on scientific parameters in diarrhea or 'atisara' of children.
Downloads
Download data is not yet available.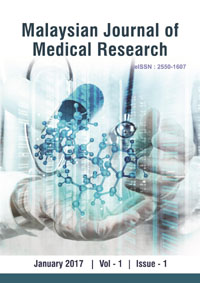 Downloads
How to Cite
Sudipta Poddar. (2017). EFFECT OF CERTAIN INDIGENOUS DRUGS ON DIARRHEA – A CLINICAL TRIAL . Malaysian Journal of Medical Research, 1(1), 8-13. Retrieved from https://ejournal.lucp.net/index.php/mjmr/article/view/101