MANAGERS' PERSPECTIVE TOWARDS EMPLOYEES' GENERATIONAL DIFFERENCES IN LUXOR HOTELS
Keywords:
Generational differences, Managers' perspectives, Employees, Luxor hotels
Abstract
Luxor hospitality workplace consists of three generations of employees (Baby Boomers, Generation X, and Generation Y). This study aims at investigating managers' perspectives on issues of employees' generational differences in Luxor hospitality workplace. It targets all 5-star hotels in the city of Luxor. Semi-structured interviews are undertaken with 38 departmental managers and assistant managers (the food and beverage department, room division and human resource department). The managers' perceptions (knowledge and experiences) are required to deeply highlight the generational differences among the employees in their expectations, attitudes, and behaviors in eight dimensions. The study shows that Luxor hoteliers face different expectations, attitudes, and behaviors among their employees. These differences are connected to the generational differences of employees indicating the fact that each generation has different expectations, attitudes, and behavior in the workplace. 
Downloads
Download data is not yet available.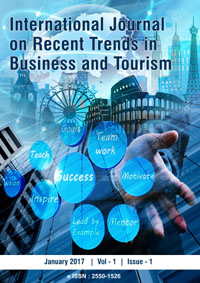 Downloads
How to Cite
Abuelhassan E. Abuelhassan, Yousery N. M. K. Elsayed, Dalia M. Soliman, Marziyeh Farivar, & Mohamed A. A. Abdelgawwad. (2017). MANAGERS' PERSPECTIVE TOWARDS EMPLOYEES' GENERATIONAL DIFFERENCES IN LUXOR HOTELS. International Journal on Recent Trends in Business and Tourism, 1(1), 32-41. Retrieved from https://ejournal.lucp.net/index.php/ijrtbt/article/view/293