CONSUMER BUYING BEHAVIOR ON E-MARKETING AND ITS OPERATIONS: A CASE STUDY ON AMAZON, INDIA
Abstract
The continuous improvement of online business and increasing rate of internet access and the use of smartphones in emerging markets have been the main handler for e-commerce industry. Online shopping is a process of purchasing and selling products and services through Internet. It is basically a Web Rooming where consumers can purchase the products with just a click of mouse, using internet. It is a growing technology and it is changing the Business Model and Business Strategy for online marketer.
In the present study, an attempt has been made for association checking among the demographic profiles of Amazon users, analyzing their perceptions, identifying the factors which influence Amazon buyer to buy the products frequently and recognize what are the exact factors that influence highly to buy the products.
For this study, the researcher had taken few psychological factors through Rotated Component Matrix, which is the use of Factor Analysis to examine the impact of buying attitude towards online industry: Amazon. Again, Factor analysis is used to find out the high and low influencing factors that help the new marketer or entrepreneur to make a new decision strategy for market penetration.
For this study, the researcher had collected 100 samples and given a positive conclusion from the consumer view, preferences about demographic factors from the capital city of West Bengal, Kolkata, India. The result will help the online marketers to design their marketing strategies, innovative ideas, preference-factors regarding Amazon India and provide significant input to Decision Support System.
Keywords:
Demographic Study, Customer Preferences, Start-Up Business, Buying Behavior, DSS
Downloads
Download data is not yet available.
References
Dhevika, V.P.T., Latasri, O.T.V. & Karmugil, S. (2014). Factors Affecting Online Shopping of Customers. Research Journal' Journal of Marketing, 4(2), pp 220-235.
Gangeshwer, D.K. (2013). E-Commerce or Internet Marketing: A Business Review from Indian Context. International Journal of u- and e-Service, Science and Technology, 6(6), pp 187-194.
Goswami, A., Baruah, P. & Borah, S. (2013). Customer Satisfaction Towards Online Shopping with Special Reference to Teenage Group of Jorhat Town. PARIPEX - Indian Journal of Research, 3(4), pp 239-241.
Gurleen, K. (2012). Consumers Perception Towards Online Shopping- The Case of Punjab. International Journal of Management & Information Technology, 1(1), pages 6.
Hyde, A.M., Jain, D., Verma, S.K. & Jain, A. (2017). A Study of Exploratory Buying Behavior Tendencies in FMCG Sector. International Journal on Recent Trends in Business and Tourism (IJRTBT), 1(2), pp 16-27.
Mitra, A. (2013). E-Commerce in India: A Review. International Journal of Marketing, Financial Services & Management Research, 2(2), pp 126-132.
Mohanapriya, S. & Anusuya, D. (2014). A Study on Customer Preferences and Satisfaction Towards Selected Online Websites with Special Reference to Coimbatore City. PARIPEX-Indian Journal of Research, 3(11), pp 45-46.
Pant, A. (2014). An Online Shopping Change the Traditional Path of Consumer Purchasing. International Journal of Business and Management Invention, 3(3), pp 39-42.
Saravanan, S. & Brindha, D.K. (2015). A Study on Online Buying Behavior with Special Reference to Coimbatore City. International Journal of Commerce, Business and Management, 4(1), pp 988-995.
Sharma, S. & Mittal, S. (2009). Prospects of e-commerce in India. Asian Journal of Management and Research, 3(2), pp 396-408.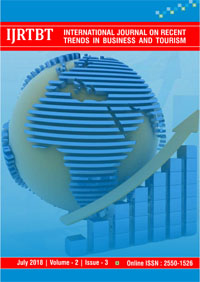 Downloads
How to Cite
Indrajit Ghosal. (2018). CONSUMER BUYING BEHAVIOR ON E-MARKETING AND ITS OPERATIONS: A CASE STUDY ON AMAZON, INDIA. International Journal on Recent Trends in Business and Tourism (IJRTBT), 2(3), 26-32. Retrieved from https://ejournal.lucp.net/index.php/ijrtbt/article/view/189
License
Copyright (c) 2018 International Journal on Recent Trends in Business and Tourism (IJRTBT)
This work is licensed under a Creative Commons Attribution-NonCommercial-NoDerivatives 4.0 International License.