IMPACT OF OUTLINING FACTORS TOWARDS ONLINE GREEN PRODUCTS: AN EMPIRICAL INVESTIGATION ON CONSUMERS' AWARENESS
Abstract
The ingesting of food has a significant impact on the environment, individuals, and public health. This current study aims to investigate the personal and situational factor/factors that influence to consumer towards buying online green products. The selected factors have been chosen like Online Delivery, Flexible Payment Option, Reasonable Price with Discount, Company Branding, Availability of Products and, Rating and Review with objective to achieve success on factors liable for the acceptance of online buying green products and identify the specific factors like Flexible Payment Option, Availability of Products which influence more to change the buying attitude towards online green products of consumers. In the present study, qualitative data have been collected through a structured questionnaire from 100 respondents in and around Kolkata district. A five-point Likert Scale adopted to collect the data. Well-known statistical methods such as Factor Analysis, Regression Analysis have also been used to analyze the collected data to reach the conclusions. From the findings, the author concluded that the two variables out of six selected variables such as flexible payment option and availability of products significantly influencing the consumers' behaviour towards online purchase of eco-friendly products.
Keywords:
Eco-Friendly Products, Green Marketing, Consumers' Awareness, Emerging Market, Factor Analytic Approach, Regression Model
Downloads
Download data is not yet available.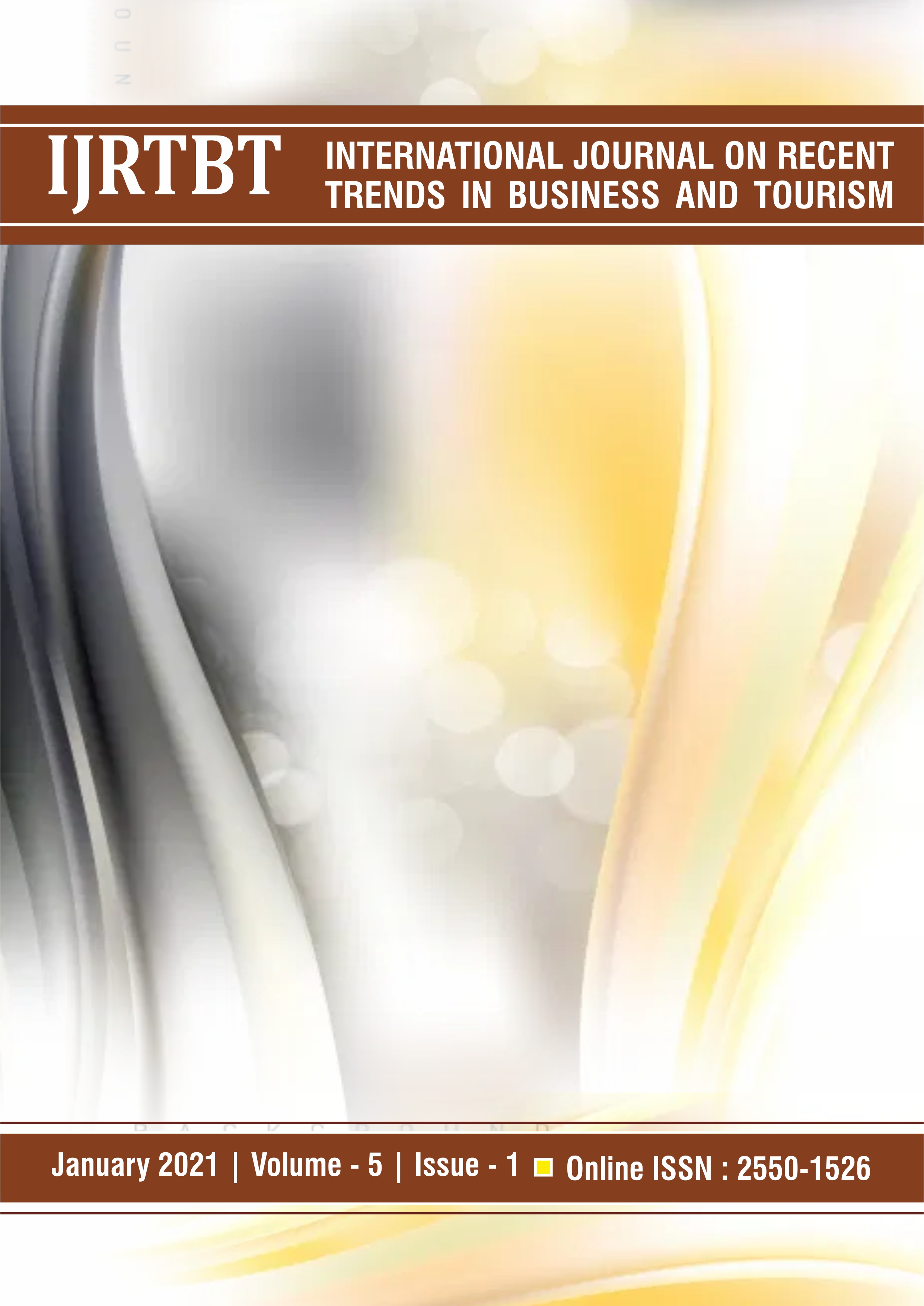 How to Cite
Indrajit Ghosal, Bijoy Gupta, Moumita Dey, & Bikram Prasad. (2021). IMPACT OF OUTLINING FACTORS TOWARDS ONLINE GREEN PRODUCTS: AN EMPIRICAL INVESTIGATION ON CONSUMERS' AWARENESS. International Journal on Recent Trends in Business and Tourism (IJRTBT), 5(1). Retrieved from https://ejournal.lucp.net/index.php/ijrtbt/article/view/1288
License
This work is licensed under a Creative Commons Attribution-NonCommercial-NoDerivatives 4.0 International License.