QUALITY OF LIFE AFTER REMARRIAGE IN OLD AGE
Abstract
To better understand the life of the couple after remarriage by exploring their experiences including doubts, fears, apprehensions, and satisfaction of their decision to remarry. It also explored similarities and differences compared to the first marriage.
The study made use of case study, a qualitative research design. Data collection was carried out for five months from February 2017 to June 2017 from the different Barangays of Iligan City, Philippines. A total of three cases were explored through a one-on-one interview which lasted for 30-45 minutes per session. Inclusion criteria include being 60 years old and above and must be remarried after the death of the previous spouse. Self-made open-ended questions focused on life after remarriage were raised during the interview.
Using qualitative thematic analysis, the three important themes that emerged from the study are the following: that remarriage can bring about (1) remarriage brings forth new found happiness, (2) effective marital performance leads to contentment in remarriage, (3) remarriage brings a lifetime companionship, (4) aging gracefully. It was found out that it is still possible to find fulfillment and better quality of life after remarriage in old age.
Keywords:
Remarriage, Widowhood, Old age, Graceful Aging, Quality of Life
Downloads
Download data is not yet available.
References
Amato, P.R. (2010). Research on Divorce: Continuing Trends and New Developments. Journal of Marriage and Family, 72(3), pp 650–666.
Bradbury T. N., Fincham F. D. & Breach S. R. H. (2000). Research on the nature and determinants of marital satisfaction: A decade in review. Journal of Marriage and the Family, 62(4), pp 964–980. 10.1111/j.1741-3737.2000.00964.x
Dee Jong Gierveld, J. & Peeters, A. (2003). The Interweaving of Repartnered Older Adults' Lives with Their Children and Siblings. Ageing & Society, 23(02), pp 187-205.
Hughes, M. E. & Waite, L. J. (2009). Marital Biography and Health at Mid-Life. Journal of Health and Social Behavior, 50(3), pp 344 -358.
James, S.L. & Shafer, K. (2012). Temporal differences in remarriage timing: Comparing divorce and widowhood. Journal of Divorce & Remarriage, 53(7), pp 543-558.
Kiecolt-Glaser, J. K., & Newton, T. L. (2001). Marriage and health: his and hers. Psychological Bulletin, 127(4), pp 472-503.
Lamatina, M. (2009). Marriage & Remarriage. NAP411 Navigating the aging Process, Senior Information and Directory. Retrieved from: https://www.nap411.com/family/family-diversity/marriage-a-remarriage
McLeod, S.A. (2008). Case study method. Simply psychology, pp.1-3. Retrieved from: http://www.simplypsychology.org/case-study.html
Pettee, K., Brach, J., Kriska, A., Boudreau, R., Richardson, C., Colbert, L., Satterfield, S., Visser, M., Harris, T., Ayonayon, H. & Newman, A., (2006). Influence of marital status on physical activity levels among older adults. Medicine & Science in Sports & Exercise, 38(3), pp 541-546.
Robinmd (2012). Coping with widowhood. Ageing gracefully. Retrieved from: https://robinmd.wordpress.com/2012/04/11/coping-with-widowhood/
Smith, K.R., Zick, C.D. & Duncan, G.J. (1991). Remarriage patterns among recent widows and widowers. Demography, 28(3), pp 361-374.
Smith, S. (1999). Family relationships in later life. Stronger marriage.org
Sutherland, A. (2014). The rise of remarriage [blog post]. Institute for Family Studies. Retrieved from: http://family-studies.org/the-rise-of-remarriage/
Umberson, D., Williams, K., Powers, D.A., Liu, H. & Needham, B. (2006). You make me sick: Marital quality and health over the life course. Journal of Health and Social Behavior, 47(1), pp 1-16.
Vinick, B. (1978). Remarriage in old age. Aging in a changing family context, 27(4), pp 359-363.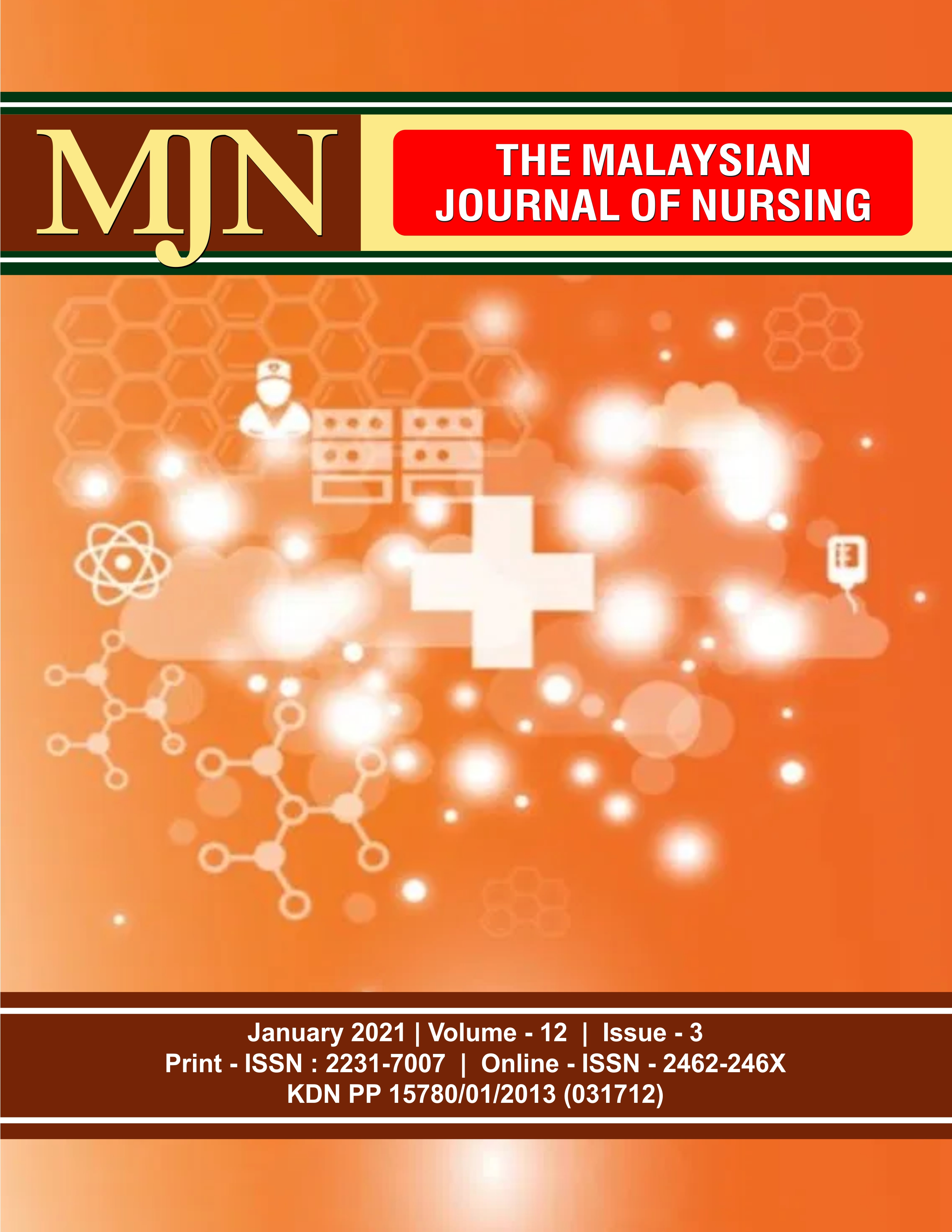 How to Cite
Abdullah Junior S. Mangarun. (2021). QUALITY OF LIFE AFTER REMARRIAGE IN OLD AGE. The Malaysian Journal of Nursing (MJN), 12(3), 88-93. https://doi.org/10.31674/mjn.2021.v12i03.010
License
This work is licensed under a Creative Commons Attribution-NonCommercial-NoDerivatives 4.0 International License.