LEVEL OF KNOWLEDGE REGARDING TUBERCULOSIS AMONG THE RESIDENTS OF AN APARTMENT IN KG PANDAN, KUALA LUMPUR
Abstract
Introduction: Tuberculosis (TB) is an infectious airborne disease caused by Mycobacterium tuberculosis which is transmitted through droplets. However, despite Tuberculosis being a curable and preventable disease, TB is a major cause of morbidity and mortality in Malaysia. Recently there had been a rise in the number of suspected TB cases in health clinics in Kg Pandan, Kuala Lumpur (Lisut, Razali & Arshad, 2017). Therefore, there is a need to know the resident's level of knowledge on Tuberculosis as this disease is a communicable disease.
Objectives: The purpose of this study is to determine the level of knowledge regarding Tuberculosis among residents of an apartment in Kg Pandan, Kuala Lumpur and to determine whether there are any significant differences between demographic variable and level of knowledge regarding TB among residents of an apartment in Kg Pandan, Kuala Lumpur.
Methodology: This is a cross sectional descriptive study on 352 residents of an apartment in Kg Pandan, Kuala Lumpur through simple random sampling. A validated 41-item questionnaire was used to determine the knowledge of TB according to causes, mode of transmission, symptoms, risk factors and prevention. Total scores range from 0 to 41.
Result: Finding showed that the participants had an overall mean score of 28.45 ± 5.18 out of a total score of 41. There are no significant differences between level of knowledge on TB and demographic variable except for level of education.
Conclusion: Findings indicated that there is a need to provide measures to create better awareness of the community especially on the mode of transmission of TB as prevention is better than cure.
Keywords:
Knowledge, Tuberculosis, Causes, Mode of Transmission, Symptoms, Risk Factors and Prevention
Downloads
Download data is not yet available.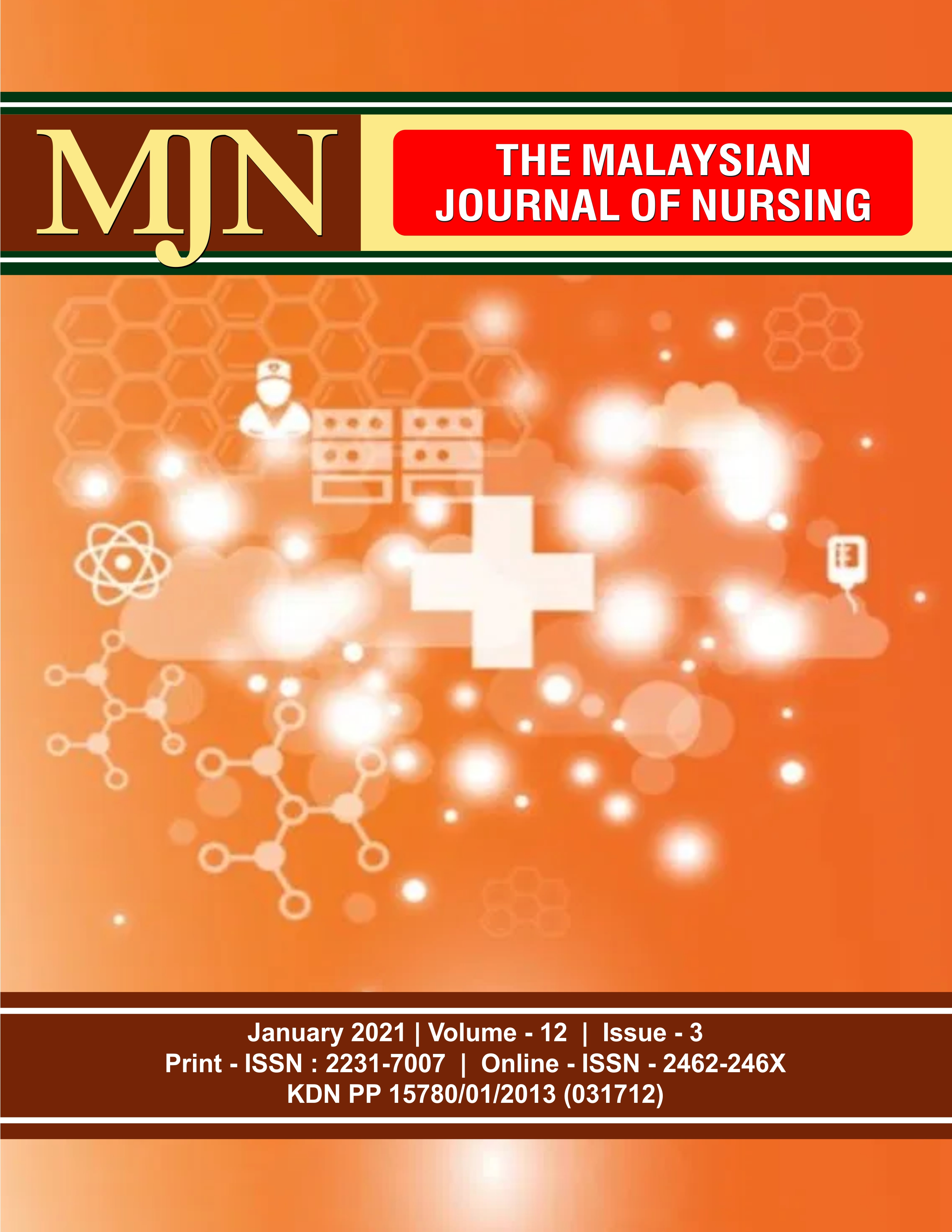 How to Cite
Lim Swee Geok, Nur Afnie Binti Shaari, & Wong Ai Li. (2021). LEVEL OF KNOWLEDGE REGARDING TUBERCULOSIS AMONG THE RESIDENTS OF AN APARTMENT IN KG PANDAN, KUALA LUMPUR. The Malaysian Journal of Nursing (MJN), 12(3). Retrieved from https://ejournal.lucp.net/index.php/mjn/article/view/1274
License
This work is licensed under a Creative Commons Attribution-NonCommercial-NoDerivatives 4.0 International License.