BIG EVENT AND ITS VALUES TO BUILD TRUST IN DESTINATION IMAGE – A PERSPECTIVE IN BIG CITIES IN VIETNAM
Abstract
Intention to revisit can be improved by strategies of Destination Image, because Destination Image has a direct effect on Intention to revisit a place. It is necessary to improve the Destination Image by improving the facilities and infrastructure of the tourism service and people's welfare. Likewise, the intention to revisit can be increased by Mega events and their values, because Mega-events directly influence the intention to revisit. Increasing Mega-events can be done by the head of the tourism office, which must be specifically carried out by coordinating with relevant stakeholders, utilizing the expertise of each team member. Mega-events and their values must develop themselves routinely, determine team effectiveness, increase work skills, respect each other, interact with each other and complement each other in giving good examples to the tourism office in order to achieve a higher Intention to revisit.
Keywords:
BIG-EVENTS, DESTINATION IMAGE, Intention
Downloads
Download data is not yet available.
References
Abdillah, W. & Jogiyanto, H. (2015). Partial Least Square (PLS)- Alternatif Structural Equation Modeling (SEM) in Business Research. Andi Offset, Yogyakarta.
Beech, R., Russell, W., Little, R. & Sherlow-Jones, S. (2004). An Evaluation of a Multidisciplinary Team for Intermediate Care at Home. International Journal of Integrated Care, 4(4), pp 1-10.
Chin, W.W. (1998). Issues and Opinion on Structural Equation Modeling. MIS Quarterly, 22(1), pp vii–xvi.
Cornelissen, S. & Swart, K. (2006). The 2010 Football World Cup as a political construct: the challenge of making good on an African promise. The Sociological Review, 54(s2), pp 108- 123.
Data Analysis. (2017). Analisis Perbandingan Pariwisata di Indonesia dengan 9 Negara di Asia Tenggara Berdasarkan Opini Wisatawan di Sosial Media (Twitter). Retrieved From: https://www.analisis-data.com/2017/07/analisis-perbandingan-pariwisata-di_23.html
French, S.P. & Disher, M.E. (1997). Atlanta and the Olympics: A One-Year Retrospective. Journal of the American Planning Association, 63(3), pp 379-392.
General Statistics Office of Vietnam. (2017). Consultation Workshop for the 2019 Population and Housing Census. Retrieved From: http://www.gso.gov.vn/default_en.aspx?tabid=625&idmid=&ItemID=18551
Ghozali, I. & Latan. (2012). Partial Least Squares: Concept, Technique and Application SmartPLS 2.0 M3. Badan Penerbit Universitas Diponegoro, Semarang.
Ghozali, I., (2008). Structural Equation Modeling Alternative Method with Partial Least Square (PLS). 2nd Edition. Undip Publisher Agency, Semarang.
Jamieson, V. & Azzam, T. (2017). The Use of Technology in Evaluation Practice. Journal of MultiDisciplinary Evaluation, 8(18), pp 1-15.
Jogiyanto. (2009). Sistem Informasi Manajemen. Penerbit Andi, Yogyakarta.
Kasimati, E. (2003), Economic Aspects and the Summer Olympics: A Review of Related Research. International Journal of Tourism Research, 5(6), pp 433-444.
Lei, M. & Lomax, R.G. (2005). The Effect of Varying Degrees of Nonnormality in Structural Equation Modeling. Structural Equation Modeling, 12(1), pp 1-27.
Maierbrugger, A. (2018). Fintech on Track to Shape Future of Islamic Finance. Gulf Times, 20th November. Retrieved From: https://www.gulf-times.com/story/613609/Fintech-on-track- to-shape-future-of-Islamic-financ
Ringle, C.M., Wende, S. & Becker, J.M. (2015). SmartPLS. SmartPLS GmbH, Boenningstedt. Walle, A.H. (1996). Tourism and the Internet: Opportunities for Direct Marketing. Journal of Travel Research, 35(1), pp 72-77.
World Bank. (2018). The World Bank Annual Report 2018 (English). Washington, D.C., World Bank Group. Retrieved From:
http://documents.worldbank.org/curated/en/630671538158537244/The-World-Bank-Annual- Report-2018
World Travel and Tourism Council. (2018). Economic Impact- City Analysis. Retrieved From: https://www.wttc.org/economic-impact/city-analysis/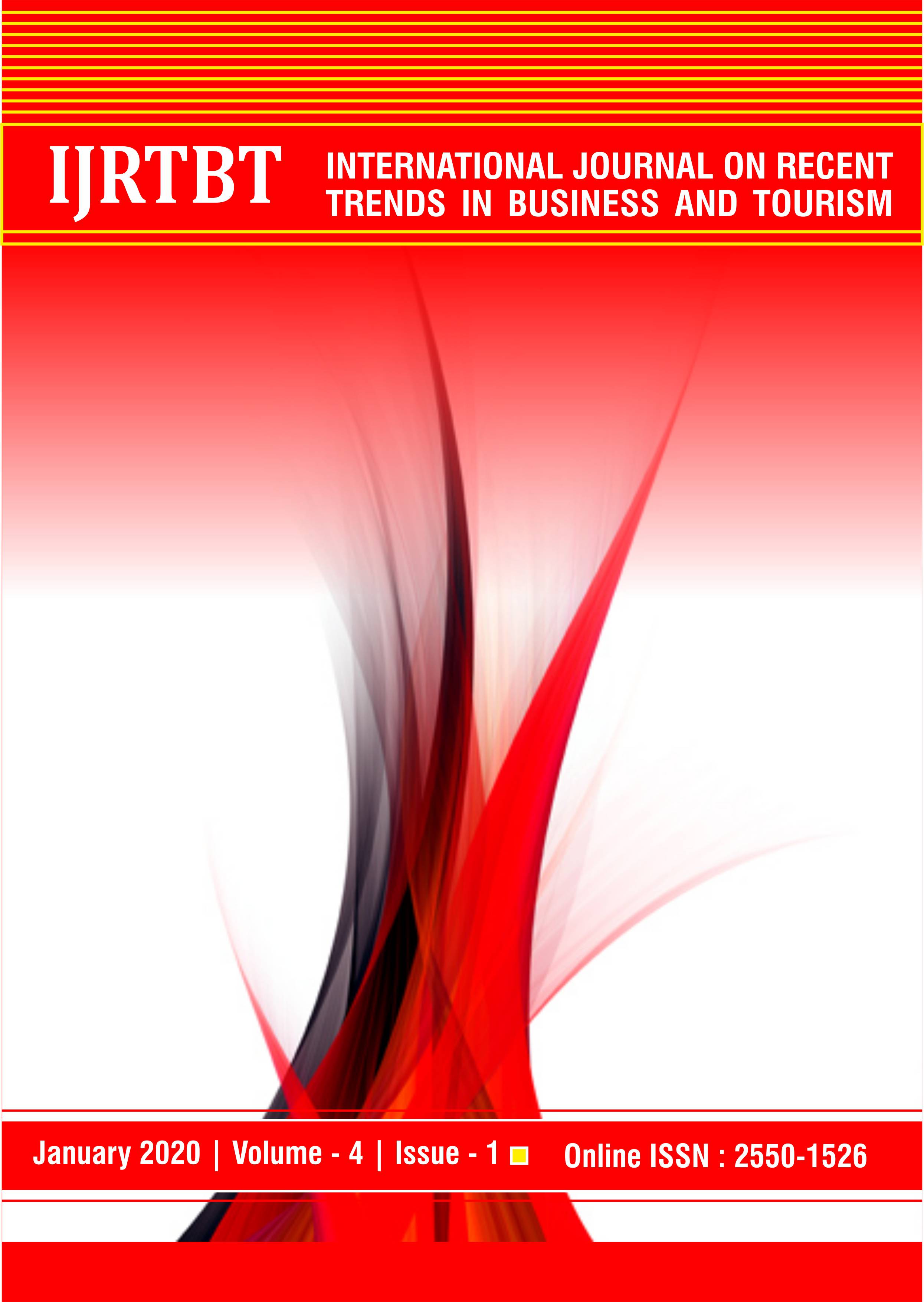 How to Cite
Ali Ameen Abdulbaqi, & Phan Bao Giang. (2020). BIG EVENT AND ITS VALUES TO BUILD TRUST IN DESTINATION IMAGE – A PERSPECTIVE IN BIG CITIES IN VIETNAM. International Journal on Recent Trends in Business and Tourism (IJRTBT), 4(1), 38-43. Retrieved from https://ejournal.lucp.net/index.php/ijrtbt/article/view/958
License
Copyright (c) 2020 International Journal on Recent Trends in Business and Tourism (IJRTBT)
This work is licensed under a Creative Commons Attribution-NonCommercial-NoDerivatives 4.0 International License.
Metrics