ANALYZING TOURISTS' SATISFACTION TOWARDS SERVICE QUALITY OF TRAVELING COMPANIES TO DEVELOP THE SUSTAINABLE ECO-TOURISM IN MEKONG-DELTA, VIETNAM
Abstract
Situated in Southeast Asia where tourism activities are vibrant, Vietnam has advantages in geographical, economical and international exchanges for tourism development in accordance with the regional and worldwide tendencies. Eco-tourism is considered as an attractive tourism product that attract most domestic and foreign visitors. A great potential to develop eco-tourism is Mekong Delta in Vietnam with wet land ecosystem and salt-marsh forests. It also provides tourists with the unique quality products as well as attributes to advertising the beauty of Vietnam country. In addition, Mekong Delta creates the indirect and direct employment for tourism industry, entailing the domestic export and developing economic-politic situation within the area. This paper was conducted to explore factors affecting to service quality of traveling companies along Mekong Delta to improve the tourism sustainable development for the tourism industry in Vietnam. The author used quantitative approach to collect and analyze the data basing on four factors such as Tourism Infrastructure, Quality of service, Quality of products, and Prices to find out the reality significance and tourism companies' competence to have possible solutions towards the tourism sustainable development for Mekong Delta, Vietnam.
Keywords:
Development, Infrastructure, Service, Sustainability, Tourism
Downloads
Download data is not yet available.
References
Cruz, R.G. (2003). Towards Sustainable Tourism Development in the Philippines and Other Asean Countries. Retrieved From: http://pascn.pids.gov.ph.
David, L. (2011). Tourism Ecology: Towards the responsible, sustainable tourism future, Worldwide Hospitality and Tourism Themes, 3(3), 210-216.
Drumm, A., & Moore, A. (2005). An Introduction to Ecotourism Planning. Retrieved from: http://www.parksinperil.org.
Dymond, S. J. (1997). Indicators of Sustainable Tourism in New Zealand: A Local Government Perspective. Journal of Sustainable Tourism, 5(4), pp 279-293.
Jaini, N., Anuar, A.N. & Daim, M.S. (2012). The Practice of Sustainable Tourism in Ecotourism Sites among Ecotourism Providers, Asian Social Science, 8(4), pp 175-179.
Kenny, L. (2017). The Road Less Travelled: A Case Study on Ecotourism and Sustainable Development in the Sundarbans, Bangladesh.
Kaur, C.R. (2006). National Ecotourism Plan: Assessing Implementation of the Guidelines for Marine Parks. Unpublished Paper, Maritime Institute of Malaysia (MIMA).
Lascurain, C. (2006). ECOCLUB, International Ecotourism Monthly. Retrieved From: https://ecoclub.com/news/085/interview.html
Lopez, D. L. M. (2005). Evaluating ecotourism in natural protected areas of La Paz Bay, Baja California Sur, Mexico: Ecotourism or Nature-based Tourism? Biodiversity & Conservation, 11(9), pp 1539-1550.
Samimi, A.J., Sadeghi, S., & Sadeghi, S. (2017). The relationship between foreign direct investment and tourism development: evidence from developing countries. Institutions and Economies, 5(2), pp 59-68.
UNDESA. (2007). Indicators of Sustainable rd Development: Guidelines and Methodologies. 3edition. Sustainable Development Knowledge Platform, United Nations.
Ziffer, K. (1989). Eco-tourism: The Uneasy Alliance. Conservational International. Fall, Washington, DC: Earnest and Young, pp. 1-36.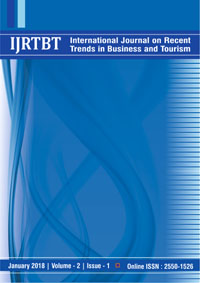 Downloads
How to Cite
Nguyen Nguyen Dang, & Ali Abdulbaqi Ameen Ali. (2018). ANALYZING TOURISTS' SATISFACTION TOWARDS SERVICE QUALITY OF TRAVELING COMPANIES TO DEVELOP THE SUSTAINABLE ECO-TOURISM IN MEKONG-DELTA, VIETNAM. International Journal on Recent Trends in Business and Tourism (IJRTBT), 2(1), 39-45. Retrieved from https://ejournal.lucp.net/index.php/ijrtbt/article/view/234
License
Copyright (c) 2018 International Journal on Recent Trends in Business and Tourism (IJRTBT)
This work is licensed under a Creative Commons Attribution-NonCommercial-NoDerivatives 4.0 International License.