INFLUENCE OF SOCIAL MEDIA ADVERTISEMENT ON CUSTOMER'S PURCHASE DECISION: A LITERATURE REVIEW
Abstract
In today's world, the social media is changing the traditional way of marketing and advertising the products as well as services. There is a huge increase in the usage of social media from past few years. The social media helps customers to search and compare any information and thus it is removing away the traditional form of media like radio, magazines, television, and newspaper. Therefore, there is a need for creating effective online advertisement strategies to increase the capital of the current market scenario by introducing more efficient features in social media advertising.
This dissertation is about the theoretical form of contributions and development of a new conceptual model over the past research carried out related to social media advertisements and purchase decision of customers. This dissertation basically focuses on the features of online advertisements and its influence on customer's purchase decision. On the other hand, the previous studies have found different characteristics of online ads towards purchase intention and attitude of customers. With the help of this study, an entirely new concept of consumer's buying intention towards social media advertisement has been developed.
This study also shows that the influence of social media ads varies accordingly with different stages of consumers' decision-making process to purchase any product or service. Further, the conceptual model shows that the features such as information, entertainment, trust, reward and satisfaction affect the electronic word of mouth along with the brand equity of any product or service which is available on the online platform.
In this study, secondary information has been collected in the form of literature review, research approach is qualitative and exploratory research design has been conducted to collection the information from the past data available in various research papers.
Keywords:
Advertisements, Electronic Word of Mouth, Consumers, Brand Equity, Purchase Intention, Social Media
Downloads
Download data is not yet available.
References
Balakrishnan, B.K.P.D., Dahnil, M.I. & Yi, W.J. (2014). The Impact of Social Media Marketing Medium toward Purchase Intention and Brand Loyalty Among Generation. Procedia - Social and Behavioural Sciences, 148(August), pp 177-185.
Bughin, J., Doogan, J., & Vetvik, O.J. (2010). A new way to measure word-of-mouth marketing. McKinsey Quarterly, 1st April. Retrieved from: https://www.mckinsey.com/business-functions/marketing-and-sales/our-insights/a-new-way-to-measure-word-of-mouth-marketing#
Drell, L. (2011). Social Consumers and the Science of Sharing. Retrieved from: http://mashable.com/ 2011/10/25/social-consumer sharing-infographic/
Fotis, J.N. (2015). The Use of Social Media and its Impacts on Consumer Behaviour: The Context of Holiday Travel. PhD thesis, Bournemouth University, England. Retrieved From: https://core.ac.uk/reader/42142490
Harshini, C.S. (2015). Influence of Social Media Ads on Consumer's Purchase Intention. International Journal of Current Engineering and Scientific Research, 2(10), pp 110-115.
Hoyer, W.D., Chandy, R., Dorotic, M., Krafft, M. & Singh, S.S. (2010). Consumer Cocreation in New Product Development. Journal of Service Research, 13(3), pp 283-96
Lee, E. (2013). Impacts of Social Media on Consumer Behaviour: Decision Making Process. Bachelor's Thesis. Turku University of Applied Sciences, Finland. Retrieved From: https://www.theseus.fi/bitstream/handle/10024/62367/Lee_Ethel.pdf?sequence=1&isAllowed=y
Martinka, L. (2012). How Social Media Communities Impact Consumer Behavior. Thesis. Gonzaga University, USA. Retrieved From: https://www.proquest.com/docview/1017683284
Wang, Y. & Yu, C. (2015). Social Interaction-Based Consumer Decision-Making Model in Social Commerce: The Role of Word of Mouth and Observational Learning. International Journal of Information Management, 37(3), pp 179-189.
Webster, T. (2011). The Social Habit 2011. Edison Research, 29th May. Retrieved from: https://www.edisonresearch.com/the_social_habit_2011/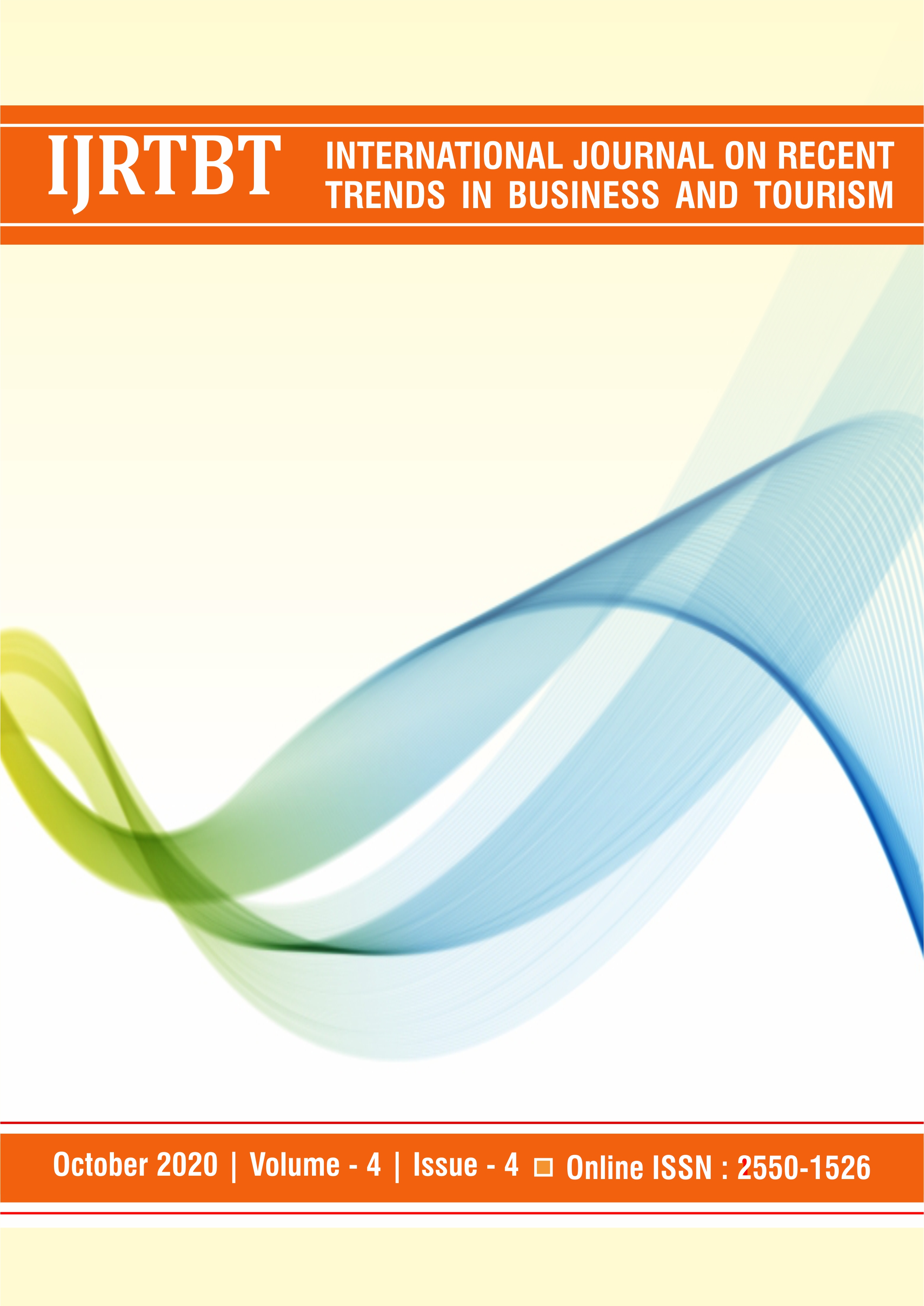 How to Cite
Kumar Shubhangam, Manisha Srivastava, Ritesh Ravi, & Ravinjit Singh. (2020). INFLUENCE OF SOCIAL MEDIA ADVERTISEMENT ON CUSTOMER'S PURCHASE DECISION: A LITERATURE REVIEW. International Journal on Recent Trends in Business and Tourism (IJRTBT), 4(4), 25-31. Retrieved from https://ejournal.lucp.net/index.php/ijrtbt/article/view/1183
License
Copyright (c) 2020 International Journal on Recent Trends in Business and Tourism (IJRTBT)
This work is licensed under a Creative Commons Attribution-NonCommercial-NoDerivatives 4.0 International License.
Metrics