STRESS AND COPING STRATEGIES DURING CLINICAL PRACTICES AMONG DEGREE NURSING STUDENTS OF A PRIVATE INSTITUTION
Keywords:
Stress, Coping Behaviour, Contribution Factor, Degree Nursing Students, Private Institution
Abstract
Introduction: Nursing students undergoing training in nursing faculty seem to have a higher potential to cope with stress and challenges. This study is to determine stress and coping strategies during clinical practices among degree nursing students of a private institution. Methodology: Descriptive, cross-sectional design in assessing students' stress and sources of stress as well as identify the coping strategies used by students. Total of 122 undergraduate nursing students participated in this research study by using self-reported questionnaire. Results: Majority were female, ages between 31 to 40 years, from semester 4 and with working of experience between 11 to 20 years. Most frequent types of stress found among these students were during taking care of patients are lack of experience and ability in providing nursing care and in making judgment. The lack of knowledge regarding the possible ways to help patients with physio-physio-social concerns and concern about not being trusted or accepted by patients or patients' family. Coping behaviours indicates a statistically significant difference between all the coping behaviours between male and female respondents. Discussion: High level of stress can affect the physical, psychological health of the individual. This may also affect the cognitive process involving memories, recall of knowledge and attention.
Downloads
Download data is not yet available.
References
Abdullah, I.A., Nahid, K.E. & Itedal, A.M. (2015). Factors associated with stress among nursing students (Najran University - Saudi Arabia). Journal of Nursing and Health Science (IOSR-JNHS), 4(6), pp 33-38.
Ajibade, B., Olabisi, O., Fabiyi, B., Ajao, O. & Ayeni, A. (2016). Stress, Types of Stressors and Coping Strategies Amongst Selected Nursing Schools Students in South-West, Nigeria. European Journal of Biology and Medical Science Research, 4(3), pp 1-15.
Alzayyat, A. & Al-Gamal, E. (2014). A review of the literature regarding stress among nursing students during their clinical education. International Council of Nurses, 61(3), pp 406-415.
Al-Zayyat, A.S. & Al-Gamal, E. (2014). Perceived stress and coping strategies among Jordanian nursing students during clinical practicein psychiatric/mental health courses. International Journal of Mental Health Nursing, 23(4), pp 326-35.
Chan, C., So, W., & Fong, D. (2009). Hong Kong Baccalaureate Nursing Students' Stress and Their Coping Strategies in Clinical Practice. Journal of professional nursing: official journal of the American Association of Colleges of Nursing, 25(5), pp 307-313.
Daengthern, L. (2014). Factor influencing stress among nursing students of faculty of nursing during clinical practice. The Journal of MacroTrends in Health and Medicine, 2(1), pp 61-71.
Goff, A.-M. (2011). Stressors, Academic Performance, and Learned Resourcefulness in Baccalaureate Nursing Students. International Journal of Nursing, 8(1).
Goff, A.M. (2011). Stressors, academic performance, and learned resourcefulness in baccalaureate nursing students. International Journal of Nursing Education Scholarship, 8: Article 1.
Kaneko, S. & Momino, K. (2015). Stress Factors and Coping Behaviors in Nursing Students during Fundamental Clinical Training in Japan. International Journal of Nursing & Clinical Practices, 2(138), pp 1-7.
Kaur, S., Das, K., Amrinder, S., Neha, K., Kanika, O. & Sukhjit, L. (2009). Stress and coping in the nursing students. Journal of Mental Health & Human Behavior, 14(1), pp 51-56.
Khan, M.J., Altaf, S. & Kausar, H. (2013). Effect of Perceived Academic Stress on Students' Performance. FWU Journal of Social Sciences, 7(2), pp 146-151.
Khater, W.A., Akhu-Zaheya, L. & Shaban, I.A. (2014). Sources of Stress and Coping Behaviours in Clinical Practice among Baccalaureate Nursing Students. International Journal of Humanities and Social Science, 4(6), pp 194-202.
Labrague, L. (2013). Stress, Stressors, and Stress Responses of Student Nurses in a Government Nursing School. Health Science Journal, 7(4), pp 424-435.
Lazarus, R.S. & Folkman, S. (1984). Stress, appraisal, and coping. New York: Springer.
Mahmoud, J.S., Staten, R., Hall, L.A. & Lennie, T.A. (2012). The Relationship among Young Adult College Students' Depression, Anxiety, Stress, Demographics, Life Satisfaction, and Coping Styles. Issues in Mental Health Nursing, 33(3), pp 149–156.
Rosenbaum, M. (1990). Foreword. In M. Rosenbaum (Ed.), Learned resourcefulness: On coping skills, self-control, and adaptive behavior (pp. xiv). New York: Springe.
Selye, H. (1974). Stress without distress. New York: Lippincott. Selye, H. (1976). The stress of life. New York: McGraw-Hill.
Sheu, S., Lin, H., & Hwang, S. (2002). Perceived stress and physio-psycho-social status of nursing students during their initial period of clinical practice: the effect of coping behaviors. International Journal of Nursing Studies, 39(2), pp 165-175.
Sheu, S., Lin, H., Hwang, S., Yu, P., Hu, W. & Lou, M. (1997). The development and testing of perceived stress scale of clinical practice. Nursing Research, 5(4), 341-351.
Shiferaw, H.N., Anand, S. & Nemera, G.N. (2015). Stress and Coping Strategies Among Generic B.Sc. Nursing Students of Jimma University, South West Ethiopia. International Journal of Recent Advances in Multidisciplinary Research, 2 (7), pp 511-517.
Singh, C., Sharma, S. & Sharma, R.K. (2011). Level of stress and coping strategies used by nursing interns. Nursing and Midwifery Research Journal, 7(4), pp 152-160.
Wallace, L., Bourke, M.P., Tormoehlen, L.J. & Poe-Greskamp, M.V. (2015). Perceptions of Clinical Stress in Baccalaureate Nursing Students. International Journal of Nursing Education Scholarship, 12(1), pp 1–8.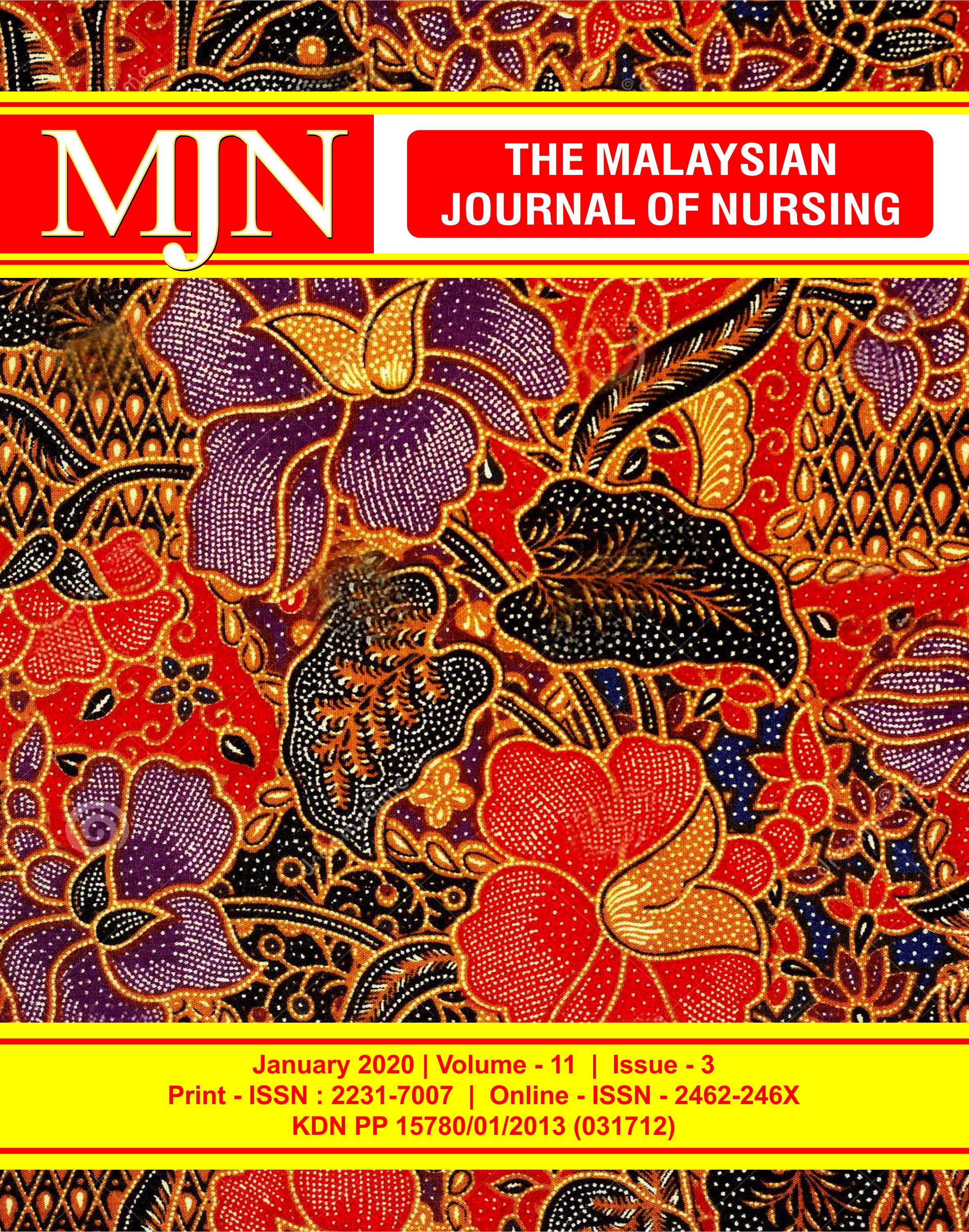 How to Cite
Noor Asiah Binti Md. Noor, Rosnida Abu Bakar, & Yee Bit-Lian. (2020). STRESS AND COPING STRATEGIES DURING CLINICAL PRACTICES AMONG DEGREE NURSING STUDENTS OF A PRIVATE INSTITUTION. The Malaysian Journal of Nursing, 11(3), 53-62. https://doi.org/10.31674/mjn.2020.v11i03.009