RELATIONSHIP BETWEEN STRESS LEVEL AND ACADEMIC PROCRASTINATION AMONG NEW NURSING STUDENTS
Keywords:
Level of stress, Academic Procrastination, University Student
Abstract
Student in the university will undergo complex transition process from high school student life to be university student. They must adapt with academic challenges that should be confronted during study such as assignments, time management, and academic evaluation. This causes students to get stress that lead them to postpone assignments which is called academic procrastination. This study aims to identify relationship between stress level and academic procrastination among nursing student freshmen. Correlational cross-sectional design was applied in this study in which 145 students were selected as sample by total technique sampling. Data collection used academic procrastination scale (APS) and student-life stress inventory (SSI) questionnaire that was analyzed by spearmen rank test. Result show most of student had moderate stress at 82.5% and moderate academic procrastination at 81.4%. There was significant relationship with medium magnitude between level of stress and academic procrastination by spearmen rank test with p-value=0.000 and rs=0.442. Overall, university will be able to help student by guiding and giving motivation in order to reduce burden of freshers during study.
Downloads
Download data is not yet available.
References
Agolla, J.E. & Ongori, H. (2009). An Assessment of Academic Stress Among Undergraduate Student. Academic Journal, Educational Research and Review, 4(2), pp 63-67.
Augesti, G., Lisnawati, R., Saputra, O. & Nisa, K. (2015). Differences in Stress Level Between First Year and Last Year Medical Students in Medical Faculty of Lampung University. Jurnal Majority, 4(4), pp 50-56.
Beheshtifar, M. & Nasab, H.H. (2012). Effect Procrastination on Organization-Based Self Estem. Innova Ciencia, 4(1), pp 54-59.
Elias, H., Ping, W.S. & Abdullah, M.C. (2011). Stress and Academic Achievement Among Undergraduate Students in University Putra Malaysia. Procedia-Social and Behavioral Science, 29, pp 646-655.
Ferrari & Morales, J.F. (2014). Procrastination and Mental Health Coping: A Brief Report Related to Students. Individual Differences Research, 12(1), pp 8-11.
Ferrari, J.R. (2010). Still Procrastinating: The no Regrets Guide to Getting it Done. New Jersey: John Wiley & Sons.
Fiedlander, L.J. (2007). Social Support, Self Esteem, and Stress as Predictors of Adjustment to University Among First- Year Undergraduates. Journal of College Student Development, 48(3), pp 259-274.
Gadzella, B.M. & Masten, W.G. (2005). An Analysis of The Categories in The Student-life Stress Inventory. American Journal of Psychology Research, 1(1), pp 1-10.
Gan, Y., Hu, Y., & Zhang, Y. (2010). Proactive and Preventive Coping in Adjustment to College. The Psychological Record, 60(4), pp 643-658.
Ghufron, M.N. & Risnawita, R. (2014). Teori-teori Psikologi. Jogjakarta: Ar-Ruzz Media.
Handayani, S.W.R.I. & Abdullah, A. (2016). Hubungan Stres Dengan Prokrastinasi Pada Mahasiswa. Universitas Wisnuwardhana Malang. Psikovidya, 20(1), pp 32-39.
Hawari, D. (2011). Manajemen Stres, Cemas & Depresi. Jakarta: Fakultas Kedokteran Universitas Mulawarman.
Kandemir, M. (2014). Reasons of Academic Procrastination: Self-Regulation, Academic Self-Efficacy, Life Satisfaction and Demographics Variables. Procedia-Social and Behavioral Sciences, 152, pp 188-193.
Krumrei, E.J., Newton, F.B., Kim, E. & Wilcox, D. (2013). Psychosocial Factors Predicting First-Year College Student Success. Journal of College Student Development, 54(3), pp 247-266.
Mahmoud, J.S., Staten, R., Hall, L.A., Lennie, T.A. (2012). The Relationship among Young Adult College Students' Depression, Anxiety, Stress, Demographics, Life Satisfaction, and Coping Styles. Issues in Mental Health Nursing, 33(3), pp 149-156.
McCloskey, J.D. (2011). Finally, My Thesis on Academic Procrastination. Faculty of the Graduate School, The University of Texas at Arlington, Texas Retrieved from: https://rc.library.uta.edu/utair/bitstream/handle/10106/9538/McCloskey_uta_2502M_11260.pdf?sequenc e=1&isAllowed=y
Melisa & Astrini. (2012). Hubungan Antara Tingkat Stres Dengan Perilaku Prokrastinasi Akademik Pada Mahasiswa Universitas Bina Nusantara Yang Sedang Mengerjakan Skripsi. Skripsi, Program Sarjana Universitas Bina Nusantara, Jakarta.
Mujiyati, M. (2015). Mereduksi Prokrastinasi Akademik Mahasiswa Melalui Teknik Token Economy. Jurnal Fokus Konseling, 1(2), pp 142-150.
Nasir, A. & Muhith, A. (2011). Dasar-Dasar Keperawatan Jiwa. Jakarta: Salemba Medika. Olejnik, S.N. & Holschuh, J.P. (2007). College Rules! Edition How Study, Survive, and Succeed. New York: Ten Speed Press.
Potter, P.A. & Perry, A.G. (2005). Fundamental Keperawatan: Konsep, Proses dan Praktik (Edisi 4). Jakarta: EGC.
Puswati (2014). Upaya Mereduksi Prokrastinasi Akademik Melalui Konseling Kelompok Melalui Pendekatan Behavioristik. Psikopedagogia, 3(1), pp 2301-6167.
Rakhmawati, I., Farida, P. & Nurhalimah. (2014). Sumber Stres Akademik Dan Pengaruhnya Terhadap Tingkat Stres Mahasiswa Keperawatan DKI Jakarta. Jurnal Keperawatan, 2(3), pp 72-84.
Sarafino, E.P. & Smith, T.W. (2011). Health Psychology: Biophysical Interactions. Canada: John Wiley & Sons.
Sepehrian, F. & Lotf, J.J. (2011). The Effects of Coping Styles and Gender on Academic Procrastination among University Students. Journal of Basic and Applied Scientific Research, 12(1), pp 2987-2993.
Surijah, E.A. & Tjundjing, S. (2007). Mahasiswa Versus Tugas: Prokrastinasi Akademik Dan Conscientiousness. Anima, Indonesian Psychological Journal, 22(4), pp 352-374.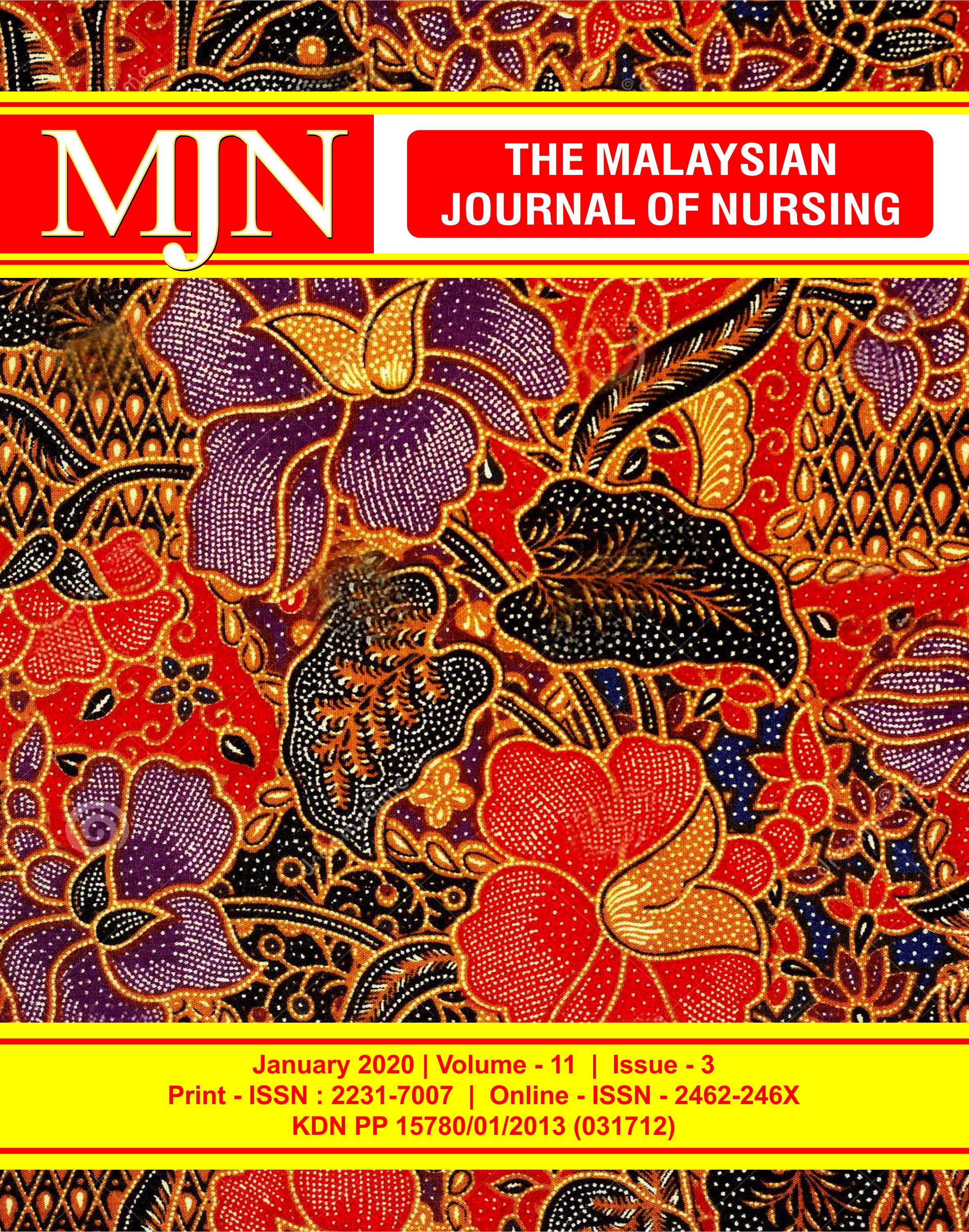 How to Cite
Rizki Muliani, Haerul Imam, & Egi Dendiawan. (2020). RELATIONSHIP BETWEEN STRESS LEVEL AND ACADEMIC PROCRASTINATION AMONG NEW NURSING STUDENTS. The Malaysian Journal of Nursing, 11(3), 63-67. https://doi.org/10.31674/mjn.2020.v11i03.010