RELATIONSHIP OF KNOWLEDGE AND SELF-REGULATION WITH NURSES' PREPAREDNESS FACING SMOKE DISASTER IN PONTIANAK CITY
Abstract
Smoke haze disaster that occurred in 2015 due to forest and land fire caused suffering to about 503,874 people with acute respiratory infection (ARI) and caused death of 26 people and huge economic losses that reached 200 trillion and 43 million people were exposed to smoke haze. The research purposes in this study was to analyze the correlation of knowledge and self-regulation against the nurse' preparedness in community health center in facing smoke haze disaster in Pontianak. The method used was analytical survey with cross sectional approach with total respondents of 90 nurses in health center that was collected by simple random sampling. Nurses' preparedness was measured by using Emergency Preparedness Information Questionnaire. The test result of spearman ranks explained the correlation between knowledge (p=0.036), but there was no correlation of self-regulation (p=0.074) with the nurses' preparedness in community health center in facing smoke haze disasters in Pontianak. Analysis of logistic regression explained that knowledge with calculated value of Exp (B=3.378) was the most related variable against the nurses' preparedness in health center compared with self-regulation. Therefore from the study it was evident that knowledge of nurses about the disaster was substantial in aspect to management process of disaster in both preparedness phase and response phase.
Keywords:
Knowledge, Self-regulation, Preparedness, Smoke haze disaster
Downloads
Download data is not yet available.
References
Ali, N.M. & Abu, I. (2015). Health-care providers' perception of knowledge, skills and preparedness for disaster management in primary health-care centers in jordan. Eastern Mediterranean Health Journal (EMHJ), 21(10), pp 713-721.
Arfan, A. (2016). Managing the Impact of Smoke Haze Disaster: Response of Civil Society Groups Towards Jambi Provincial Government Performance. Jurnal Bina Praja: Journal of Home Affairs Governance, 8(1), pp 59-68.
Arsenijevic, O., Trivan, D., Podbregar, I. & Sprajc, P. (2017). Strategic aspect of knowledge management. Organizacija, 50(2), pp 163- 177.
Azwar, S. (2013). Sikap Manusia Teori dan Pengukurannya edisi 2. Yogyakarta: Pustaka Pelajar.
Baack, S.T. (2011). Analysis of Texas Nurses' Preparedness and Perceived Competence in Managing Disasters. University of Texas, Tyler.
Baker, L.R. & Cormier, L.A. (2013). Disaster preparedness and families of children with special needs: A geographic comparison. Journal of Community Health, 38(1), pp 106-112.
BNPB (2017). Badan Nasional Penanggulangan Bencana: Data dan Informasi Bencana Indonesia [Online]. Retrieved from: http://bnpb.cloud/dibi/tabel1.
Chapman, K. & Arbon, P. (2008). Are nurses ready?: Disaster preparedness in the acute setting. Australasian Emergency Nursing Journal, 11(3), pp 135-144.
Chen, H., Chang, S.C, Feng, J.Y, Lin, S.J, Chen, L.C, Lee, C.L. & Lai, F.C. (2017). Nurse participation in continuing education in nursing disaster in Taiwan. Journal of Emergency Nursing, 43(3), pp 197-202.
Ghufron, M.N. & Risnawati, R. (2014). Teori-Teori Psikologi. Yogyakarta : Ar-ruzz Media.
Groves, S. 2013. Knowledge, Involvement and Emergency Preparedness. Master of Arts Thesis School of Mass Communications, College of Arts and Sciences University of South Florida. ProQuest LLC. UMI Number: 1543119.
Hasyim, M. & Prasetyo, J. (2012). Etika Keperawatan. Yogyakarta: Bankit.
Internatioal Council of Nurses (ICN) and the World Health Organization (WHO) (2009). ICN Framework of Disaster Nursing Competencies. Retrieved from: http://www.wpro.who.int/hrh/documents/icn_framework.pdf?ua=1
Magnaye, B., Munoz, S.L., Muñoz, M.A.F., Muñoz, R.G.V. & Muro, J.H.M. (2011). The role preparedness and management of nurses during a disasters. E-International Scientific Research Journal, III(4), pp 269-294.
Melnikov, S., Itzhaki, M. & Kagan, I. (2014). Israeli nurses' intention to report for work in an emergency or disaster. Journal of Nursing Scholarship, 46(2), pp 134-142.
Mizan, A.K. (2012). Peran Tenaga Kesehatan Dalam Penanggulangan Bencana. Jurnal Ilmia Kesehatan Media Husada, 01(01), pp 85-92.
Notoatmodjo, Soekidjo. (2012). Promosi kesehatan dan perilaku kesehatan. Jakarta: Rineka Cipta.
Nugroho, W. (2008). Keperawatan gerontik dan geriatrik. Edisi ketiga. Jakarta. EGC.
Oztekin, S.D., Larson, E.E., Akahoshi, M. & Oztekin, I. (2016). Japanese nurses' perception of Reviews their preparedness for disasters: Quantitative survey research on one prefecture in Japan. Japan Journal of Nursing Science, 13(3), pp 391-401.
Pang, S.M.C., Chan, S.S.S. & Cheng, Y. (2009). Pilot training program for developing disaster nursing competencies among undergraduate students in China. Nursing and Health Sciences, 11(4), pp 367-373.
Pusponegoro, A. & Sujudi, A. (20160. Kegawatdaruratan dan Bencana Solusi dan Petunjuk Teknis Penanggulangan Medik dan Kesehatan, PT. Rayyana Komunikasindo.
Raes, E., Boon, A., Kyndt, E. & Dochy, F. (2015). Measuring team learning through observing verbal Behaviors team interaction. Journal of Workplace Learning, 27(7), pp 476-500.
Sangkala, M.S. & Gerdtz, M.F. (2017). Disaster preparedness and learning needs among community health nurse coordinators in South Sulawesi, Indonesia. Australasian Emergency Care, 21(1), pp 23-30.
Veenema, T.G. (2006). Expanding educational opportunitiesin disaster response and emergency preparedness for nurses. Nursing Education Perspectives, 27(2), 93-99.
Veenema, T.G., Griffin, A., Gable, A.R, Macintyre, L., Simons, R.N., Couig, M.P., Walsh, J.J., J.R., Lavin, R.P., Dobalian, A. & Larson, E. (2016). Nurses as Leaders in Disaster Preparedness and Response - A Call to Action. Journal of Nursing Scholarship, 48(2), pp 187-200.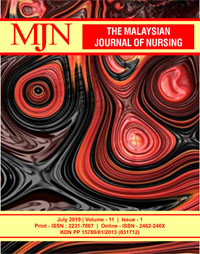 How to Cite
Nurdin, Nurdiana, & Yati Sri Hayati. (2019). RELATIONSHIP OF KNOWLEDGE AND SELF-REGULATION WITH NURSES' PREPAREDNESS FACING SMOKE DISASTER IN PONTIANAK CITY. The Malaysian Journal of Nursing (MJN), 11(1), 25-30. https://doi.org/10.31674/mjn.2019.v11i01.004