NURSING EXPERIENCE OF HAJJ-MEDICAL WORKERS OF INDONESIA IN HANDLING EMERGENCY STATE OF KENDARI-HAJJ PILGRIMS
Abstract
The purpose of this research is to explore the meaning of nurses at a medical team of Indonesia Hajj regarding the experience in handling emergency state of Kendari-hajj pilgrims. The research approach is Interpretative Phenomenology. The participants consist of 3 males and 2 females. The sample was chosen based on purposive sampling technique. The inclusion criteria were based on nurses at a medical team of Indonesia hajj in charge of emergency state case of hajj-pilgrims. The data collections are done by in-depth interview, observation, and field note documentation. The findings found three themes: (1) treating the pilgrims as family, (2) facing unexpected condition at the holy land, and (3) facing burdening challenges in doing task to save the pilgrims.
Keywords:
Nurses, Medical Team, Interpretative Phenomenology, Emergency State
Downloads
Download data is not yet available.
References
Ahmed, Q.A., Arabi, Y.M. & Memish, Z.A. (2006). Health Risks at the Hajj. Lancet, 367(9515), pp 1008-1015.
Alaska, A.Y., Aldawas, D.A., Aljerian, A.V., Memish, A.Z. & Suner, S. (2017). The impact of crowd control measures on the occurrence of stampedes during Mass Gatherings: The Hajj experience. Travel Medicine and Infectious Disease, 15, 67e70.
Campo, T.M., Carman, M.J., Evans, D., Hoyt, K.S., Kincaid, K., Ramirez, E.G., Roberts, E., Stackhouse, K., Wilbeck, J. & Weltge, A. Scope of Practice for Emergency Nurse Practitioners. Advanced Emergency Nursing Journal, 38(4), pp 252–254.
Carigger, J.N. & Holcom, L. (2007). Practical Strategies for Providing Culturally Sensitive, Ethical Care in Developing Nations. Journal of Transcultural Nursing, 18(1), pp 67-69.
Karampourian, A., Ghomiana, Z. & Zavareha, K.D. (2018). Qualitative study of health system preparedness for traumatic incidents in a religious mass gathering. International Journal of The Care of The Injured, 50(5), pp 1097-1104.
Khan, D., Khan, A.S., Asima, B., Hussaini, B. S., Zakiuddin, M. & Faisal, A.F. 2017. Morbidity and mortality amongst Indian Hajj pilgrims: A 3-yearexperience of Indian Hajj medical mission in mass-gathering medicine. Journal of Infection and Public Health, 11(2018), pp 165–170.
Memish, Z.A., Al-Tawfiq, J.A. & Al-Rabeeah, A.A. (2013). Hajj: preparations underway. The
Lancet Global Health, 1(6): e331
Ministry of Health (2016). Pedoman Umum Program Indonesia Sehal Dengan Pendekatan Keluarga. Jakarta, Kemenkes RI, pp 19-20.
Ministry of Health (2017). Pemeriksaan dan Pembinaan Kesehatan Haji Mencapai Istithaah Kesehatan Jemaah Haji Untuk Menuju Keluarga Sehat (Petunjuk Teknis Permenkes Nomor 15 Tahun 2016). Jakarta, Pusat Kesehatan Haji, pp 18-20.
Pane, M., Imari, S., Alwi, Q., Kanduri, I.N., Cooc, A.R. & Samaan, G. (2013). Causes of Mortality for Indonesian Hajj Pilgrims: Comparison between Routine Death Certificate and Verbal Autopsy Findings. Plos One, 8(8), e73243.
Smith, J.A., Flowers, P. & Larkin, M. (2009). Interpretative Phenomenological Analysis: Theory, Method and Research. London: Sage Publications.
Wicaksono, I.Y. (2017). Jurus-Jurus dan Tips-Tips Menjadi TKHI, Sidoarjo. Indomedia Pustaka, pp 42-45.
Pew Research Centre (2011). Sunni and Shia Muslims. Retrived from: https://www.pewforum.org/2011/01/27/future-of-the-global-muslim-population-sunni-and-shia/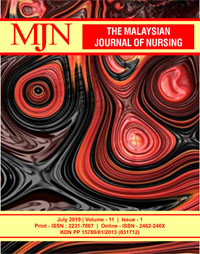 How to Cite
Eman Sulaiman, Indah Winarni, & Tina Handayani Nasution. (2019). NURSING EXPERIENCE OF HAJJ-MEDICAL WORKERS OF INDONESIA IN HANDLING EMERGENCY STATE OF KENDARI-HAJJ PILGRIMS. The Malaysian Journal of Nursing (MJN), 11(1), 38-44. https://doi.org/10.31674/mjn.2019.v11i01.006