THE EFFECTS OF LAUGHTER THERAPY ON MENTAL HEALTH: AN INTEGRATIVE LITERATURE REVIEW
Abstract
Laughter as alternative therapy is of great interest in the present times, that needs to be investigated. The purposes of this review are to explore the therapeutic and negative effects of Laughter Therapy (LT) on mental health. An Integrative Literature Review of published literature about effects of Laughter Therapy on mental health was conducted. Articles were identified through electronic database from PubMed, Google scholars, EBSCO, and ProQuest within the timeframe of 2010 to 2018 from peer review journals. Total of 18 articles related to the objectives was reviewed. The findings showed that the therapeutic effects of LT on mental health namely: improving positive emotion, stimulating cognition, reducing stress, improving positive coping, and improving the interpersonal relationship. It was found that the negative effect of LT is very minor, and the weakness can be resolved. After conducting a comprehensive investigation towards the effects of LT on mental health, it was concluded that LT has bigger therapeutic effects than negative effect on mental health. The LT is recommended for improving mental health because this therapy is cheap and easy to execute. However, we should always pay attention to the contradiction and negative risks of this therapy.
Keywords:
Laughter Therapy, Mental Health, Therapeutic Effect, Negative Effect
Downloads
Download data is not yet available.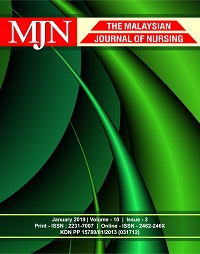 How to Cite
Kissa Bahari, & Josephine D. Lorica. (2019). THE EFFECTS OF LAUGHTER THERAPY ON MENTAL HEALTH: AN INTEGRATIVE LITERATURE REVIEW. The Malaysian Journal of Nursing (MJN), 10(3), 55-61. https://doi.org/10.31674/mjn.2019.v10i03.008