COLLEGE STUDENTS' STRESSORS AND COPING TECHNIQUES: A PRECURSOR TO GOOD MENTAL HEALTH
Abstract
No one is exempted from experiencing stress in college. Many mental health issues are emerging among young adults especially during their university years. Being exposed to stressors helps every individual in terms of strengthening their well-being. This research aims to find out about the stressors the college students' experiences and their coping techniques in order to relieve these stress faced by them.
A qualitative method was used in gathering and analyzing the data, with five college students taken from the different colleges of Mindanao State University - Iligan Institute of Technology as the respondents. An in-depth interview was conducted with three open-ended questions.
There were three themes that emerge. (1) College students worry greatly about their academic life. This includes the intellectual, financial, physical and social stresses that they encounter; (2) College students due to academic pressures suffer from a feeling of anxiousness, frustration, tiredness, they are emotionally drained, resulting in low self-esteem; (3) College students have both positive and negative coping strategies. This coping strategy includes support from significant persons; giving time to be alone to revitalize themselves; finding comfort from God's words.
The researchers conclude that college students with good mental health have positive coping techniques.
Keywords:
College students, Coping techniques, Good mental health, Stressor
Downloads
Download data is not yet available.
References
American College Health Association (2015). National College Health Assessment II The ACHA-NCHA II supports the health of the campus community by fulfilling the academic mission, supporting shortand long-term healthy behaviors, and gaining a current profile of health trends within the campus community. Executive Summary University of California Davis Undergraduate, California. Retrieved from: https://shcs.ucdavis.edu/sites/default/files/documents/NCHA-II_SPRING_2015.pdf
Brougham, R.R., Zail, C.M., Celestal, M. & Miller, J.R. (2009). Stress, sex differences, and coping strategies among college students. Current Psychology, 28(2), pp 85-97.
Chien, J. (2015). The relationship of perceived stress, religious coping styles, and mental health symptoms in university students. PhD. Florida Atlantic University, USA.
Dy, M., Espiritu-Santo, K., Ferido, M. & Sanchez, R. (2015). Stressors and stress responses of Filipino college students. Asia life sciences, 24(2), pp 737-759.
Fishman, J.S. (2012). Psychological Resilience, Perceived Stress, and Stress Reaction. Walden University, Minnesota.
Gadzella, B.M., Baloglu, M., Masten, W.G. & Wang, Q.M., (2012). Evaluation of the Student Life-stress Inventory-Revised. Journal of Instructional Psychology, 39(2), pp 82–91.
Gupchup, G.V., Borrego, M.E. & Konduri, N. (2004). The Impact of Student Life Stress on Health-Related Quality of Life Among Doctor of Pharmacy Students. College Student Journal [online], 38(2), pp 292-302.
Hamaideh, S. (2011). Stressors and Reactions to Stressors Among University Students. International Journal of Social Psychiatry, 57(1), pp 69-80.
Hicks, T. & Heastie, S. (2008). High school to college transition: A profile of the stressors, physical and psychological health issues that affect the first-year on-campus college student. Journal of Cultural Diversity, 15(3), pp 143-147.
Kim, S., Kim, H. & Yang, J. (2015). Psychological and Emotional Stress among the Students Living in Dormitory: A Comparison between Normal and Depressive Students. Journal of Sleep Disorders & Therapy, 4(3).
Mathew, C.P. (2017). Stress and Coping Strategies among College Students. IOSR Journal of Humanities and Social Science, 22(8), pp 40-44.
Pariat, M., Rynjah, M., Joplin, M. and Kharjana, M. (2014). Stress Levels of College Students: Interrelationship between Stressors and Coping Strategies. IOSR Journal of Humanities and Social Science, 19(8), pp 40-45.
Ramya, N. & Parthasarathy, R. (2009). A study on coping patterns of junior college students.Indian Journal of Psychological Medicine, 31(1), pp 45.
Silvers, S.A. (2006). Perceived social support, coping strategies, and depression during the transition to college. Northern Illinois University, Illinois.
Siraj, H.H., Salam, A., Roslan, R., Hasan, N.A., Jin, T.H. & Othman, M.N. (2014). Stress and its association with the academic performance of undergraduate fourth year medical students at Universiti Kebangsaan Malaysia. The International Medical Journal Malaysia, 13(1), pp 19-24.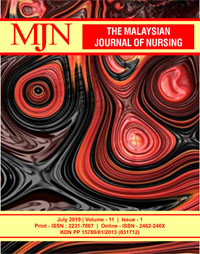 How to Cite
Elvie A. Paler, Mae-Lanie O. Poblete, Minnie B. Mamauag, Gerose Febb C. Alarde, & Melissa D. Claret. (2019). COLLEGE STUDENTS' STRESSORS AND COPING TECHNIQUES: A PRECURSOR TO GOOD MENTAL HEALTH. The Malaysian Journal of Nursing (MJN), 11(1), 31-37. https://doi.org/10.31674/mjn.2019.v11i01.005