EDUCATING CLINICAL NURSE LEADERS IN MATERNAL AND NEWBORN SPECIALTY: ARE WE PREPARING THEM FOR THEIR ROLE?
Abstract
University X is the one of the oldest and premier public university in the country under the Ministry of Education (now known as the Ministry of Higher Education). The Faculty of Medicine, conducted medical education to prepare the doctors in the country and the nursing education at tertiary level in public university sincel993 and the three years degree in nursing was first in Malaysia. The program caters for registered nurses from various public hospitals such as Ministry of Health, Ministry of Education, Ministry of Defense and also private hospitals. The main objective of the program is to prepare "nurse leaders", specializing in Nursing Administration and Nursing Education. The clinical specialty program was only started in 1999. The aim is to prepare nurse leader in clinical area and to improve patient care of particular specialization. The specialties that were offered were Orthopedic Nursing and Maternal and Newborn Nursing, Emergency Nursing, Oncology Nursing and Critical Care Nursing. This paper is to share the auth or's experience as the coordinator, teacher and clinical supervisor to the students in Maternal and Newborn Nursing specialty.
Personal interviews were conducted to l2 students on the clinical roles, structured questions were asked to explore and identify the roles and responsibilities of clinical nurse leader in Maternal and Newborn Nursing. All respondents described five different roles that they felt very important to be employed in their daily practice. Besides that, certain core competencies and personal characteristics of Maternal and Newborn nurse specialist were also highlighted by the respondents. The personal experi ences and reflections on the roles that were shared and identified were quite similar to the advanced nursing roles in the western nursing.
Keywords:
Nursing education, Nurse leaders, Maternal and Newborn Nursing, Western nursing
Downloads
Download data is not yet available.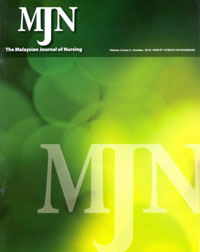 Downloads
How to Cite
Aini Ahmad. (2010). EDUCATING CLINICAL NURSE LEADERS IN MATERNAL AND NEWBORN SPECIALTY: ARE WE PREPARING THEM FOR THEIR ROLE?. The Malaysian Journal of Nursing (MJN), 2(2), 3-9. Retrieved from https://ejournal.lucp.net/index.php/mjn/article/view/613