QUALITATIVE SYSTEMATIC REVIEW OF LITERATURES ON OUTCOME-BASED EDUCATION FOR NURSING STUDENTS
Abstract
This review of related literature explores philosophical elements and essentials of Outcome-based education (OBE) to nursing students. OBE observed three different ways: as a theory of education; as a systematic structure for education; and as a classroom practice (Spady, 1988). This article reviews literature citations and analyzes strengths of OBE.
OBE can further be divided into a basic structures with emphasis on learning outcomes per module or subject. Each set of learning outcomes is mapped against the course programme.
According to Spady (1998), OBE shall reflect a rationale to explain-why any programme exists, aim to explain what the programme may achieve, a learning outcome sta ement to indicate what areas of content will be used as vehicles for student learning, a teaching strategy statement to indicate how learning activities may be organized and an assessment guidelines to indicate how student learning will be assessed and reported. Programme outcomes will be observed at the end of the course.
In Malaysia, it is a "Code of Practice" to tabulate and / or to reflect the system completely inside a curriculum.
"In outcomes-based education ... , you develop the curriculum from the outcomes you want students to demonstrate, rather than writing objectives from the curriculum you already have" (Spady, 1998). Students begin with multiple opportunities to learn and teachers use multiple ways of providing learning opportunities (Killen, 1998) especially for nursing schools. The most important feature of OBE is that all students succeed in mastering their specified learning outcome in all their subjects or modules in a given time (Faouzi et. al, 2003).
Keywords:
Outcome-based education, Classroom practice, Code of Practice, Teaching strategy
Downloads
Download data is not yet available.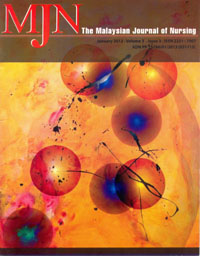 Downloads
How to Cite
Regidor III Dioso. (2012). QUALITATIVE SYSTEMATIC REVIEW OF LITERATURES ON OUTCOME-BASED EDUCATION FOR NURSING STUDENTS. The Malaysian Journal of Nursing (MJN), 3(3), 9-14. Retrieved from https://ejournal.lucp.net/index.php/mjn/article/view/595