EXTENSIONISTS AND COMMUNITY INVOLVEMENT IN COMMUNITY EMPOWERMENT: AN APPLICATION OF THE SELF-SUFFICIENCY – DEPENDENCY CONTINUUM
Abstract
This study aims to evaluate the faculty extensionistand community involvement in the conceptualization, objective formulation, implementation and its implication to the development of self-sufficiency. This research work also evaluates the reliance of the community regarding the implementation of the Community Health Access Learning (HeAL) Project. Modified Delphi Method was used to allow consensus among identified experts on the evaluation of the extensionist's development of concepts, objectives, and implementation with reference to the model. Findings revealed that the extensionists have strong development of concepts towards community empowerment. The program objectives, project objectives, implementation and outcomes revealed as encouraging dependence. The extent of community involvement in the implementation of the Community He AL project is lacking hence the entire project requires the redirection of its paradigm towards the real essence of community empowerment. The objectives were met but the issue on sustainability has to be addressed and strengthened.
Keywords:
Community Empowerment, Self-Sufficiency-Dependency Contunuum, Extensionist and Community
Downloads
Download data is not yet available.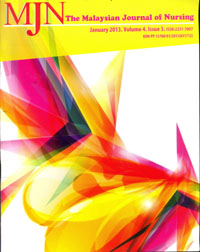 Downloads
How to Cite
Daisy R. Palompon. (2013). EXTENSIONISTS AND COMMUNITY INVOLVEMENT IN COMMUNITY EMPOWERMENT: AN APPLICATION OF THE SELF-SUFFICIENCY – DEPENDENCY CONTINUUM. The Malaysian Journal of Nursing (MJN), 4(3), 20-25. Retrieved from https://ejournal.lucp.net/index.php/mjn/article/view/568