ROLE OF OMEGA 3 FATTY ACIDS DURING PREGNANCY AND LACTATION
Abstract
Adequate consumption of Omega-3 fatty acids are essential during pregnancy because they play an important role in the development offetal brain and retina. The rate of growth remains high during the first year of life. Omega-3 is converted inside the body into longer chain polyunsaturated fatty acids docosahexanoic acid (DHA) and eicosapentaenoic acid (EPA). DHA and EPA are primarily derived from fish and algae. DHA is essential for the growth and functional development of the brain in infants. DHA is also required for the maintenance of normal brain function in adults. The inclusion of adequate amount of DHA in the diet improved learning ability, whereas deficiencies of DHA are associated with deficits in learning. DHA is readily taken up by the brain in preference to other fatty acids. The turnover of DHA in the brain is very fast, more so than is generally realized. The visual acuity of healthy, full-term, formula-fed infants is increased when their formula includes DHA. However, health professionals and the general public in Malaysia may not be aware about the importance, sources or the quantities required for these essential fat components in foods. This review discusses the benefits of omega-3 consumption with particular emphasis during pregnancy and the first year of life. This review will also attempt to discuss sources of omega-3 fatty acids in Malaysia with the aim to achieve the recommended nutrient intakes foromega-3 fatty acids.
Keywords:
Omega 3 fatty acids, Lactation in Pregnancy, Sources of Omega-3 FA
Downloads
Download data is not yet available.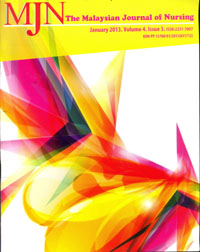 Downloads
How to Cite
Mohd Shahimi Mustapha. (2013). ROLE OF OMEGA 3 FATTY ACIDS DURING PREGNANCY AND LACTATION. The Malaysian Journal of Nursing (MJN), 4(3), 10-19. Retrieved from https://ejournal.lucp.net/index.php/mjn/article/view/566