REVIEW OF THE USE OF CONTRACEPTIVE METHODS AND FAOORS AFFEOING THE STRUOURES OF BASNEF WOMEN IN AN IRANIAN SETIING
Abstract
Background: To maintain the quality of service, the appointment of the target groups and proper education is the mostimportantsuccess factors in the implementation of family planning programs. In order to improve the quality of services, access to a variety of contraceptive methods and equipment, and the provision of advisory services and cultural sensitivity is important. Present studies apply theories and models of health education for the purpose of survey. So the aim of this study was to review the use of contraceptive methods and factors affecting the structures of BASNEF women in an Iranian setting.
Methods: In this cross-sectional survey conducted from July I, 2012 to September 31, 2012, 216 women were chosen who did not use any contraceptive methods or followed the withdrawal method. These participants were chosen from the patients that come to ( visit) health centers in Minoodasht, Iran. They were interviewed using the BASNEF questionnaire. Random sampling was continuous and Statistical methods to analyze data and analysis (frequency tables, chi-square andANOVA) was used.
Results: The results indicated that the Spouse (90%) and families of the spouses (9/25 % ), are the decision makers for the effectiveness for women in decision-making of contraceptive method. Moreover, easy access (7 / 90% ), effective training (2/53%) and appropriate environment (1/55%) are the important enabling factors.
Conclusions: According to the research, the Spouse, families and educational facilities in women, are effective factors in choice of contraceptive method. Thus effective interventions based on educational and other models are important factors in the case of use of contraceptive methods.
Keywords:
BASNEF model, Contraceptive Method, Withdrawal Method
Downloads
Download data is not yet available.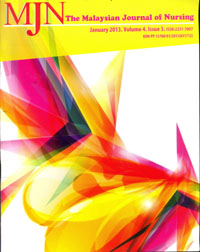 Downloads
How to Cite
Sarayloo Khadijeh, Behboodi Moghadam Zahra, & Hosseini Mostafa. (2013). REVIEW OF THE USE OF CONTRACEPTIVE METHODS AND FAOORS AFFEOING THE STRUOURES OF BASNEF WOMEN IN AN IRANIAN SETIING. The Malaysian Journal of Nursing (MJN), 4(3), 3-9. Retrieved from https://ejournal.lucp.net/index.php/mjn/article/view/564