IMPROVING COMPLIANCE WITH STANDARD PRECAUTIONS AMONG MYANMAR NURSES USING HEALTH BELIEF MODEL
Abstract
Introduction: Healthcare workers are at risk of widespread exposure to pathogens. But among those nurses are the most affected. Relevant literature reports that, compliance with Standard Precaution (a set of guidelines that can be reduced the risk of exposure to pathogens) is inconsistent among nurses. The objective of this study was to improve compliance with Standard Precautions among Myanmar nurses in Specialist Hospital Waibagi (SHW), Myanmar using Health Belief Model (HBM).
Method: A cross-sectional study design and focus group discussions were used to gather in-depth information directly. Thirty-four nurses out of 35 nurses from SHW were involved in this study. They helped to elicit nurses' perception on improving compliance with Standard Precaution. Health Belief Model was used as the theoretical framework and the data were analyzed according to predetermined criteria.
Result: The results revealed that although almost three forth (73.5%) of participants had good compliance eye wearing and recapping needle practices were needed to be improved. The study showed that perceived Susceptibility (p = 0.04), perceived benets (p = 0.03), perceived barriers (p = 0.04) was signicant. But perceived seriousness on compliance with Standard Precaution (p = 0.14) with p value ≤ 0.05 was not signicant.
Conclusion: Provision of regular nursing education, both in the form of human and material resources in quality and quantity, and reducing identied barriers would improve compliance with Standard Precaution.
Keywords:
Compliance, Personal Protective Equipment for Nurses, Health Belief Model
Downloads
Download data is not yet available.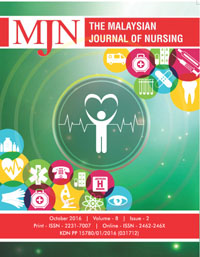 Downloads
How to Cite
Sa Sa Aung, Nursalam, & Yulis Setiya Dewi. (2016). IMPROVING COMPLIANCE WITH STANDARD PRECAUTIONS AMONG MYANMAR NURSES USING HEALTH BELIEF MODEL. The Malaysian Journal of Nursing (MJN), 8(2), 21-28. Retrieved from https://ejournal.lucp.net/index.php/mjn/article/view/518