FENUGREEK DECOCTION PERINEAL WASH FOR NONPREGNANT WOMEN WITH VAGINAL DISCHARGE SYMPTOMS
Abstract
Background: Fenugreek seeds (Trigonella foenum-graecum. L. Leguminosae) is a traditional herbal medicine considered as one of the herbal supplements for vaginal discharge symptoms since antiquity for its antioxidant & anti-inflammatory properties.
Aim: To evaluate the effects of fenugreek seeds decoction in perineal wash among non pregnant women with vaginal discharge symptoms.
Methods:   A  community based  interventional  study  was conducted among 113 non pregnant reproductive age group women who reported of vaginal discharge symptoms at the  Hulimavu  Arekare PHC area of  Bangalore, South Karnataka  was chosen to evaluate the effects of fenugreek seeds decoction perineal wash on the reduction of vaginal discharge  symptoms. The Numerical Graphic Rating Scale (NGRS) was used to evaluate the subjective reports of reduction in the vaginal discharge and vulval itching with the fenugreek seeds decoction perineal wash for twenty eight consecutive days.
Results:  Among the 227 women surveyed, 50% (113) reported vaginal discharge symptoms and vulval itching within the previous thirty days. There was clinically a significant reduction in the subjective reports of vaginal discharge (mean score    8.988 (SD=8.171) to 2.531 (SD=0.401) and vulval itching with mean score 8.947 (SD= 8.813) to 2.711 (SD= 0.791) severity at the end of the twenty eight days of treatment with the fenugreek decoction perineal wash, "Z"= 8.876 and "Z"= 8.621 at p<0.001 respectively. There was no significant association between the effects of fenugreek decoction perineal wash with age, duration of married life and parity. Majority of the participants (89.7%) expressed that they would recommend this fenugreek decoction perineal wash to friends and relatives who suffer with vaginal discharge symptoms. 
 Conclusion: Fenugreek seeds decoction perineal wash significantly reduces    vaginal discharge and vulval itching with no reports of clinically significant harmful adverse effects among non pregnant child bearing women.
Keywords:
Fenugreek Seeds decoction, Perineal wash, Reproductive Age women, Vaginal Discharge Symptoms
Downloads
Download data is not yet available.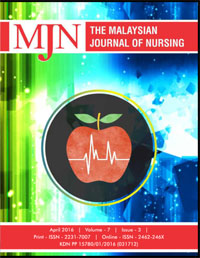 Downloads
How to Cite
Thilagavathy Ganapathy. (2016). FENUGREEK DECOCTION PERINEAL WASH FOR NONPREGNANT WOMEN WITH VAGINAL DISCHARGE SYMPTOMS . The Malaysian Journal of Nursing (MJN), 7(3), 21-26. Retrieved from https://ejournal.lucp.net/index.php/mjn/article/view/484
Metrics