ASSOCIATION BETWEEN NURSES' KNOWLEDGE AND ATTITUDES TOWARD STEM CELL APPLICATION IN MEDICINE
Abstract
Nurses, as frontline health care professionals, need to understand stem cells and their application in medicine so they can enter the debate on this issue. This study aimed to determine the association between nurses' knowledge and attitudes toward the application of stem cellsin medicine in a tertiary teaching hospital in Kelantan, Malaysia. A cross-sectional study was employed on 97 nurses trained in midwifery and neonatology by random sampling method using a self-administered questionnaire.  Majority of the nurses (n=84; 86.6%) surveyed had a moderate knowledge about stem cells in medicine. More than half (n=59; 60.8%) of the nurses exhibited a positive attitude towards the therapeutic potential of stem cells in medicine. There was a statistically significant difference in total knowledge scores and nurses' clinical working experiences (p=0.003).
The majority of nurses showed a positive attitude toward the use of stem cells in medicine. Implementation of an in-service educational programme should be promoted to enhance the impact of knowledge and attitudes on stem cell application to fit contemporary health care needs.
Keywords:
Stem cells, medicine, nurses' knowledge, nurses' attitude
Downloads
Download data is not yet available.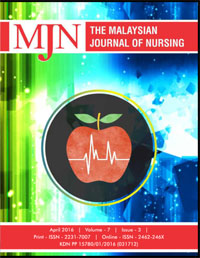 Downloads
How to Cite
Lye Jee Leng, Soon Lean Keng, Wan Amir Nizam WanAhmad, & Tan Suat Cheng. (2016). ASSOCIATION BETWEEN NURSES' KNOWLEDGE AND ATTITUDES TOWARD STEM CELL APPLICATION IN MEDICINE . The Malaysian Journal of Nursing (MJN), 7(3), 3-9. Retrieved from https://ejournal.lucp.net/index.php/mjn/article/view/480
Metrics