STRESS LEVELS AND COPING PATTERNS OF NURSING STUDENTS IN AN INTERNATIONAL PROGRAM PRACTICUM
Abstract
Background: The nursing profession is exposed to many stressful demands and pressures. Regarding appropriate coping patterns, the person must gain equilibrium with the ability to meet new demands.
Method: This study was conducted with a mixed-method research design with a sample of 78 junior nursing students based on Folkman & Lazarus's ways of coping.
Results: Nursing students at clinical practice experienced moderate level of stress (46.20%, n=36), and appraised this as a situation with emotions of challenge (= 2.67, S.D.=0.54, 33.90%). The stressful situations could be categorized into six themes: Persons as stressors; Inadequate knowledge and skills; Low self-esteem and self-confidence in their clinical practice without instructors; Incoherent theories and practice; Novelty; Inadequate learning facilities. Regarding ways of stress coping, the predominant ways of coping were seeking social support and adopting problem solving in a planned manner.
Conclusion: Preparing a clinical-teaching program should emphasize on providing social support, and enhancing knowledge and skills readily applicable to clinical practice.
Keywords:
Stress, Coping pattern, Clinical nursing practice, International nursing program
Downloads
Download data is not yet available.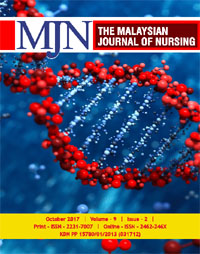 Downloads
How to Cite
Netchanok Sritoomma, & Numfon Domkrang. (2017). STRESS LEVELS AND COPING PATTERNS OF NURSING STUDENTS IN AN INTERNATIONAL PROGRAM PRACTICUM. The Malaysian Journal of Nursing (MJN), 9(2), 64-70. Retrieved from https://ejournal.lucp.net/index.php/mjn/article/view/434