NURSES' KNOWLEDGE ABOUT MANAGEMENT OF DIFFERENT STAGES OF NORMAL LABOUR IN BANGLADESH
Abstract
Nurses play a vital role in a healthcare system. So, they need to have multiple sets of skills and knowledge. This study investigated nurses' knowledge about management of different stages of normal labour in Bangladesh. Some 220 purposively selected senior staff nurses at the Shaheed Ziaur Rahman Medical College Hospital, Bogra, took part in the research. With the help of a key informant, the nurses were interviewed by using a semi-structured questionnaire. Findings of the study show that there is a significant relationship between the nurses' length of service and the ability of performing episiotomy (p<0.001). Of the participants, 76.4% knew about the necessity of vaginal examination in the second stage of labor. About 26.4% of the participants considered the characteristics of uterine contraction as a powerful factor. Furthermore, 73.2% knew the counting of foetal heart sound in the second stage of labor; 83.6% had the ability to perform episiotomy. The majority of the respondents (80.9%) felt that excessive vaginal bleeding is an important risk factor in labour. Of the participants, 85.00% had experience in conducting labour; 99.09% knew about different stages of labour; 69.09% knew the stages of dilation of cervix; 88.64% knew how to assess dilation of cervix in second stage of labor; and 98.18% knew the third stage of labor.
Keywords:
Normal Labour, Healthcare System, Caregiver, Pregnant Women, Episiotomy
Downloads
Download data is not yet available.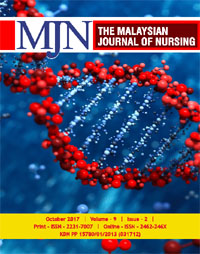 Downloads
How to Cite
Jawadul Haque, Md. Abdul Awal, Md. Aminul Islam, Arpana Rani Saha, & Jarin Sazzad. (2017). NURSES' KNOWLEDGE ABOUT MANAGEMENT OF DIFFERENT STAGES OF NORMAL LABOUR IN BANGLADESH. The Malaysian Journal of Nursing (MJN), 9(2), 15-19. Retrieved from https://ejournal.lucp.net/index.php/mjn/article/view/422
Metrics