The Perceptions of Pregnant Mothers on Exclusive Breastfeeding: Motivation to Perform Early Breastfeeding Initiation (EBI) at Hayati Clinic Medan
Abstract
Introduction: Pregnancy is a natural and physiological process that brings happiness to mothers with the arrival of their newborn. When a baby is born, it is placed on its mother's chest, where it will have physical contact with its mother and instinctively search for its mother's nipple to breastfeed. This is where the process of early breastfeeding initiation (EBI) occurs. Breast milk is a natural food for babies, and the World Health Organization recommends exclusive breastfeeding for six months. Despite a 49% decrease in under-five mortality rates worldwide, child mortality remains a significant issue, with almost half of all child deaths occurring in the last two decades. The aim of this study is to determine the relationship between pregnant women's attitudes towards exclusive breastfeeding and their motivation to perform EBI. Methods: This study used a cross-sectional analytical survey design, with data collected through questionnaires distributed to 44 pregnant mothers at Hayati Clinic. The sampling technique used was saturation sampling, and the data were analyzed using chi-square statistical tests with α 0.05. Results: Based on the research results, the relationship between pregnant mothers' perceptions of exclusive breastfeeding and their motivation to perform EBI was significant, with p (0.000) < α (0.05), indicating that mothers with less favorable perceptions were less motivated to perform EBI. Conclusion: From the study's findings, it is recommended that pregnant mothers increase their knowledge and seek more information about exclusive breastfeeding and motivation to achieve successful early breastfeeding initiation (EBI).
Keywords:
Early Breastfeeding Initiation, Exclusive Breastfeeding, Pregnant Mothers
Downloads
Download data is not yet available.
References
Admasu, J., Egata, G., Bassore, D. G., & Feleke, F. W. (2022). Effect of maternal nutrition education on early initiation and exclusive breast-feeding practices in south Ethiopia: a cluster randomised control trial. Journal of Nutritional Science, 11, e37. https://doi.org/10.1017/jns.2022.36
Astuti, S., Judistiani, T. D., Rahmiati, L., & Susanti, A. I. (2015). Postpartum & Breastfeeding Midwifery Care (R. Astikawati, ed.).Jakarta: Erlangga. https://opac.perpusnas.go.id/DetailOpac.aspx?id=1159408# Accessed on 12th July, 2022
Burton, K. (2012). A study of motivation: How to get your employees moving. Management, 3(2), 232-234. https://shorturl.at/fNOSW Accessed on 28th January, 2022
Cangöl, E., & Şahin, N. H. (2017). The effect of a breastfeeding motivation program maintained during pregnancy on supporting breastfeeding: a randomized controlled trial. Breastfeeding Medicine, 12(4), 218-226. https://doi.org/10.1089/bfm.2016.0190
Hasanah, R. F. A., Sari, Y. N. E., & Natalia, M. S. (2023). The Relationship of Early Breastfeeding Initiation (IMD) with Milk Fluency in Postpartum Breastfeeding Mothers at Klinik Pratama. Jurnal eduhealth, 14(02), 557-566. https://ejournal.seaninstitute.or.id/index.php/healt/article/view/1969. Accessed on 22nd November, 2022.
Hayatiningrum, R. I. Z., Cahyati, Y., & Februanti, S. (2023). The Effect of Health Education Through Animated Video Media and Leaflets About Breastfeeding Techniques on the Level of Knowledge and Skills of Breastfeeding Mothers. International Journal of Advancement in Life Sciences Research, 6(3), 38-46. https://doi.org/10.31632/ijalsr.2023.v06i03.004
Ibrahiem, N. M., Ali, M. R., Elbahlowan, G. A., Gida, N., & Abdel-Azeem, N. (2022). Planned teaching programme through booklet for primi gravidae women regarding lacatation problems. The Malaysian Journal of Nursing (MJN), 13(3), 85-98. http://doi.org/10.31674/mjn.2022.v13i03.013
Jebena, D. D., & Tenagashaw, M. W. (2022). Breastfeeding practice and factors associated with exclusive breastfeeding among mothers in Horro District, Ethiopia: A community-based cross-sectional study. Plos One, 17(4), e0267269. https://doi.org/10.1371/journal.pone.0267269
Naja, F., Chatila, A., Ayoub, J. J., Abbas, N., Mahmoud, A., Abdulmalik, M. A., & Nasreddine, L. (2022). Prenatal breastfeeding knowledge, attitude and intention, and their associations with feeding practices during the first six months of life: a cohort study in Lebanon and Qatar. International Breastfeeding Journal, 17(1), 1–17. https://doi.org/10.1186/s13006-022-00456-x
Notoatmodjo, S. (2012). Metodologi Penelitian Kesehatan Tahun 2012. https://opac.perpusnas.go.id/DetailOpac.aspx?id=879968. Accessed on 8th December, 2022.
Pickens, J. (2005). Attitudes and perceptions. Organizational Behavior in Health Care, 4(7), 43–76. https://www.scirp.org/%28S%28lz5mqp453edsnp55rrgjct55%29%29/reference/referencespapers.aspx?referenceid=2309953. Accessed on 17th August, 2022.
Pitkin, H. F. (2016). The concept of representation. In Democracy: A Reader (pp. 155–158). Columbia University Press. https://doi.org/10.7312/blau17412-034
Putri, A. D. (2019). The relationship of early breastfeeding initiation with postpartum maternal prolactin levels. Malaysian Journal of Medical Research (MJMR), 3(1), 5-9. https://10.31674/mjmr. 2019. v03i01.002. Accessed on 7th September, 2022.
Raihana, S., Dibley, M. J., Rahman, M. M., Tahsina, T., Siddique, M. A. B., Rahman, Q. S., Islam, S., Alam, A., Kelly, P. J., Arifeen, S. E., & Huda, T. M. (2019). Early initiation of breastfeeding and severe illness in the early newborn period: An observational study in rural Bangladesh. PLoS Medicine, 16(8), e1002904. https://doi.org/10.1371/journal.pmed.1002904
Ri, K. (2021). Indonesian health profile 2020. Kementerian Kesehatan RI. https://www.scribd.com/document/526663412/Profil-Kesehatan-Indonesia-Tahun-2020. Accessed on 30th January, 2022.
Septina, R., & Djami, M. E. (2022). Impact Of Exclusive Breast Milk On Growth And Development Of Children Aged 6-24 Months. Jurnal Kebidanan Malahayati, 8(3), 578-584. http://dx.doi.org/10.33024/jkm.v8i3.6994
Siregar, R. (2021). Factors Related to Low Motivation of Motivation to Carry Baby/Baby to Posyandu. International Journal of Multidisciplinary Research and Analysis, 4(10.47191). https://doi.org/10.47191/ijmra/v4-i6-11
Sternberg, R. J., & Grigorenko, E. L. (2014). A capsule history of theory and research on styles. In Perspectives on thinking, learning, and cognitive styles (pp. 1–21). Routledge. https://www.taylorfrancis.com/chapters/edit/10.4324/9781410605986-1/capsule-history-theory-research-styles-robert-sternberg-elena-grigorenko. Accessed on 19th June, 2022
Suyanti, D. E., & Idaningsih, A. Relationship between knowledge and motivation with the implementation of early initiation of breastfeeding (eib). https://universitasypib.ac.id/wp-content/uploads/2023/08/3-wn-Suyanti-Revisi-23-34.pdf . Accessed on 11th August, 2022
Tulis, M. I. P. P. K. (2016). Health Sciences Using Scientific Methods. Bandung: Citapustaka Media Perintis, 117. https://scholar.google.com/scholar?hl=en&as_sdt=0%2C5&q=Muhammad+I.+Panduan+Penyusunan+Karya+Tulis+Ilmiah+Bidang+Kesehatan++Menggunakan+Metode+Ilmiah.+Medan%3A+Citapustaka+Media+Perintis%3B+2016.&btnG=
World Health Organization (WHO) (2023). World Health Statistics: Infant Mortality. https://www.who.int/data/gho/data/themes/topics/indicator-groups/indicator-group-details/GHO/infant-mortality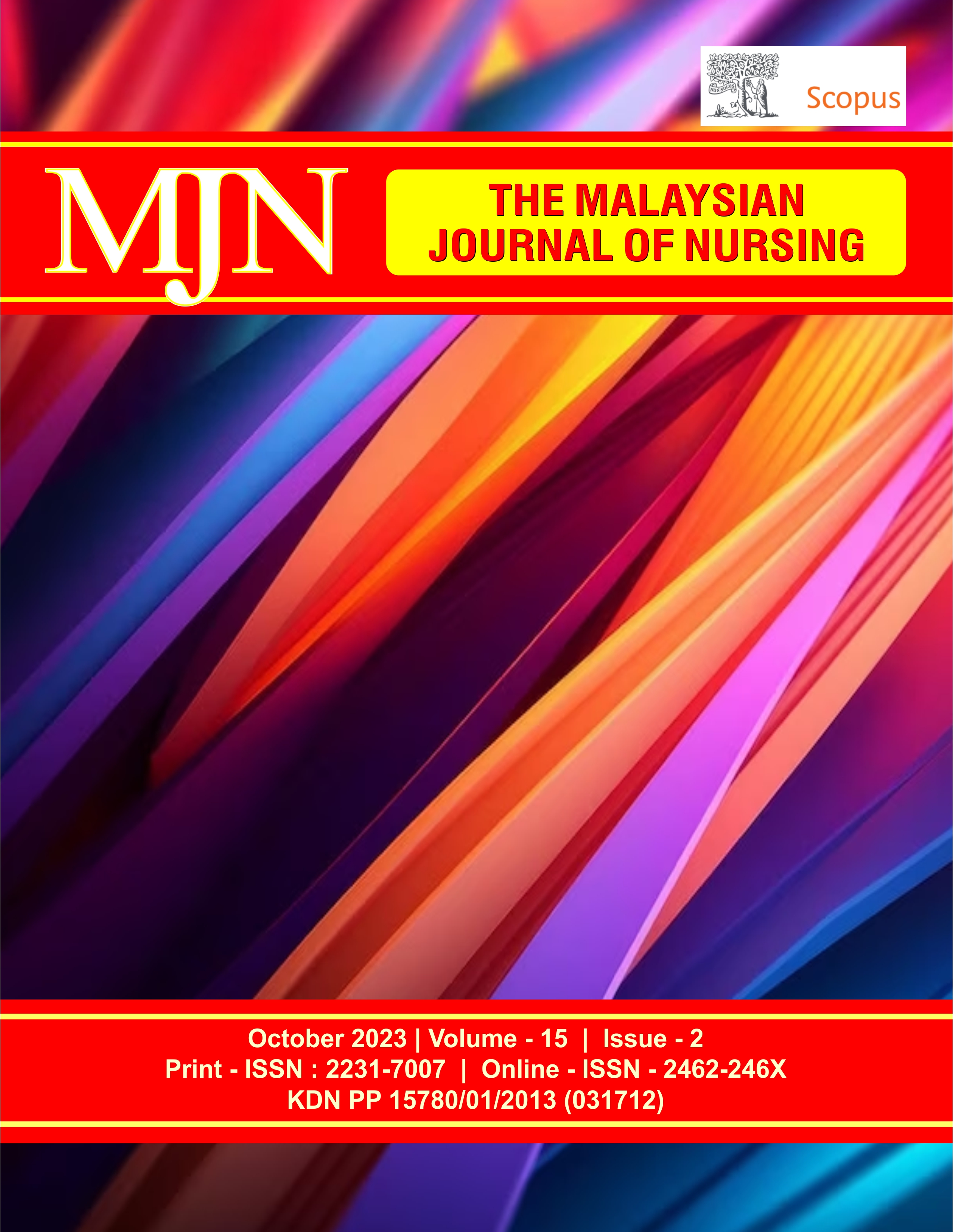 How to Cite
Wahyuni, F., Santri P, Y. V. ., Kencana, T. ., Darmayanti, E. ., Sipahutar, D. M., & Fithri, N. . (2023). The Perceptions of Pregnant Mothers on Exclusive Breastfeeding: Motivation to Perform Early Breastfeeding Initiation (EBI) at Hayati Clinic Medan. The Malaysian Journal of Nursing (MJN), 15(2), 3-9. https://doi.org/10.31674/mjn.2023.v15i02.001
License
Copyright (c) 2023 The Malaysian Journal of Nursing (MJN)
This work is licensed under a Creative Commons Attribution-NonCommercial-NoDerivatives 4.0 International License.