The Filipino Concept of Mental Illness and Nurses' Attitudes: A Scoping Review
Abstract
Negative attitudes can arise from not recognizing the influence of culture among nurses caring for patients with mental problems. Although nurses' attitudes toward these patients have been extensively studied, few involve Filipino nurses. This scoping review provides an overview of the perception of mental illness in Filipino culture, along with the attitudes of the Filipino nurses towards dealing with patients with mental health issues. From July to December 2022, searches were made in the databases of Google Scholar, PubMed, and PsychInfo, and the reference lists of identified articles were guided by the PRISMA-ScR. Twenty-one articles met the inclusion criteria. The review showed mental illnesses implicate the role of cultural beliefs on supernatural beings, curses, retribution from God, imbalance between hot and cold elements, spirit possession, softness in character, engaging in evil acts, family, shame, and saving face, which can lead to stigmatization of patients with mental illness (n = 18), and the attitudes of Filipino nurses towards these patients were also shown but were not conclusive (n = 3). Hence, it is recommended that further studies on Filipino culture and mental health nursing and on the experiences of Filipino nurses in caring for patients with mental illnesses, the influence of religion, spirituality, and family, and somatization of mental distress is necessary. Emphasis on filial piety as a framework for future research on the mental illness of Filipinos is recommended because the family can both be a source of mental distress and a source of personal strength in overcoming stigma. In addition, this review can be used to improve the quality of nursing care and perform mental health care training and education programs to reduce mental illness stigma in the Philippines.
Keywords:
Filipino Culture, Mental Health, Nursing, Stigma
Downloads
Download data is not yet available.
References
Abad, P. J. B., Tan, M. L., Baluyot, M. M. P., Villa, A. Q., Talapian, G. L., Reyes, M. E., ... & Laurino, M. Y. (2014). Cultural Beliefs on Disease Causation in The Philippines: Challenge and Implications in Genetic Counseling. Journal of Community Genetics, 5, 399-407. https://doi.org/10.1007/s12687-014-0193-1
Adams, R. J., Smart, P., & Huff, A. S. (2017). Shades Of Grey: Guidelines for Working with The Grey Literature in Systematic Reviews for Management and Organizational Studies. International Journal of Management Reviews, 19(4), 432-454. https://doi.org/10.1111/ijmr.12102
Al-Awadhi, A., Atawneh, F., Alalyan, M. Z. Y., Shahid, A. A., Al-Alkhadhari, S., & Zahid, M. A. (2017). Nurses' Attitude Towards Patients with Mental Illness in A General Hospital in Kuwait. Saudi Journal of Medicine & Medical Sciences, 5(1), 31. https://doi.org/10.4103/1658-631X.194249
Ambrad, L.M.A. (2018, July 11). 14 Students in Dalaguete 'Possessed' By Spirits. The Freeman. https://www.philstar.com/the-freeman/cebu-news/2018/07/11/1832475/14-students-dalaguete-possessed-spirits#gUB4tSbEwJtF9FO0.99. Accessed on 18th July, 2022
Arksey, H., & O'Malley, L. (2005). Scoping Studies: Towards A Methodological Framework. International Journal of Social Research Methodology, 8(1), 19-32. https://doi.org/10.1080/1364557032000119616
Camorongan, M. D. (2007). Factors Affecting Help-Seeking Behaviors for Mental Health Services Among Filipino Americans. https://scholarworks.smith.edu/theses/432. Accessed on 2nd December, 2022.
Campinha-Bacote, J. (2002). The Process of Cultural Competence in The Delivery of Healthcare Services: A Model of Care. Journal of Transcultural Nursing, 13(3), 181-184.
Chen, F. (2021, August 17). Filial Piety and Mental Health in Asian American Families. Psychology Today. https://www.psychologytoday.com/intl/blog/the-psych-mic/202108/filial-piety-and-mental-health-in-asian-american-families. Accessed on 15th December, 2022
Cruz, H. A., & Mariano, M. P. V. (2019). Knowledge, Attitude and Practices (KAP) Of Nursing Staff Regarding Depressive Disorders in A Private Hospital in Quezon City, Philippines. The Health Sciences Journal, 10, 234-238. https://www.ejournals.ph/article.php?id=19131. Accessed on 10th August, 2022.
Daher-Nashif, S., Hammad, S. H., Kane, T., & Al-Wattary, N. (2021). Islam And Mental Disorders of The Older Adults: Religious Text, Belief System and Caregiving Practices. Journal of Religion and Health, 60, 2051-2065. https://doi.org/10.1007/s10943-020-01094-5
Dalky, H. F., Abu-Hassan, H. H., Dalky, A. F., & Al-Delaimy, W. (2020). Assessment of Mental Health Stigma Components of Mental Health Knowledge, Attitudes and Behaviors Among Jordanian Healthcare Providers. Community Mental Health Journal, 56, 524-531. https://doi.org/10.1007/s10597-019-00509-2
de Jacq, K., Norful, A. A., & Larson, E. (2016). The Variability of Nursing Attitudes Toward Mental Illness: An Integrative Review. Archives of Psychiatric Nursing, 30(6), 788-796. https://doi.org/10.1016/j.apnu.2016.07.004
De Torres, S. (2002). Understanding Persons of Philippine Origin: A Primer for Rehabilitation Service Providers. Center For International Rehabilitation Research Information and Exchange. https://www.ecald.com/assets/Resources/Assets/Understanding-Persons-Philippine-Origin.pdf. Accessed on 18th July, 2022
Diaz, D., & Caboral-Stevens, M. (2021). Health-Promoting Behavior and Positive Mental Health of Filipino Nurses in Michigan. Journal of Nursing Practice Applications & Reviews of Research, 11, 20-26. https://www.emich.edu/chdis/documents/stevens/jnparr-2021.pdf. Accessed on 2nd December, 2022.
Ercan, S. K., & Delba, D. H. (2021). Stigmatizing Attitudes and The Use of Stigmatizing Language Towards Mental Illness Among Doctors and Nurses in Turkey. Sanamed, 16(2), 123-130. https://doi.org/10.24125/sanamed.v16i2.479
Fogel, J., & Ford, D. E. (2005). Stigma Beliefs of Asian Americans with Depression in An Internet Sample. The Canadian Journal of Psychiatry, 50(8), 470-478. https://doi.org/10.1177/070674370505000807
Freire, J., Moleiro, C., & Rosmarin, D. H. (2016). Calling For Awareness and Knowledge: Perspectives on Religiosity, Spirituality and Mental Health in A Religious Sample from Portugal (A Mixed-Methods Study). Open Theology, 2(1). https://doi.org/10.1515/opth-2016-0053
Ghuloum, S., Mahfoud, Z. R., Al-Amin, H., Marji, T., & Kehyayan, V. (2022). Healthcare Professionals' Attitudes Toward Patients with Mental Illness: A Cross-Sectional Study in Qatar. Frontiers in Psychiatry, 13, 884947. https://doi.org/10.3389/fpsyt.2022.884947
Gingrich, H. J. D. (2006). An Examination of Dissociative Symptoms as They Relate to Indigenous Filipino Concepts. Social Science Diliman, 3(1-2), 1-48. https://journals.upd.edu.ph/index.php/socialsciencediliman/article/view/2113. Accessed on 15th August, 2022.
Godin, K., Stapleton, J., Kirkpatrick, S. I., Hanning, R. M., & Leatherdale, S. T. (2015). Applying Systematic Review Search Methods to The Grey Literature: A Case Study Examining Guidelines for School-Based Breakfast Programs in Canada. Systematic Reviews, 4(1), 1-10. https://doi.org/10.1186/s13643-015-0125-0
Gong, F., Gage, S. J. L., & Tacata Jr, L. A. (2003). Helpseeking Behavior Among Filipino Americans: A Cultural Analysis of Face and Language. Journal of Community Psychology, 31(5), 469-488. https://doi.org/10.1002/jcop.10063
Hechanova, M. R. A., Tuliao, A. P., & Hwa, A. P. (2011). If You Build It, Will They Come? Adoption of Online Counselling Among Overseas Migrant Workers. Media Asia, 38(1), 32-40. https://doi.org/10.1080/01296612.2011.11726889
Jimenez, C. (2016, July 19). Students In La Union Possessed By 'Evil Spirit'? ABS-CBN News. https://news.abs-cbn.com/classified-odd/07/19/16/students-in-la-union-possessed-by-evil-spirit. Accessed on 18th July, 2022
Man, R. R. M. A. R. (2019). Filipino Nurses' Attitudes and Cultural Competency in Caring for Mentally- Ill Patients: A Scoping Review. International Journal of Caring Sciences, 12(2), 1-12. http://www.internationaljournalofcaringsciences.org/docs/21_rubio_original_12_2.pdf
Martinez, A. B., Co, M., Lau, J., & Brown, J. S. (2020). Filipino Help-Seeking for Mental Health Problems and Associated Barriers and Facilitators: A Systematic Review. Social Psychiatry and Psychiatric Epidemiology, 55, 1397-1413. https://doi.org/10.1007/s00127-020-01937-2
Mengist, W., Soromessa, T., & Legese, G. (2020). Method For Conducting Systematic Literature Review and Meta-Analysis for Environmental Science Research. Methodsx, 7, 100777. https://doi.org/10.1016/j.mex.2019.100777
Ordonez, R. V., & Gandeza, N. (2004). Integrating Traditional Beliefs and Modern Medicine: Filipino Nurses' Health Beliefs, Behaviors, And Practices. Home Health Care Management & Practice, 17(1), 22-27. https://doi.org/10.1177/1084822304268152
Pan, Y., & Tang, R. (2021). The Effect of Filial Piety and Cognitive Development on The Development of Adolescents' Depressive Symptoms: A Longitudinal Study. Frontiers in Psychology, 12, 751064. https://doi.org/10.3389/fpsyg.2021.751064
Peters, M. D., Godfrey, C. M., Khalil, H., McInerney, P., Parker, D., & Soares, C. B. (2015). Guidance for Conducting Systematic Scoping Reviews. JBI Evidence Implementation, 13(3), 141-146. https://doi.org/10.1097/XEB.0000000000000050
Peters, M. D., Marnie, C., Tricco, A. C., Pollock, D., Munn, Z., Alexander, L., ... & Khalil, H. (2020). Updated Methodological Guidance for The Conduct of Scoping Reviews. JBI Evidence Synthesis, 18(10), 2119-2126. https://doi.org/10.1097/XEB.0000000000000050
Purnell, L. (2002). The Purnell Model for Cultural Competence. Journal of Transcultural Nursing, 13(3), 193-196. https://pubmed.ncbi.nlm.nih.gov/12113149/
Rivera, A. K. B., & Antonio, C. A. T. (2017). Mental Health Stigma among Filipinos: Time for A Paradigm Shift. Philippine Journal of Health Research and Development, 21(2), 20-24. https://pjhrd.upm.edu.ph/index.php/main/article/view/172. Accessed on 18th July, 2022
Roxanne, A. (2016, November 16). Students 'Possessed' By Evil Spirits in Misamis Town. ABS-CBN News. https://news.abs-cbn.com/classified-odd/11/16/16/students-possessed-by-evil-spirits-in-misamis-town. Accessed on 20th July, 2022
Rubio, R. (2022). Development and Validation of Culture Competence Tool for Filipino Nurses. Philippine Journal of Health Research and Development, 26(1), 15-25. Accessed on 15th December, 2022.
Salama, R. A. A., Tadroos, T. M., Sikandar, I., Ashraf, A., & Khan, A. (2021). Attitudes of Healthcare Professionals Towards Mental Illness: A Survey Study in Ras Al Khaimah. Open Journal of Psychiatry, 11(3), 160-173. https://doi.org/10.4236/ojpsych.2021.113013
Sanchez, F., & Gaw, A. (2007). Mental Health Care of Filipino Americans. Psychiatric Services, 58(6), 810-815. https://doi.org/10.1176/ps.2007.58.6.810
Shahani, L. (2014, March 18). Breaking Stigma: The Question of Mental Health Reform. GMA NEWS ONLINE. https://www.gmanetwork.com/news/topstories/specialreports/352189/breaking-stigma-the-question-of-mental-health-reform/story/. Accessed on 22nd July, 2022
Stubbe, D. E. (2020). Practicing Cultural Competence and Cultural Humility in The Care of Diverse Patients. Focus, 18(1), 49-51. https://doi.org/10.1176/appi.focus.20190041
Tan, M. L. (2008). Revisiting usog pasma kulam (Student). University of the Philippines Press.https://www.google.com.ph/books/edition/Revisiting_Usog_Pasma_Kulam/EktzHrfup1UC?hl=en&gbpv=0. Accessed on July 18th July,2022
Tanaka, C., Tuliao, M. T. R., Tanaka, E., Yamashita, T., & Matsuo, H. (2018). A Qualitative Study on The Stigma Experienced by People with Mental Health Problems and Epilepsy in The Philippines. BMC Psychiatry, 18, 1-13. https://doi.org/10.1186/s12888-018-1902-9
Thompson, S., Manderson, L., Woelz-Stirling, N., Cahill, A., & Kelaher, M. (2002). The Social and Cultural Context of The Mental Health of Filipinas in Queensland. Australian & New Zealand Journal of Psychiatry, 36(5), 681-687. https://doi.org/10.1046/j.1440-1614.2002.01071.x
Tricco, A. C., Lillie, E., Zarin, W., O'Brien, K. K., Colquhoun, H., Levac, D., ... & Straus, S. E. (2018). PRISMA Extension for Scoping Reviews (PRISMA-Scr): Checklist and Explanation. Annals of Internal Medicine, 169(7), 467-473. https://doi.org/10.7326/M18-0850
Tuliao, A. P. (2014). Mental Health Help Seeking Among Filipinos: A Review of The Literature. Asia Pacific Journal of Counselling and Psychotherapy, 5(2), 124-136. https://doi.org/10.1080/21507686.2014.913641
Webb, M. (2012). Toward A Theology of Mental Illness. Journal of Religion, Disability & Health, 16(1), 49-73. https://doi.org/10.1080/15228967.2012.645608
Zolezzi, M., Bensmail, N., Zahrah, F., Khaled, S. M., & El-Gaili, T. (2017). Stigma Associated with Mental Illness: Perspectives of University Students in Qatar. Neuropsychiatric Disease and Treatment, 1221-1233. https://doi.org/10.2147/NDT.S132075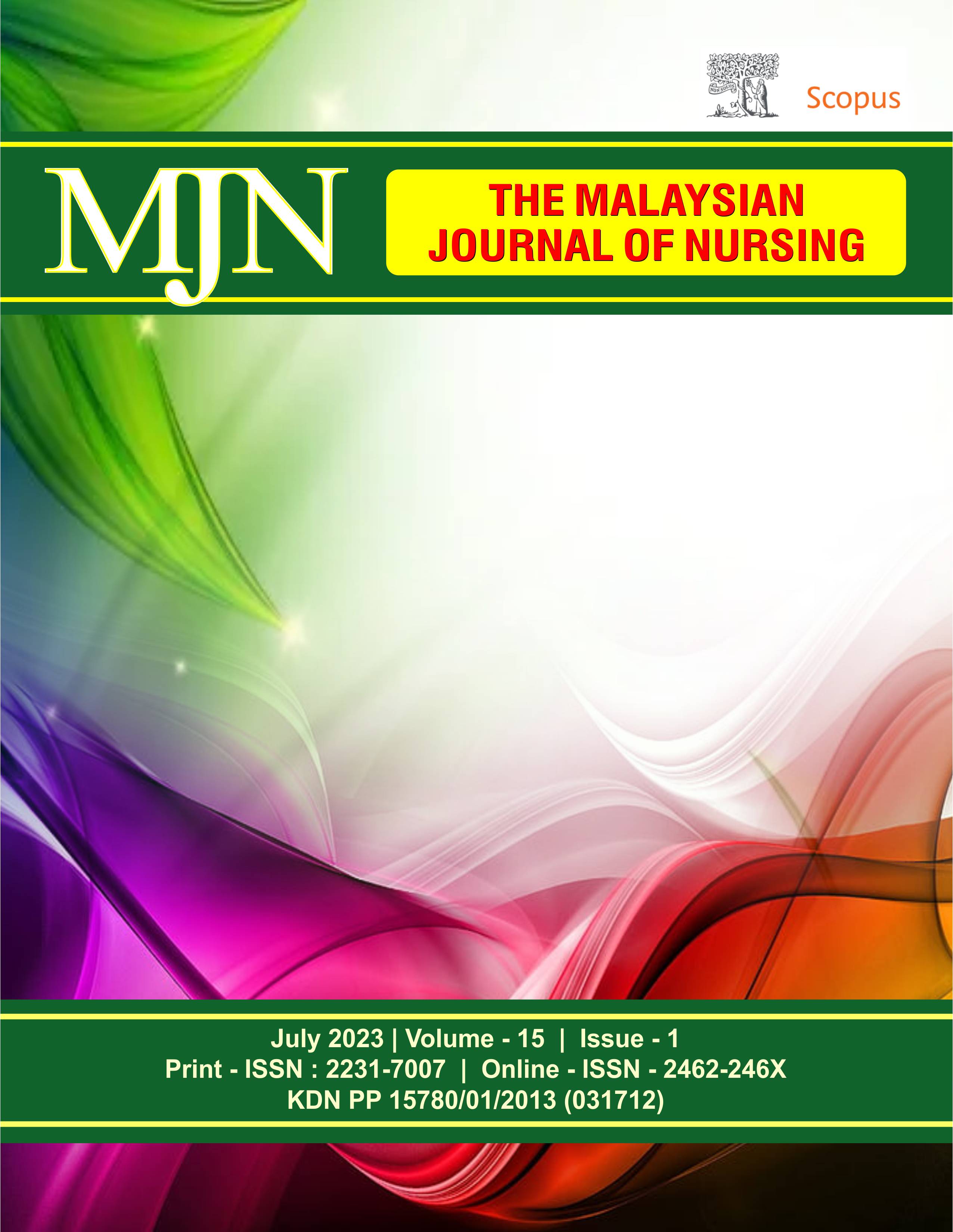 How to Cite
Rubio , R. R. M. A. (2023). The Filipino Concept of Mental Illness and Nurses' Attitudes: A Scoping Review . The Malaysian Journal of Nursing (MJN), 15(1), 126-137. https://doi.org/10.31674/mjn.2023.v15i01.015
License
Copyright (c) 2023 The Malaysian Journal of Nursing (MJN)
This work is licensed under a Creative Commons Attribution-NonCommercial-NoDerivatives 4.0 International License.