Perception, Challenges, and Satisfaction Towards Online Teaching among Health Sciences Lectures
Abstract
Background: Educators and students, especially in higher education, are forced to shift their classes to online classes from the COVID-19 situation to maintain social distancing since the pandemic has evolved. However, this shifting process has been difficult for educators, as they need to reorient their teaching methods to achieve learning outcomes. Objective: Therefore, this research paper aims to evaluate the perception, challenges, and satisfaction of online teaching among lecturers with online questionnaires through Google Forms. Methods: A quantitative approach with a purposive sampling method and a cross-sectional study was conducted from March until July 2022. A total of 87 lecturers from the Faculty of Health Sciences at UiTM Puncak Alam were recruited using the questionnaires, which were Perceptions on Online Education, Challenges Faced by Teachers in Online Teaching, and Post-Teaching Phase. Results: The result revealed that lecturers' perception of online teaching had a positive concept (2.013). However, some lecturers believed that online teaching did not help clear the students doubts. This study also revealed that lecturers faced challenges (2.063) when conducting online classes, but they were satisfied (2.903) with online teaching. Conclusion: It is concluded that there is no relationship between demographic factors and the lecturers' perceptions, challenges, and satisfaction with online teaching.
Keywords:
Challenges, Covid-19, Higher Education, Lecturers, Online Teaching, Pandemic, Perception, Satisfaction
Downloads
Download data is not yet available.
References
Biswas, R., & Sen, S. (2023). Impact of COVID- 19 Pandemic on Undergraduate Life Science Teaching-Learning: A Gender- Based Qualitative Student Survey. International Journal of Advancement in Life Sciences Research, 6(1), 25-34. https://doi.org/https://doi.org/10.31632/ijalsr.2023.v06i01.004
Dubey, D. B., & Singh, D. S. (2020). Perception of Teachers on Online Teaching in Higher Education during Covid-19 Lockdown. International Journal of Creative Research Thoughts (IJCRT), 8(5), 1017-1022. https://efaidnbmnnnibpcajpcglclefindmkaj/https://ijcrt.org/papers/IJCRT2005135.pdf. Accessed on February 25th, 2023
Elewa, A. H. (2022). Online Teaching Readiness, Challenges and Satisfaction as Perceived by Nursing Faculty Members during COVID-19 Pandemics. International Egyptian Journal of Nursing Sciences and Research, 2(2), 568-579. https://ejnsr.journals.ekb.eg/article_212573.html . Accessed on March 1st, 2023
Fleming, J., Becker, K., & Newton, C. (2017). Factors for Successful E-Learning: does age Matter?. Education+ Training, 59(1), 76-89. https://doi.org/10.1108/ET-07-2015-0057
Gamage, K. A., Pradeep, R. R., Najdanovic-Visak, V., & Gunawardhana, N. (2020). Academic Standards and Quality Assurance: The Impact of COVID-19 on University Degree Programs. Sustainability, 12(23), 10032. https://www.mdpi.com/2071-1050/12/23/10032, Accessed on January 23rd, 2023
Gurung, S. (2021). Challenges Faced by Teachers in Online Teaching during Covid-19 Pandemic. The Online Journal of Distance Education and E-Learning, 9(1), 8-18. https://orcid.org/0000-0002-2734-2268 . Accessed on February 22nd, 2023
Hoe, L. Z. (2020). Evaluating Lecturers' Satisfaction towards Online Teaching in AHIBS, UTM, Kuala Lumpur, Malaysia. International Journal of Innovation and Business Strategy (IJIBS), 14(2), 78-93. https://ijibs.utm.my/index.php/ijibs/article/view/90. Accessed on February 2nd, 2023
Junus, K., Santoso, H. B., Putra, P. O. H., Gandhi, A., & Siswantining, T. (2021). Lecturer Readiness for Online Classes during the Pandemic: A Survey Research. Education Sciences, 11(3), 139. https://doi.org/10.3390/educsci11030139
König, J., Jäger-Biela, D. J., & Glutsch, N. (2020). Adapting to Online Teaching during COVID-19 School Closure: Teacher Education and Teacher Competence Effects among Early Career Teachers in Germany. European Journal of Teacher Education, 43(4), 608-622. https://doi.org/10.1080/02619768.2020.1809650
Kunjukunju, A., Yusof, P., & Ahmad, A. (2020). Quality of Experiences (QOE) with E-Learning among Nursing Students in a Private Healthcare University Setting in Malaysia. The Malaysian Journal of Nursing (MJN), 12(2), 98-105. https://doi.org/10.31674/mjn.2020.v12i02.013
Pham, N. T., & Van Nghiem, H. (2022). Online Teaching Satisfaction Amid the Covid-19 Pandemic: Evidence from A Vietnamese Higher Education Context. International Journal of TESOL & Education, 2(1), 310-326. https://doi.org/10.54855/ijte.222119
Ramayah, B. & Kumar, R. (2020). Challenges towards online Teaching during Covid 19 Pandemic. In Malaysia: University Lecturers' Perspective. In ICERI2020 Proceedings (pp. 425-432). IATED. https://doi/10.21125/iceri.2020.0132
Shambour, M. K. Y., & Abu-Hashem, M. A. (2021). Analysing Lecturers' Perceptions on Traditional vs. Distance Learning: A Conceptual Study of Emergency Transferring to Distance Learning during COVID-19 Pandemic. Education and Information Technologies, 27, 3225–3245. https://doi.org/10.1007/s10639-021-10719-5
Soliman, M. (2014). Perception of Stress and Coping Strategies by Medical Students at King Saud University, Riyadh, Saudi Arabia. Journal of Taibah University Medical Sciences, 9(1), 30–35. https://doi.org/10.1016/j.jtumed.2013.09.006
Subedi, S., Nayaju, S., Subedi, S., Shah, S. K., & Shah, J. M. (2020). Impact of E-Learning During COVID-19 Pandemic among Nursing Students and Teachers of Nepal. International Journal of Science and Healthcare Research, 5(3), 68-76. https://efaidnbmnnnibpcajpcglclefindmkaj/https://ijshr.com/IJSHR_Vol.5_Issue.3_July2020/IJSHR0012.pdf . Accessed on January 29th, 2023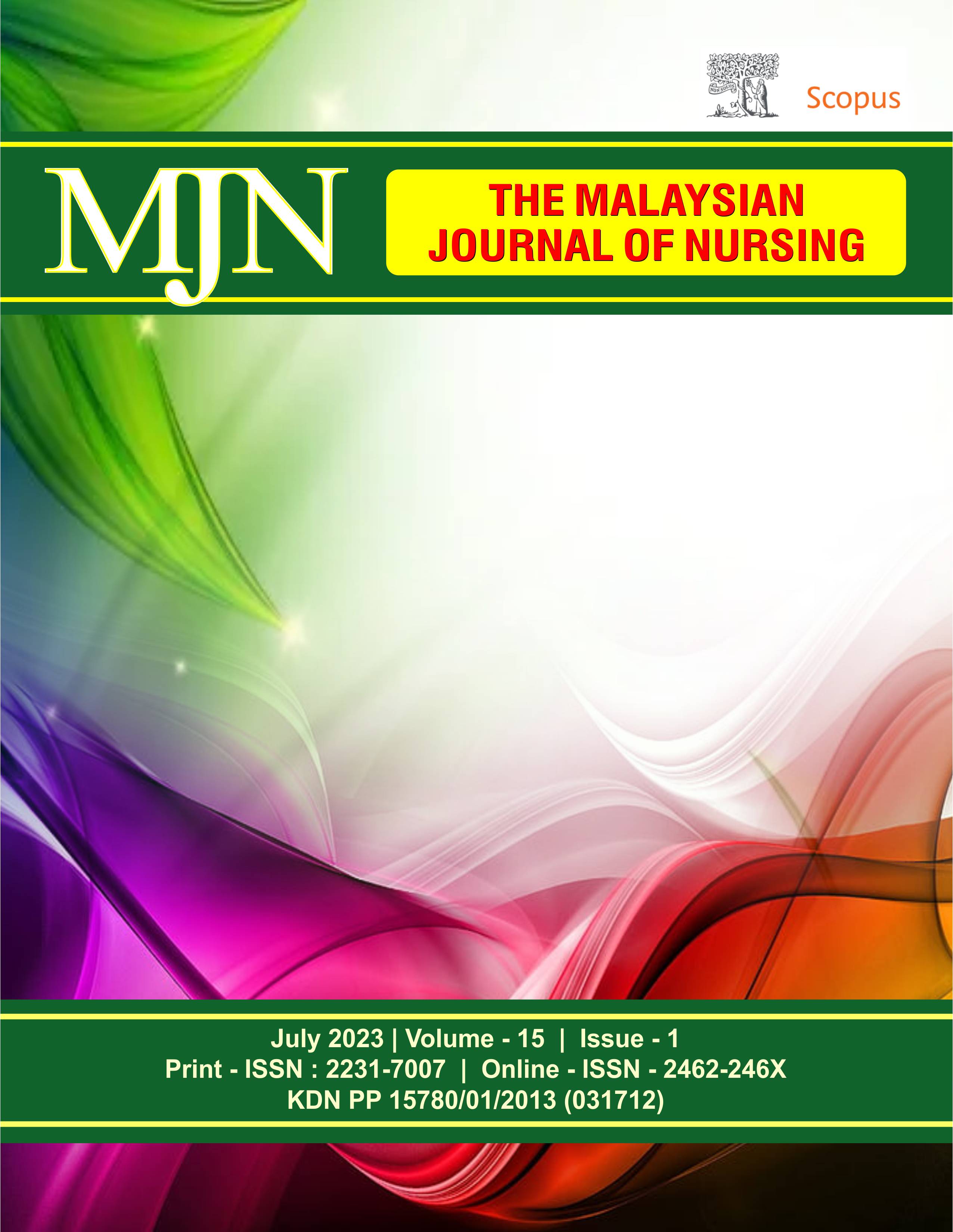 How to Cite
Mohd Nawi, N. A. N. ., Wan Rosli, N. N. S. F. ., Akma Shohor, N. ., & Wan Ismail, W. M. . (2023). Perception, Challenges, and Satisfaction Towards Online Teaching among Health Sciences Lectures. The Malaysian Journal of Nursing (MJN), 15(1), 92-100. https://doi.org/10.31674/mjn.2023.v15i01.011
License
Copyright (c) 2023 The Malaysian Journal of Nursing (MJN)
This work is licensed under a Creative Commons Attribution-NonCommercial-NoDerivatives 4.0 International License.