The Utilization of Animated Video Technology on Family Resilience in Facing the COVID-19 Pandemic
Abstract
Background: Family resilience is the dynamic condition of a family that has the physical, mental, and material strength to lead an independent life. Aim: This study was to identify the utilization of animated videos on family resilience in the COVID-19 pandemic in East Jakarta. Methods: This is a quantitative study with a quasi-experimental design and a randomized pre-/post-test control group design involving 289 respondents, of whom 197 were in the intervention group and 92 were in the control group. Results: The results showed that there was a significant difference between family resilience before and after intervention through the utilization of animated videos. Conclusion: Animated video is effectively used as a medium for learning and providing education with audio and visuals that can stimulate the human senses. Family resilience is the basis for improving family quality and maintaining the character and health of the whole family. Recommendation: This research recommends the use of animated videos to improve people's cognitive and affective domains and facilitate a good understanding of maintaining family resilience during the COVID-19 pandemic.
Keywords:
Animated Video, COVID-19, Family Resilience
Downloads
Download data is not yet available.
References
Ashidiqie, M. (2020). The Role of the Family in Preventing Coronavirus Disease 2019. SALAM: Jurnal Sosial Dan Budaya Syar-I, 7(8), 911–922. https://doi.org/10.15408/sjsbs.v7i8.15411
Aziwarti & Fachrina. (2019). Resilience Family Early Marriage. Proceeding of The 1st International Conference on ASEAN (IC-ASEAN), 444–448. https://doi.org/10.1515/9783110678666-059
Damayanti, S., Moersidik, S. S., & Sarwono, S. W. (2014). The Impact of Changes in the Behavior of Residents of Rental Flats: A Case Study of Cinta Kasih Rental Flats in Cengkareng, Jakarta. Lingkungan Tropis, 8(1), 1-12.
Dom, M. G. (2020). Between COVID-19 and the Anthropocene Era: Some Logical Consequences. CSIS Commentaries, 4(1), 1-5. https://www.csis.or.id/publication/antara-covid-19-dan-era-anthropocene-beberapa-konsekuensi-logis/ , Accessed on January 29th, 2023.
Harniati, S. & Hamang, N. (2020). The Impact of Covid-19 on The Resilience of Families of Parepare Nusantara Port Transport Workers: Islamic Marriage Law. Journal of Islamic Studies and Society, 2(1), 81–94. http://ejurnal.iainpare.ac.id/index.php/aliftah/article/view/2501/931, Accessed on February 1st, 2023.
Hernández-Cruz, R., Moreno-Monsiváis, M. G., Cheverría-Rivera, S., & Díaz-Oviedo, A. (2017). Factors Influencing the Missed Nursing Care In Patients From A Private Hospital. Revista Latino-Americana De Enfermagem, 25. https://doi.org/10.1590/1518-8345.1227.2877
Ho, H. P. Y., Lai, A. Y. K., Kwok, R. Y. K., Kwok, T. O., Chow, E., Yip, T., ... & Lam, T. H. (2022). Use of Information and Communications Technology in Family Services and Its Perceived Benefits amid the COVID-19 Pandemic in Hong Kong—Jockey Club SMART Family-Link Project. International Journal of Environmental Research and Public Health, 19(23), 15634. https://doi.org/10.3390/ijerph192315634
Kambuaya, H. G., Rompas, S., & Hamel, R. (2016). The Relationship between Education Level and Length of Work with Nurse Performance at the General Hospital in Sorong Regency. Jurnal Keperawatan, 4(1). https://doi.org/10.35790/jkp.v4i1.11903
Kementerian Dalam Negeri Republik Indonesia. (2021). Implementation of Restrictions on Emergency Community Activities Corona Virus Disease 2019 in the Java and Bali Regions. https://jdih.baliprov.go.id/produk-hukum/peraturan-perundang-undangan/inmendagri/2873
Kementerian Kesehatan Republik Indonesia. (2022). Current Situation of Development of Coronavirus Disease (COVID-19). https://infeksiemerging.kemkes.go.id/situasi-infeksi-emerging/situasi-terkini-perkembangan-coronavirus-disease-covid-19-02-juni-2022, Accessed on January 20th, 2023.
Keputusan Menteri Kesehatan Republik Indonesia. (2020). Guidelines for the Prevention and Control of Corona Virus Disease 2019 (Covid-19). https://peraturan.bpk.go.id/Home/Details/171647/keputusan-menkes-no-hk0107menkes4132020, Accessed on February 3rd, 2023.
Khanade, K., & Sasangohar, F. (2017). Stress, Fatigue, And Workload In Intensive Care Nursing: A Scoping Literature Review. Proceedings of the Human Factors and Ergonomics Society Annual Meeting, 61(1), 686–690. https://doi.org/10.1177/1541931213601658
Lado, B., Warami, H., & Tjolli, I. (2022). Application of Eight Family Functions and Impacts on Family Welfare in Sorong Regency. Cassowary, 5(1), 58-68. https://doi.org/10.30862/casssowary.cs.v5.i1.87
Lolo, W. A., Citraningtyas, G., Mpila, D. A., Wijaya, H., & Poddar, S. (2022). Quality of life of hypertensive patients undergoing chronic disease management program during the COVID-19 pandemic. Kesmas: Jurnal Kesehatan Masyarakat Nasional (National Public Health Journal), 17(4), 264-269. http://dx.doi.org/10.21109/kesmas.v17i4.6224
Musfiroh, M., Mulyani, S., Cahyanto, E. B., Nugraheni, A., & Sumiyarsi, I. (2019). Analysis of Family Resilience Factors in Kampung Kb Rw 18, Kadipiro Village, Surakarta City. PLACENTUM: Jurnal Ilmiah Kesehatan dan Aplikasinya, 7(2), 61-66. https://doi.org/10.20961/placentum.v7i2.32224
National Population and Family Planning Agency (BKKBN) (2019). 2019 Performance Report.https://www.bkkbn.go.id/storage/files/1/LAKIP%20BKKBN/LAKIP_BKKBN_2019.pdf
Nyamwata, J., Kokonya, D., Odera, P., & Sanga, P. K. (2017). Prevalence of Depression and Related Socio Demographic Factors Among Nurses Working at Moi Teaching and Referral Hospital, Uasin Gishu County, Eldoret. Journal of Psychiatry & Mental Disorders, 2(1), 1007. https://www.scirp.org/(S(lz5mqp453edsnp55rrgjct55))/reference/referencespapers.aspx?referenceid=2785241, Accessed on January 25th, 2023.
Poddar S. (2022). Sustainable Healthcare and Artificial Intelligence: Some Facts. In B. K. Mishra (Ed.). Computational Intelligence for Sustainable Development. USA. Nova Science Publishers. https://doi.org/10.52305/GYYT9161
Polit, D., & Beck, C. (2020). Essentials of Nursing Research: Appraising Evidence for Nursing Practice. USA: Lippincott Williams & Wilkins.
Prawesthi, E., Valencia, G., Marpaung, L., & Mujiwati, M. (2021). Comparison of Leaflets and Animation Videos as Educational Media in Increasing Knowledge of the Importance of Using Dentures in Students of the Jakarta Health Polytechnic Ii. Cakradonya Dental Journal, 13(2), 144-150. https://jurnal.usk.ac.id/CDJ/article/view/23536/0, Accessed on February 2nd, 2023
Prayitno, I. H., Sofwan, E., & Ibrohim, I. (2021). The Ideal Concept of Family Resilience to Create a Strong and Prosperous Family in The City of Tangerang Selatan. Garda-Jurnal Pengabdian Kepada Masyarakat, 1(2), 70–85. http://openjournal.unpam.ac.id/index.php/grd/article/view/12828/7576, Accessed on January 18th, 2023.
Ramadhanti, F. M., Sulistyowati, E., & Jaelani, M. (2022). The Effect of Nutrition Education Using Video Motion Graphics Media On Knowledge and Attitudes About Adolescent Obesity. Jurnal Gizi, 11(1), 22-31. https://doi.org/10.26714/jg.11.1.2022.22-31
Robbins, S. P., & Judge, T. A. (2017). Organizational Behavior (15th Ed.). USA: Pearson Education Inc..
Thariq, M. (2017). Building Family Resilience With Interpersonal Communication Building Family Security With Interpersonal Communications. Simbolika, 3(1), 34–44. https://doi.org/10.31289/simbollika.v3i1.1204
Ummer, O., Scott, K., Mohan, D., Chakraborty, A., & LeFevre, A. E. (2021). Connecting the dots: Kerala's use of digital technology during the COVID-19 response. BMJ global health, 6(Suppl 5), e005355. http://dx.doi.org/10.1136/bmjgh-2021-005355
Yusuf, K. Z., Ansar, W., Goswami, A., Mandal, S., Tahrim, H., Poddar, S., & Jawed, J. J. (2022). COVID-19 Complications and Suggested Measures: Modern Tools for Intervening Pandemic. Journal of Health and Translational Medicine (JUMMEC), 25(1), 145-153. https://doi.org/10.22452/jummec.vol25no1.23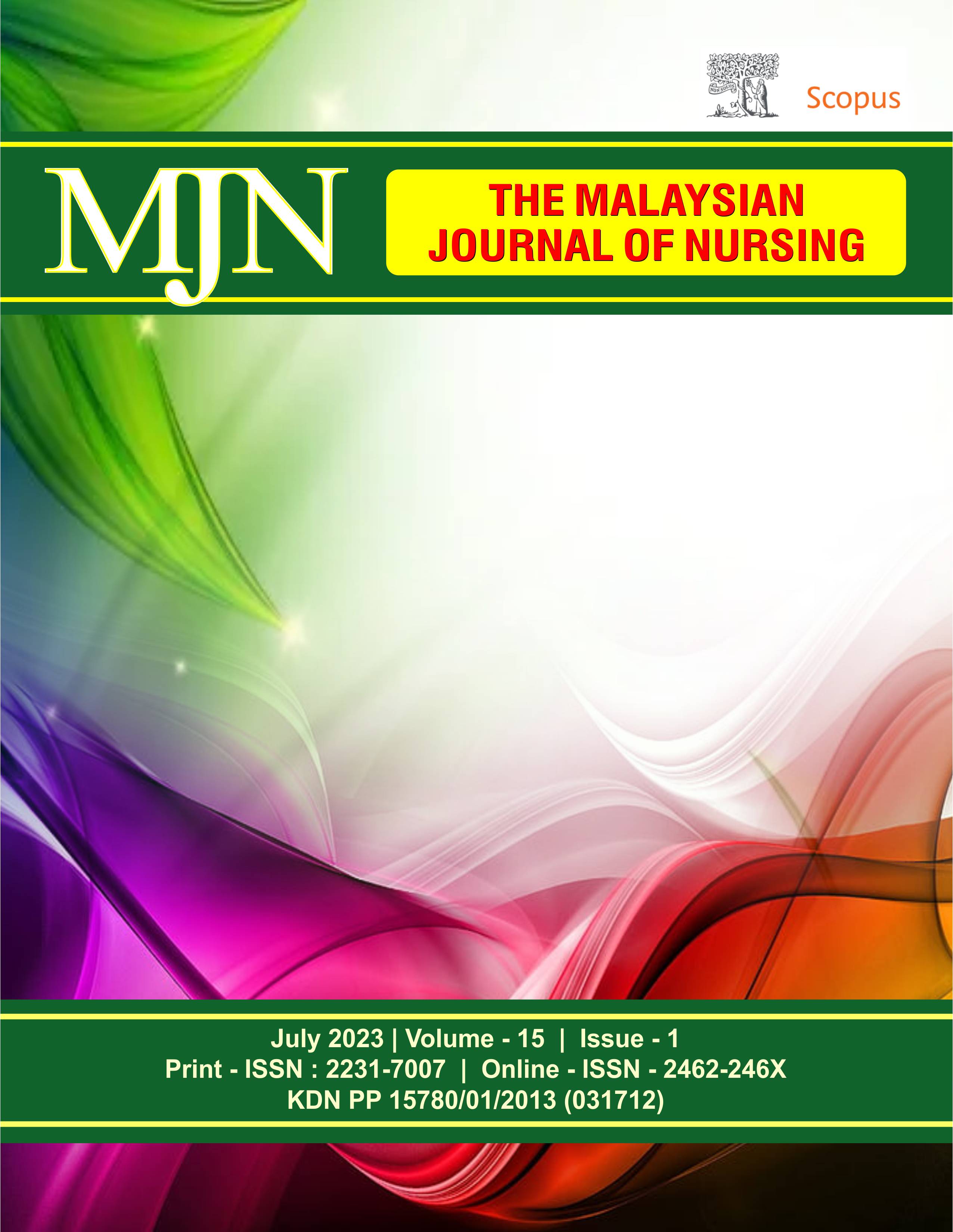 How to Cite
Astrid, M., Wihardja, H., & Suhaid, D. N. (2023). The Utilization of Animated Video Technology on Family Resilience in Facing the COVID-19 Pandemic. The Malaysian Journal of Nursing (MJN), 15(1), 3-11. https://doi.org/10.31674/mjn.2023.v15i01.001
License
Copyright (c) 2023 The Malaysian Journal of Nursing (MJN)
This work is licensed under a Creative Commons Attribution-NonCommercial-NoDerivatives 4.0 International License.