The Effect of the Innovative Healthcare Program "My Color Health" on Knowledge, Behavior, and Perception of Disease Severity in Patients with Diabetes and Hypertension
Abstract
Motivational program as a form of mutual aid could offer great benefits to promote healthy eating among Thai elderly with Diabetes and Hypertension. The purpose of this study is to examine the average, knowledge, practice recommendations, and patients' perceptions of the severity of their diseases before and after receiving the My Color Health Innovation. This quasi-experimental research used a one-group pretest-posttest design that aimed to examine the effects of the innovation "My color health" on knowledge, behavior, and the perception of disease severity in patients with diabetes and hypertension. This study used the concept of the 7-Color Ball. The sample consisted of 20 elderly people and was selected through purposive sampling. The research instruments consisted of the innovation "My color health" knowledge test behavior, and perception of the severity of diabetes and hypertension questionnaires. The questionnaire in Google Forms was used to collect data. The data were analyzed using descriptive statistics and paired t-tests. The results revealed that after using "My color health", the differences in the mean scores of knowledge, guidelines for practice, and perceived severity of diabetes and hypertension were statistically significant (P<  0.05). This research shows that the innovation of "My color health" can increase knowledge, behavior, and perception of the severity of diabetes and hypertension. It can be used as a guideline for the care of patients with uncontrolled diabetes and hypertension.
Keywords:
My Color Health, 7-Color Ball, Diabetic, Hypertension
Downloads
Download data is not yet available.
References
Aekplakorn, W., Chariyalertsak, S., Kessomboon, P., Assanangkornchai, S., Taneepanichskul, S., & Putwatana, P. (2018). Prevalence of diabetes and relationship with socioeconomic status in the Thai population: National Health Examination Survey, 2004–2014. Journal of Diabetes Research, 2018.
Bakara, D. M. (2022). Self-Management Education to Control Blood Sugar Levels and Hba1c
Value for Type 2 Diabetes Patients. The Malaysian Journal of Nursing (MJN), 14(1), 84-89. https://doi.org/10.31674/mjn.2022.v14i01.012
Chamroon, P.T., & Phatisena, T. (2017). Evaluation of the project using traffic ping pong, 7 colors of life in surveillance and prevention and control of diabetes in sub-district health promotion hospitals, Nakhon Ratchasima province. Ratchaphruek Journal, 15(2), 125-134.
Chusak, T., Sasang, N., & Chaleoykitti, S. (2018). Effect of diabetes foot care program to prevent leg cramps of type 2 diabetic patients, Samrongchai sub-district, Phisalee district, Nakhon Sawan province. Royal Thai Army Medical Journal, 71(2), 105-112.
Gonçalves-Bradley, D. C., Maria, A. R. J., Ricci-Cabello, I., Villanueva, G., Fønhus, M. S., Glenton, C., ... & Shepperd, S. (2020). Mobile technologies to support healthcare provider to healthcare provider communication and management of care. Cochrane Database of Systematic Reviews, (8). https://doi.org/10.1002/14651858.CD012927.pub2
Hartweg, D. L., & Metcalfe, S. A. (2022). Orem's Self-Care Deficit Nursing Theory: Relevance
and Need for Refinement. Nursing Science Quarterly, 35(1), 70–76. https://doi-org.lopes.idm.oclc.org/10.1177/08943184211051369
Homchui, P., Wanaratvijid, C., & Pratoomsoot., C. (2020). Effect of Self-Management Support for Self-Care Behavior and Blood Glucose Level in Patients with Type 2 Diabetes Mellitus. Boromarajonani College of Nursing, Uttaradit Journal, 12(1), 240-259.https://he01.tci-thaijo.org/index.php/unc/article/view/243602
Hussein, E. S. E., Al-Shenqiti, A. M., & Ramadan, R. M. E. S. (2022). Applications of medical digital technologies for noncommunicable diseases for follow-up during the COVID-19 pandemic. International Journal of Environmental Research and Public Health, 19(19), 12682. https://doi.org/10.3390/ijerph191912682
Phatai, G., Chanpuem, P., & Wattanasura, A. (2018). Animal Planet Vocabulary Book with Augmented Reality Technology. Journal of Project in Computer Science and Information Technology, 4(1), 23-28.
Reynolds, J. (2020). Promoting self – care through the use of augmented reality: Case study of
diabetic patients, diabetic clinic, Taksin Hospital (Research Report). Bangkok: Faculty of Nursing, Siam University. https://e-research.siam.edu/kb/promoting-self-care-through/
Soynahk, C., Kompayak, J., & Punthasee, P. (2018). A study of health belief model and the risk of type 2 diabetes in working Muslim populations. Journal of the Royal Army Nurses, 19(Special Edition), 267-277. https://he01.tci-thaijo.org/index.php/JRTAN/article/view/156120
World Health Organization. (2022). Noncommunicable diseases progress monitor 2022.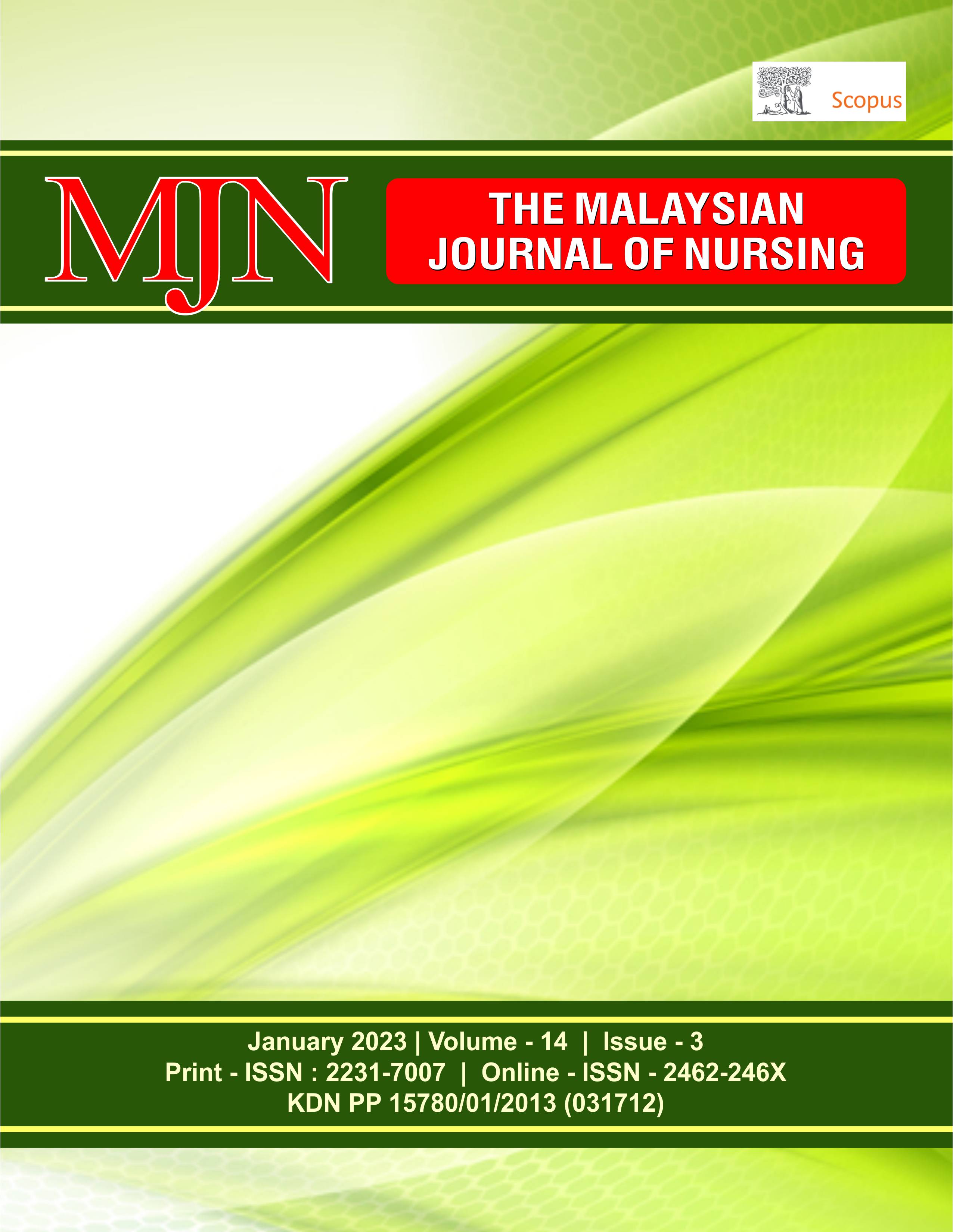 Downloads
How to Cite
Muangthai, S., Maneesuwan, T. ., Pinkumpee, P. ., Wichienrat, P. ., Ditthaai, P. ., Bunchean, T. ., & Kantabanlang, Y. (2023). The Effect of the Innovative Healthcare Program "My Color Health" on Knowledge, Behavior, and Perception of Disease Severity in Patients with Diabetes and Hypertension. The Malaysian Journal of Nursing (MJN), 14(3). Retrieved from https://ejournal.lucp.net/index.php/mjn/article/view/2002
License
Copyright (c) 2023 The Malaysian Journal of Nursing (MJN)
This work is licensed under a Creative Commons Attribution-NonCommercial-NoDerivatives 4.0 International License.