Determinants of Smoking Behavior in Junior High School (Sekolah Menengah Pertama) at Kabanjahe District
Abstract
Introduction: The age of smokers in Indonesia is now getting younger; it has even touched the age of children. The prevalence of smoking among school-aged adolescents, or those aged 10–18 years, has increased by 9.1%. An initial survey in several junior high schools in Kabanjahe District showed that many students smoked in several shops around the school after returning from school. This study aims to determine the determinants of smoking behavior in junior high school students in Kabanjahe District.
Methods: The type of research used is qualitative research with a phenomenological design. Data collection was carried out through in-depth interviews. The determination of informants used the purposive sampling method and obtained as many as four informants.
Results: According to the findings of this study, the determinants of smoking behaviour in adolescents are their peers who invite them to smoke, factors associated with parents who do not supervise and even smoke in front of their children, and advertising factors in the mass media that involve attractive and good-looking models. The living environment contributes to adolescent smoking behavior, as does the Karo cultural factor, where cigarettes are one of the important ingredients in every traditional event in the Karo Community.
Conclusion: The school should be able to provide efforts to prevent smoking behavior with training involving peer counselling by utilizing outstanding teenagers as peer educators in an effort to keep children away from the influence of smoking.
Keywords:
Adolescent Smoking Behavior, Peers, Parenting, Advertising, Culture
Downloads
Download data is not yet available.
References
Abdussamad, H. Z., & SIK, M. S. (2021). Qualitative Research Methods. CV. Shakir Media Press.
Bastonus, A. I., & Herieningsih, S. W. (2017). The relationship between exposure to cigarette advertisements and perceptions of masculinity in smokers and the smoking behavior of male adolescents. Online Interaction, 6(1). https://ejournal3.undip.ac.id/index.php/interaksi-online/article/view/19107
Cunha, S. B., Araújo, R. C. D., Oliveira, J. V. B. D., Mola, R., & Pitangui, A. C. R. (2020). Factors associated with current tobacco use among adolescents and young students. Journal de Pediatria, 96, 447-455. https://doi.org/10.1016/j.jped.2019.01.002
Huang, G. C., Unger, J.B., Soto, D., Fujimoto, K., Pentz, M.A., Jordan-Marsh, M., & Valente, T.W. (2014). Peer influences: The impact of online and offline friendship networks on adolescent smoking and alcohol use. Journal of Adolescent Health, 54(5), 508–514. https://doi.org/10.1016/j.jadohealth.2013.07.001
Johnston, V., Westphal, D.W, Earnshaw, C., & Thomas, D.P. (2012). Starting to smoke: A qualitative study of the experiences of Australian indigenous youth. BMC Public Health, 12(1), 1-14. https://doi.org/10.1186/1471-2458-12-963
Lewerissa, M. H., Tarigan, F. L., & Hidayat, W. (2021). Determinants of Smoking Behavior
In Immanuel Kabanjahe Private Middle Students In 2020. PREPOTIF: Journal of Public Health, 5(2), 796-803. https://doi.org/10.31004/prepotif.v5i2.1731
Pal, P., Raychowdhury, R., Poddar, S., & Halder, A. (2019). Is There any Effect of Addictions in Arsenic Induced Oral Carcinoma?. International Journal of Advancement in Life Sciences Research, 36-42. https://doi.org/10.31632/ijalsr.2019v02i02.005
Pinilih, S. S., & Margowati, S. (2016). The relationship between communication between parents and children with aggressiveness in adolescents at SMK X Magelang. https://hdl.handle.net/11617/6795
Riskesdas, K. (2018). Main Results of Basic Health Research (RISKESDAS). Journal of Physics A: Mathematical and Theoretical, 44(8), 1-200.
Riyadi, S., & Handayani, S. (2021). Determinants of Adolescent Smoking Behavior in Kulon Progo Yogyakarta. Journal of Holistic Nursing Science, 8(1), 9–18. https://doi.org/10.31603/nursing.v8i1.3290
Siregar, N., Hutahaean, H., Meka, M.A., Depari, R., Hasugian, R., Tambunan, T.M., … & Ginting, E.K.R. (2021). Parenting Patterns in the Family and Its Influence on Character Education. Guna Widya: Journal of Hindu, 8(2), 190-199. https://doi.org/10.25078/gw.v8i2.2462
Wilkinson, A. V., Shete, S., & Prokhorov, A. V. (2008). The moderating role of parental smoking on their children's attitudes toward smoking among a predominantly minority sample: a cross-sectional analysis. Substance Abuse Treatment, Prevention, and Policy, 3(1), 1-8. https://doi.org/10.1186/1747-597X-3-18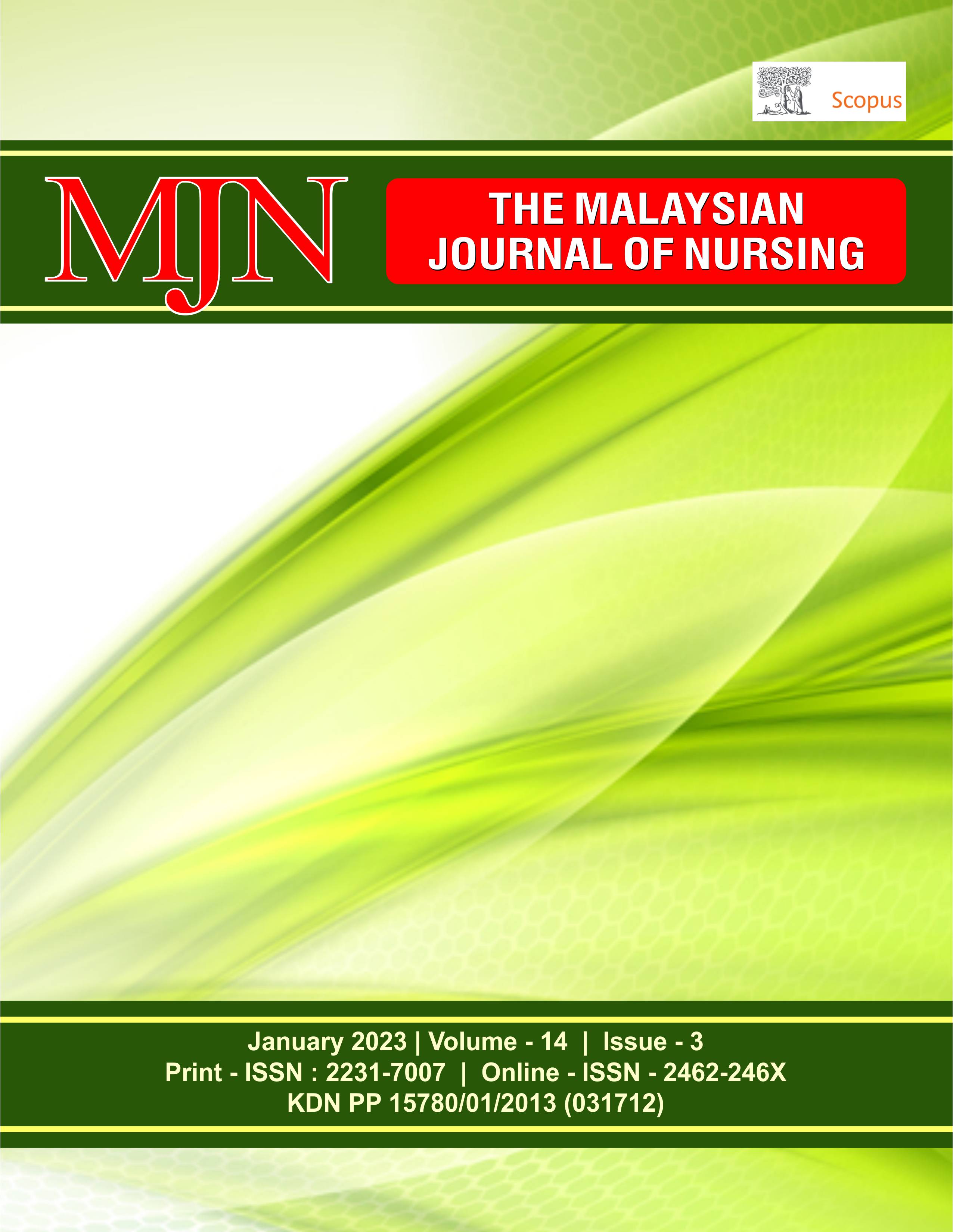 How to Cite
Tarigan, F. L. B. ., Panduragan, S. L. ., Said, F. B. M. ., Sitorus, M. E. ., & Nainggolan, N. . (2023). Determinants of Smoking Behavior in Junior High School (Sekolah Menengah Pertama) at Kabanjahe District. The Malaysian Journal of Nursing (MJN), 14(3), 21-25. https://doi.org/10.31674/mjn.2023.v14i03.003
License
Copyright (c) 2022 The Malaysian Journal of Nursing (MJN)
This work is licensed under a Creative Commons Attribution-NonCommercial-NoDerivatives 4.0 International License.