Determinant of Perception Factors in People Living with HIV/AIDS (Plwha) with the Attitude of Preventing Opportunistic Infections
Abstract
HIV and AIDS are worldwide health concerns. Opportunistic infections are brought on by a weakened immune system and the introduction of germs (bacteria, fungi, and viruses) into the body. Opportunistic Infections (OIs) can cause death in >90% of AIDS patients. The objective of this research is to identify perception factors associated with a positive attitude toward preventing opportunistic infections in people living with HIV/AIDS (PLWHA). This research was an analytical study applying a cross-sectional design and quantitative approaches. This study included 30 samples from PLWHA from the General Hospital of South Tangerang City, Indonesia. Samples were collected using a non-random sampling technique involving accidental sampling. From the results of the study, a relationship of perceived threat (p-value = 0.001; r = 0.515), perceived susceptibility (p-value = 0.044; r = 0.345), perceived severity (p-value = 0.361), perceived benefit (p-value = 0.643), perceived barrier (p-value = 0.094; r = 0.463), and perceived self-efficacy (p-value = 0,004; r = 0.463) was obtained with the prevention attitude of opportunistic infections. The perceived threat is a major factor influencing attitudes toward OI prevention. 
Keywords:
Opportunistic Infection, Attitude, Perceived, HIV AIDS
Downloads
Download data is not yet available.
References
Aborode, A. T., Alexiou, A., Ahmad, S., Yasir Essar, M., Chibueze, O. S., Al-Zahrani, Y., ... & Batiha, G. E. S. (2021). HIV/AIDS epidemic and COVID-19 pandemic in Africa. Frontiers in Genetics, 12, 1-5. https://doi.org/10.3389/fgene.2021.670511
Adane, M., Amha, H., Tafere, Y., & Alem, G. (2022). Poor sleep quality and associated factors among people attending anti-retroviral treatment clinic at Finote selam general hospital, Amhara, Ethiopia. Sleep Medicine: X, 4. https://doi.org/10.1016/j.sleepx.2022.100054
AIDS and Hepatitis C Professional Group, Society of Infectious Diseases, Chinese Medical Association; Chinese Center for Disease Control and Prevention. (2022). Chinese Guidelines for the Diagnosis and Treatment of HIV/AIDS (2021 Edition). Infectious Diseases & Immunity, 2(03), 145-167. https://doi.org/10.1097/ID9.0000000000000044
An, P. L., Nguyen, H. T. N., Dang, H. T. B., Huynh, Q. N. H., Pham, B. D. U., & Huynh, G. (2021). Integrating Health Behavior Theories to Predict Intention to Get a COVID-19 Vaccine. Health Services Insights, 14. https://doi.org/10.1177/11786329211060130
Asdaq, S. M. B., Rajan, A., Damodaran, A., Kamath, S. R., Nair, K. S., Zachariah, S. M., ... & Imran, M. (2021). Identifying Mucormycosis severity in Indian COVID-19 patients: a nano-based diagnosis and the necessity for critical therapeutic intervention. Antibiotics, 10(11). https://doi.org/10.3390/antibiotics10111308
Astrini, I., Indah, F. P. S., Pratiwi, R. D., & Poddar, S. (2020). Analysis of Efforts to Increase Knowledge, Attitudes, and Adherence of Antiretroviral Consumption in People With HIV/AIDS, Jepara City, Indonesia. Malaysian Journal of Medicine and Health Sciences, 16(110).https://medic.upm.edu.my/upload/dokumen/2020111315070101_MHMHS_0245.pdf
Bhat, R., Sudhakar, K., Kurien, T., & Rao, A. S. (2022). Strengthening India's Response to HIV/AIDS Epidemic Through Strategic Planning, Innovative Financing, and Mathematical Modeling: Key Achievements over the Last 3 Decades. Journal of the Indian Institute of Science, 1-19. https://doi.org/10.1007/s41745-022-00331-y
Ernawati, L. (2018). Analisis Faktor Yang Berhubungan Dengan Persepsi Dewasa Muda HIV Dan AIDS Dengan Sikap Pencegahan Infeksi Oportunistik Di Kelompok Dukungan Sebaya (Doctoral dissertation, Universitas Airlangga). http://repository.unair.ac.id/id/eprint/77771
Fahriati, A. R., Indah, F. P. S., Satria, B. M., & Mutoharoh, A. A. (2021). Faktor-Faktor Yang Berhubungan Dengan Kepatuhan Minum Antiretroviral Pada Odha (Orang Dengan Hiv/Aids) Berdasarkan Systematic Literature Review. Phrase (Pharmaceutical Science) Journal, 1(1), 29-46. http://openjournal.wdh.ac.id/index.php/Phrase/article/view/157
Indah, F. P. S., Ilmi, A. F., & Ratnaningtyas, T. O. (2022). Digital health intervention for enhancing self-perceived and compliance with anti tuberculosis treatment. Malahayati International Journal of Nursing and Health Science, 5(1), 17-23. https://doi.org/10.33024/minh.v5i2.5137
Kementerian PPN/Bappenas. (2021). 3 Kehidupan Sehat dan Sejahtera. [Internet]. Jakarta Pusat. Available from: https://sdgs.bappenas.go.id/
Luginaah, N. A., Konkor, I., Lawson, E. S., Mkandawire, P., Husbands, W., Omorodion, F., ... & Wong, J. (2021). Concurrent sexual partnerships and HIV testing among heterosexual Black men in Ontario, Canada: findings from the we Speak study. Ethnicity & Health, 27(8), 1825-1840. https://doi.org/10.1080/13557858.2021.1976395
Maciel-Vergara, G., Jensen, A. B., Lecocq, A., & Eilenberg, J. (2021). Diseases in edible insect rearing systems. Journal of Insects as Food and Feed, 7(5), 621-638. https://doi.org/ 10.3920/JIFF2021.0024
Nsuami, M. U., & Witbooi, P. J. (2018). A model of HIV/AIDS population dynamics including ARV treatment and pre-exposure prophylaxis. Advances in Difference Equations, 2018(1), 1-12. https://doi.org/10.1186/s13662-017-1458-x
Nuwa, M. S., Kiik, S. M., & Vanchapo, A. R. (2019). Penanganan Terhadap Stigma Masyarakat tentang Orang Dengan HIV/AIDS (ODHA) di Komunitas. Jurnal Penelitian Kesehatan" SUARA FORIKES"(Journal of Health Research" Forikes Voice"), 10(1), 49-54. https://dx.doi.org/10.33846/sf10109
Ratnaningtyas, T. O., Indah, F. P. S., & Ilmi, A. F. (2022). Effectiveness of a live-chat social media and leaflets for people living with HIV/AIDS (PLWHA) under antiretroviral therapy (ARVs). Malahayati International Journal of Nursing and Health Science, 5(2), 116-125. https://doi.org/10.33024/minh.v5i2.5137
Sianturi, S. R., & Dorothea, C. B. (2020). Hubungan Dukungan Keluarga Dengan Kepatuhan Orang Dengan HIV/AIDS Minum Obat ARV. Journal of Applied Nursing (Jurnal Keperawatan Terapan), 6(2), 111-120. https://doi.org/10.31290/jkt.v6i2.1572
Simanjuntak, F. G. (2020). Hubungan Asupan Vitamin A Dan Vitamin C Dengan Infeksi Oportunistik Pada Orang Dengan Human Immunodeficiency Virus (ODHIV) Di Balai Rehabilitasi Sosial Bahagia Medan. http://poltekkes.aplikasi-akademik.com/xmlui/handle/123456789/1738
Simanungkalit, B. (2020). Pengetahuan, Sikap dan Perilaku Seksualitas Mahasiswa di salah satu Fakultas Kedokteran Swasta Jakarta Tahun 2020. Majalah Kedokteran UKI, 36(3), 85-91. https://doi.org/10.33541/mk.v36i3.3186
Supriyatni, N., Andiani, A., Rahayu, A., & Lestari, T. (2021). Pemberdayaan Masyarakat Melalui Kelompok Dukungan Sebaya (KDS) pada Orang Dengan HIV/AIDS di Kota Ternate Provinsi Maluku Utara Tahun 2020. Jurnal Biosainstek, 3(1), 21-26. https://doi.org/10.52046/biosainstek.v3i1.604
Zafar, H., & Saier Jr, M. H. (2021). Gut Bacteroides species in health and disease. Gut Microbes, 13(1), 1848158. https://doi.org/10.1080/19490976.2020.1848158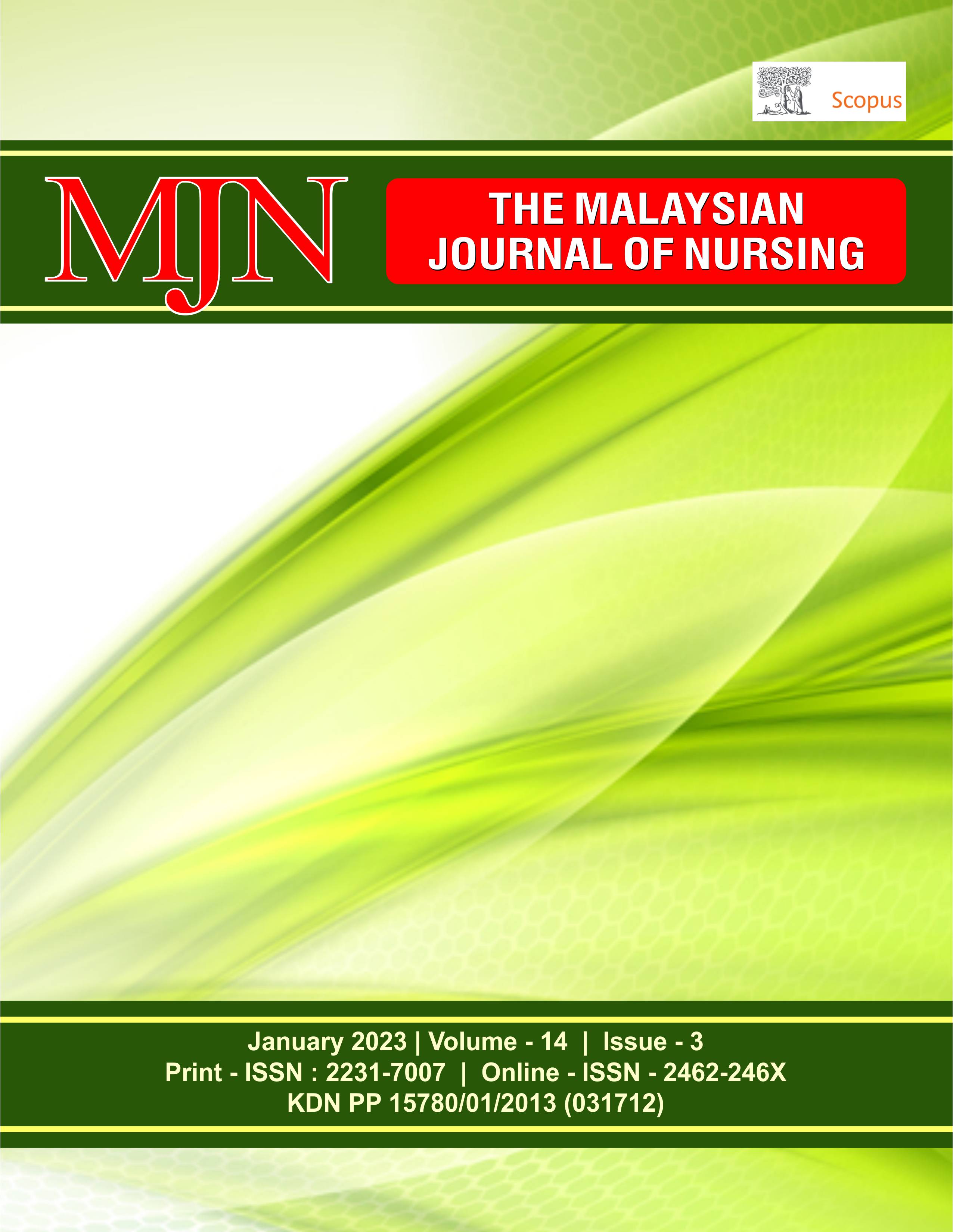 Downloads
How to Cite
Sari Indah, F. P. ., & Eryando, T. . (2023). Determinant of Perception Factors in People Living with HIV/AIDS (Plwha) with the Attitude of Preventing Opportunistic Infections . The Malaysian Journal of Nursing (MJN), 14(3). Retrieved from https://ejournal.lucp.net/index.php/mjn/article/view/1951
License
Copyright (c) 2022 The Malaysian Journal of Nursing (MJN)
This work is licensed under a Creative Commons Attribution-NonCommercial-NoDerivatives 4.0 International License.