Factors Affecting Community Knowledge Regarding Stunting in South Tangerang
Abstract
Background: Stunting is a condition of growth failure in children (body and brain growth) due to malnutrition for a long time. Thus, children are shorter than normal children of their age and have delayed thinking ability. Stunting remains a major public health problem in low and middle-income countries, including Indonesia. Stunting or shortness problems in toddlers show an average of 23.4%, with the lowest stunting prevalence area in South Tangerang City. Aim: This study was to determine factors affecting community knowledge regarding stunting in the South Tangerang. Methods: This research is observational and analytical study with a cross-sectional design. The statistical analysis was using the Slovin formula, with a total of 213 people. The research subject must be at least 15 years of age, literate, own a smartphone, and is willing to participate in this survey. Results: Analysis shows that the relationship between knowledge about stunting and age has a p value of 0.020; the p value for education is 1.000; the p value for marriage is 0.746; the p value for information exposure in stunting is 1.000; and the p value for media information is 1.000. Conclusion: Age has a significant association with knowledge about stunting. Education, marriage, exposure to information about stunting, and media information are not predisposing factors related to knowledge about stunting. Recommendation: Education about stunting can start at an early age and last until old age. Education can be provided through counselling in schools or even by setting up a special nutritional preparation course to prevent stunting in adolescents, pregnant women, and even the elderly.
Keywords:
Knowledge, Stunting, Community
Downloads
Download data is not yet available.
References
Adams, N. E. (2015). Bloom's Taxonomy of Cognitive Learning Objectives. Journal of the Medical Library Association, 103(3), 152-153. https://doi.org/10.3163/1536-5050.103.3.010
Alpian, Y., Anggraeni, S. W., Wiharti, U., & Soleha, N. M. (2019). Pentingnya Pendidikan Bagi Manusia. Jurnal Buana Pengabdian, 1(1),66-72. https://doi.org/10.36805/jurnalbuanapengabdian.v1i1.581
Andreou, R., & Nicolaidou, L. (2019). Digital Literacy in Social Media: A Case Study.In ECEL 2019 18th European Conference on e-Learning.Academic Conferences and Publishing Limited. https://doi.org/10.34190/EEL.19.025
Beal, T., Tumilowicz, A., Sutrisna, A., Izwardy, D., & Neufeld, L. M. (2018). A Review of Child Stunting Determinants in Indonesia. Maternal Child Nutrition, 14(4). https://doi.org/10.1111/mcn.12617
Darsini, D., Fahrurrozi, F., & Cahyono, E. A. (2019). Pengetahuan; Artikel Review. Jurnal Keperawatan, 12(1), 13-13.
De Onis, M., Borghi, E., Arimond, M., Webb, P., Croft, T., Saha, K., . . .& Flores-Ayala, R. (2019). Prevalence Thresholds for Wasting, Overweight and Stunting in Children Under 5 Years. Public Health Nutr, 22(1), 175-179. https://doi.org/10.1017/S1368980018002434
Indonesia, M. O. H. R. O. (2021). Buku Saku Hasil Studi Status Gizi Indonesia (SSGI) Tingkat Nasional, Provinsi dan Kabupaten/Kota Tahun 2021. Jakarta: Republic of Indonesia https://www.litbang.kemkes.go.id/buku-saku-hasil-studi-status-gizi-indonesia-ssgi-tahun-2021/
Laksono, A. D., Ibad, M., Mursita, A., Kusrini, I., & Wulandari, R. D. (2019). Characteristics of Mother as Predictors of Stunting in Toddler. Pakistan Journal of Nutrition, 18(12), 1101-1106. https://doi.org/10.3923/pjn.2019.1101.1106
Mulyaningsih, T., Mohanty, I., Widyaningsih, V., Gebremedhin, T. A., Miranti, R., & Wiyono, V. H. (2021). Beyond Personal Factors: Multilevel Determinants of Childhood Stunting in Indonesia. PLOS ONE, 16(11). https://doi.org/10.1371/journal.pone.0260265
Pusparisa, Y. (2021). Masyarakat Paling Banyak Mengakses Informasi dari Media Sosial. https://databoks.katadata.co.id/datapublish/2020/11/23/masyarakat-paling-banyak-mengakses-informasi-dari-media-sosial
Soliman, A., De Sanctis, V., Alaaraj, N., Ahmed, S., Alfayei, F., Hamed, N., & Soliman, N. (2021). Early and Long-term Consequences of Nutritional Stunting: From Childhood to Adulthood. Acta bio-medica : Atenei Parmensis, 92(1). https://doi.org/10.23750/abm.v92i1.11346
Vaivada, T., Akseer, N., Akseer, S., Somaskandan, A., Stefopulos, M., & Bhutta, Z. A. (2020). Stunting in Childhood: an Overview of Global Burden, Trends, Determinants, and Drivers d Decline. The American Journal of Clinical Nutrition, 112, 777S-791S. https://doi.org/10.1093/ajcn/nqaa159
Yushananta, P., Ahyanti, M., & Anggraini, Y. (2022). Risk Factors of Stunting in Children Aged 6-59 Months: A Case-Control Study in Horticulture Area. Open Access Macedonian Journal of Medical Science,10(E), 1-5. doi:https://doi.org/10.3889/oamjms.2022.7768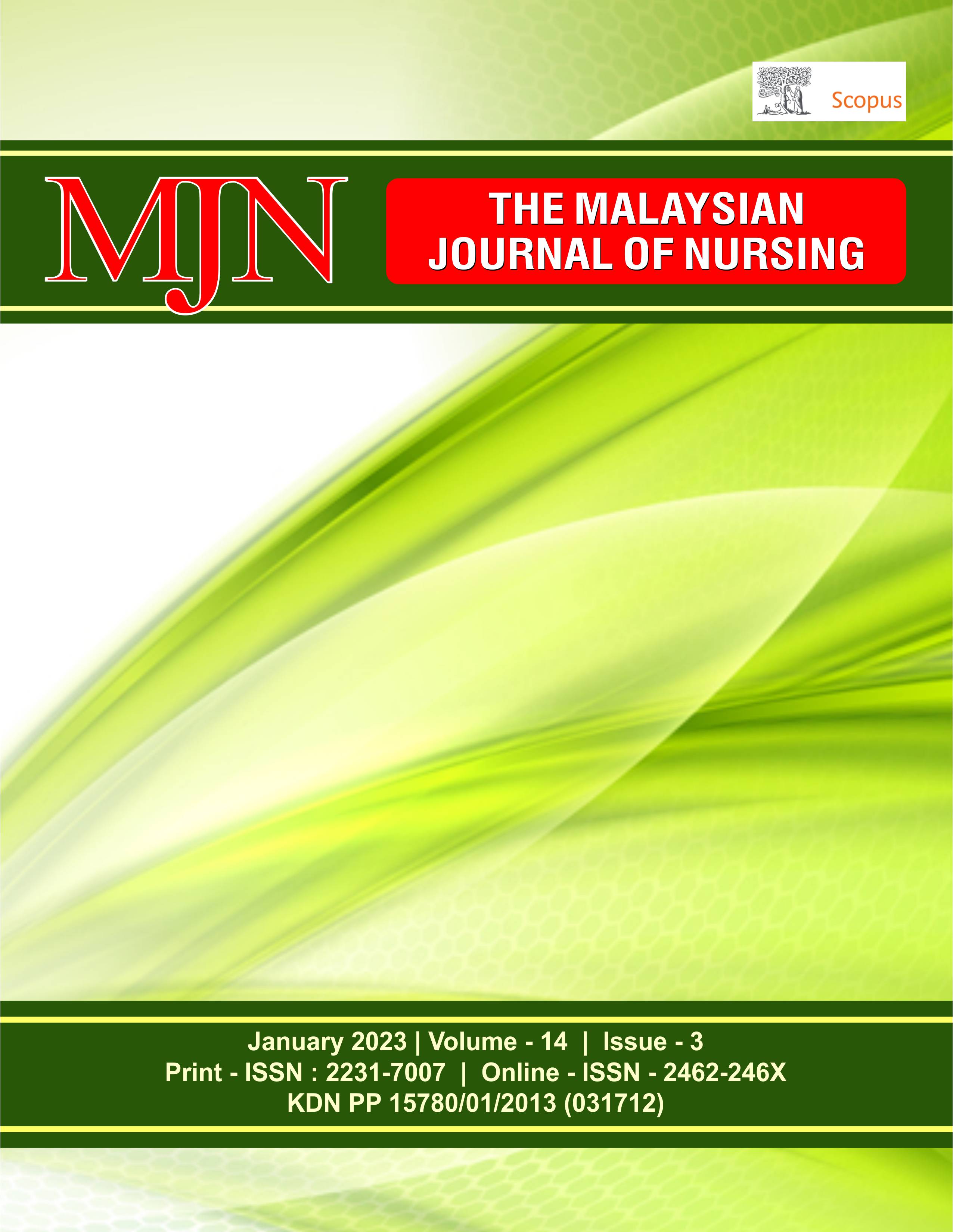 How to Cite
Anggraeni, L. D., Suhaid, D. N., Daryati , E. I. ., Isnawati , Y. D. ., Pramesti, P. Y. W. ., Sunarti, & Uly, C. . (2023). Factors Affecting Community Knowledge Regarding Stunting in South Tangerang. The Malaysian Journal of Nursing (MJN), 14(3). https://doi.org/10.31674/mjn.2023.v14i03.017
License
Copyright (c) 2022 The Malaysian Journal of Nursing (MJN)
This work is licensed under a Creative Commons Attribution-NonCommercial-NoDerivatives 4.0 International License.