Knowledge, Attitudes, and Behaviors toward HIV/AIDS among Health Care Workers' in Urban Cities in Leyte Philippines
Abstract
Backgroud: The difficulty of curbing the incidence of HIV has long been associated with stigma, which has been linked to the lack of knowledge, poor attitudes, and discriminatory behaviours of healthcare workers. The study aimed to assess the knowledge, attitudes, behavior, and care barriers of healthcare workers from highly urbanised cities towards HIV/AIDS. Methods: A total of 171 healthcare workers in Leyte province were included in the study. The study utilized a self-report questionnaire and was conducted in the early quarter of 2021. Spearman rank-order correlation analysis was employed to answer the study's hypotheses. Results: Results revealed that the participants have moderate knowledge of HIV/AIDS and good work attitudes but have prejudicial attitudes and discriminatory behaviors toward their HIV/AIDS-related care. Furthermore, it was found that there is a positive correlation between knowledge and attitude, as well as attitude toward behaviors. Notably, results revealed no correlation between knowledge of HIV/AIDS and perceived behaviors. Conclusion: It can be concluded that health workers in highly urbanized cities like Leyte province have essential knowledge, attitude, and behaviors in providing care to clients suspected or confirmed of HIV/AIDS. A good attitude towards HIV suggests a likelihood of a health care provider having sufficient knowledge of HIV and practising caring behaviors.
Keywords:
Attitudes, Behaviors, Healthcare Workers, HIV/AIDS, Knowledge, Philippines
Downloads
Download data is not yet available.
References
De los Santos, J. A. (2020). Healthcare Workers Attitude and Stigma among People living with HIV/AIDS (PLHA): A Literature Review. Journal of Health and Caring Sciences, 2(2), 150-166. https://doi.org/10.37719/jhcs.2020.v2i2.ra001
De los Santos, J.A.A., Tuppal, C.P. & Milla, N.E. (2022) The correlates of health facility-related stigma and health-seeking behaviors of people living with HIV. Acta Medica Philippina. https://doi://doi.org/10.47895/amp.vi0.4447
De los Santos, J. A., Milla, N., Tuppal, C., & Labrague, L. (2022). Development and psychometric evaluation of the nurse behavior toward confirmed and suspected HIV/AIDS patients (NB-CSHAP) scale. Frontiers of Nursing, 9(1) 103-113. https://doi.org/10.2478/fon-2022-0013
Department of Health (n.d.). February 2022 HIV/AIDS & ART Registry of the Philippines. June 8, 2022, https://www.aidsdatahub.org/sites/default/files/resource/eb-harp-february-aidsreg2022.pdf
Eticha, E. M., & Gemeda, A. B. (2019). Knowledge, Attitude, and Practice of Postexposure Prophylaxis against HIV Infection among Healthcare Workers in Hiwot Fana Specialized University Hospital, Eastern Ethiopia. AIDS Research and Treatment, 2019, 7947086. https://doi.org/10.1155/2019/7947086
Fauk, N. K., Hawke, K., Mwanri, L., & Ward, P. R. (2021). Stigma and Discrimination towards People Living with HIV in the Context of Families, Communities, and Healthcare Settings: A Qualitative Study in Indonesia. International Journal of Environmental Research and Public Health, 18(10), 5424. https://doi.org/10.3390/ijerph18105424
Genberg, B. L., Hlavka, Z., Konda, K. A., Maman, S., Chariyalertsak, S., Chingono, A., …& Celentano, D. D. (2009). A comparison of HIV/AIDS-related stigma in four countries: negative attitudes and perceived acts of discrimination towards people living with HIV/AIDS. Social Science & Medicine , 68(12), 2279–2287. https://doi.org/10.1016/j.socscimed.2009.04.005
Kemp, C. G., Lipira, L., Huh, D., Nevin, P. E., Turan, J. M., Simoni, J. M., ... & Rao, D. (2019). HIV stigma and viral load among African American women receiving treatment for HIV. Aids, 33(9), 1511-1519. https://doi.org/10.1097/QAD.0000000000002212
Langi, G. G., Rahadi, A., Praptoraharjo, I., & Ahmad, R. A. (2022). HIV-related stigma and discrimination among health care workers during early program decentralization in rural district Gunungkidul, Indonesia: a cross-sectional study. BMC Health Services Research, 22(1), 1-12. https://doi.org/10.1186/s12913-022-07751-7
Lee, A., Bacolcol, S., & Brillantes, S. (2015). Knowledge, attitudes and coping of healthcare workers on hiv/aids and persons living with hiv/aids (plwha) in a tertiary hospital in manila Philippines. Sexually Transmitted Infections, 91(Supplementary 2). https://doi.org/doi.org/10.1136/sextrans-2015-052270.621
Leili, S., Elham, S., & Farkhondeh, S. (2008). A Population-based Survey of HIV/AIDS Knowledge and Attitudes in General Public, Bandar-Abbas, Iran. Pakistan Journal of Medical Science 24(6), 838-44. https://www.pjms.com.pk/issues/octdec208/pdf/article12.pdf
Li, L., Wu, Z., Wu, S., Zhaoc, Y., Jia, M., & Yan, Z. (2007). HIV-related stigma in health care settings: a survey of service providers in China. AIDS Patient Care and STDs, 21(10), 753–762. https://doi.org/10.1089/apc.2006.0219
Lopez, S. M. J., Ramiro, V. R., & Roxas, E. A. (2017). Measuring Stigma and Discrimination towards people living with HIV among health care workers in a tertiary, government hospital in the Philippines, Acta Medica Philippina, 51(4). https://doi.org/10/47895/amp.v51i4.502
Magno, L., Silva, L. A. V. D., Veras, M. A., Pereira-Santos, M., & Dourado, I. (2019). Stigma
and discrimination related to gender identity and vulnerability to HIV/AIDS among transgender women: a systematic review. Cadernos De Saude Publica, 35.e00112718.https://doi.org/10.1590/0102-311X00112718
Mulubale, S., Clay, S., Squire, C., Bond, V., Kasoka, K., Stackpool-Moore, L., … & Chiiya, C. (2022). Situating HIV Stigma in Health Facility Settings: A Qualitative Study of Experiences and Perceptions of Stigma in 'Clinics' among Healthcare Workers and Service Users in Zambia. Journal of the International Association of Providers of AIDS Care (JIAPAC), 21, 23259582221100453. https://doi.org/10.1177/23259582221100453
Philippine News Agency (2020, December 3). 99 new HIV/AIDs Cases Reported in Eastern Visayas, June 8, 2022, https://www.pna.gov.ph/articles/1123696
UNAIDS (n.d). Global HIV & AIDS statistics — 2020 fact sheet. August 8, 2022, https://www.unaids.org/en/resources/fact-sheet
Wiginton, J. M., Maksut, J. L., Murray, S. M., Augustinavicius, J. L., Kall, M., Delpech, V., & Baral, S. D. (2021). Brief report: HIV-related healthcare stigma/discrimination and unmet needs among persons living with HIV in England and Wales. Preventive Medicine Reports, 24, 101580. https://doi.org/10.1016/j.pmedr.2021.101580
Yadzir, Z. H. M., Ramly, M., & Suleiman, A. (2021). HIV-Related Knowledge, Attitude and Practice among Healthcare Workers (HCW) in Governmental Healthcare Facilities in Malaysia. Primary Health Care: Open Access, 11(3), 1-6.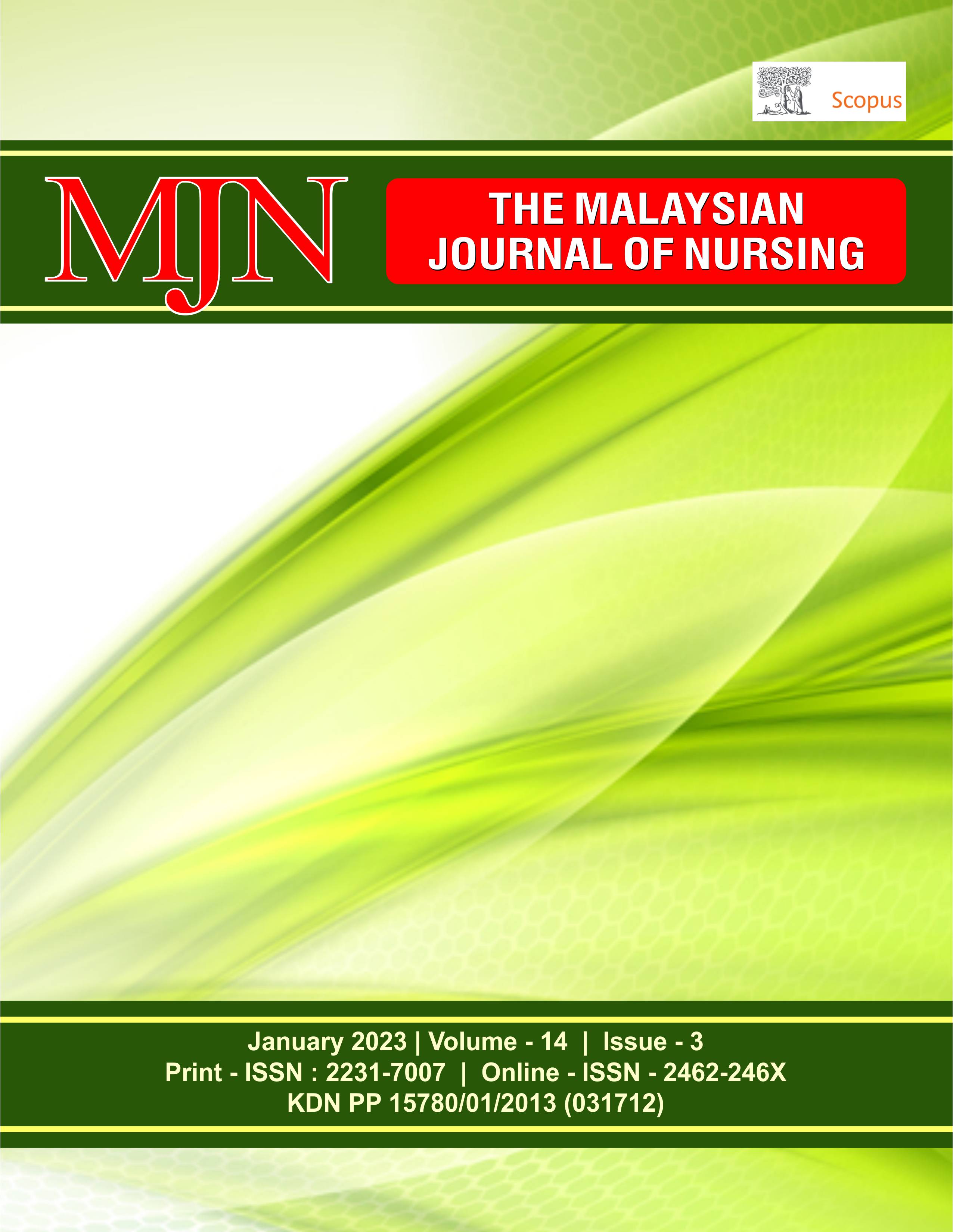 How to Cite
Mosende, A. G., Lacambra, C. B., & De los Santos, J. A. (2023). Knowledge, Attitudes, and Behaviors toward HIV/AIDS among Health Care Workers' in Urban Cities in Leyte Philippines. The Malaysian Journal of Nursing (MJN), 14(3), 185-193. https://doi.org/10.31674/mjn.2023.v14i03.022
License
Copyright (c) 2022 The Malaysian Journal of Nursing (MJN)
This work is licensed under a Creative Commons Attribution-NonCommercial-NoDerivatives 4.0 International License.