Knowledge and Skills in Triage Assessment among Nurses in Emergency Department Hospital Saudi Arabia
Abstract
Introduction: Triage is the nursing process and the first step for patients who came to or were brought to the Emergency Department (ED). As hospitals have more patients, the ED becomes overcrowded with non-emergency patients. An inaccurate triage decision not only delays patient treatment but also incurs unnecessary expenses for the facility. Patients in the waiting area should be reassessed to determine their conditions. Treatment for patients on a first-come, first-served basis without regard to the triage acuity level of their illnesses for severity, may result in delays for critically ill patients. The rationale of triage in the ED is to prioritize incoming patients and identify those who need to be seen first.
Methods: Descriptive study using cross-sectional questionnaires for non-random sampling. Quantitative approaches were chosen as the study type. Questionnaires were completed by 41 of the selected sample size. The aim of the study is to determine the level of knowledge and skills in triage assessment among nurses in Emergency Department Hospitals in Saudi Arabia.
Results: Response rates of 100% were obtained from the study. 19 (46.3%) of the participants were aged between 31-40 years old. Most of the respondents have Bachelor's in nursing which are 38 (92.7%). Respondents with experience in ED of about 11-20 years are 18 (43.9%) of the total. 100% of respondents say that they are familiar with the Canadian Triage and Acuity Scale (CTAS) triage primary assessment. 100% will change the CTAS level when the patient deteriorates, and 100% agreed to give Paracetamol to the patient with a body temperature of more than 38 degrees. Seven skill level questions were completed with 100% correct answers. There is no significant relationship between triage knowledge and triage skill
Conclusion: This finding indicates that there is a high level of knowledge and skill in triage assessment. Hence high knowledge and good skill should be maintained by continuing education, in-service, and training.
Keywords:
Emergency Department, Assessment, Triage, Knowledge, Skills
Downloads
Download data is not yet available.
References
Albougami, A. (2019). Exploring nurses' knowledge of the Glasgow coma scale in intensive care and emergency departments at a tertiary hospital in Riyadh City, Saudi Arabia. The Malaysian Journal of Nursing (MJN), 11(2), 23-30. https://doi.org/10.31674/mjn.2019.v11i02.003
Al-Otmy, S. S., Abduljabbar, A. Z., Al-Raddadi, R. M., & Farahat, F. (2020). Factors associated with non-urgent visits to the emergency department in a tertiary care centre, western Saudi Arabia: cross-sectional study. BMJ Open, 10(10), e035951. https://doi.org/10.1136/bmjopen-2019-035951
Aghababaeian, H., Sedaghat, S., Taheri, N., Mousavi, S. A., Habibi-Moghadam, M., & Pourmotahari, F. (2017). Evaluating knowledge and performance of emergency medical services staff regarding pre-hospital triage. Iranian Journal of Emergency Medicine, 4(2), 63-7.
Ali, S. A. S., Taverner, B. C., Ghani, M., Kussor, Z., & Naz, S. (2013). Knowledge of triage mong nurses in emergency units. Biomedica, 29(4), 240-243. https://www.thebiomedicapk.com/articles/351.pdf
Aloyce, R., Leshabari, S., & Brysiewicz, P. (2014). Assessment of knowledge and skills of triage amongst nurses working in the emergency centres in Dar es Salaam, Tanzania. African Journal of Emergency Medicine, 4(1), 14-18. https://doi.org/10.1016/j.afjem.2013.04.009
Aminiahidashti, H., Hosseininejad, S. M., & Mohammadi, M. (2014). Triage skill and related factors among emergency nurses in Sari, Iran. International Journal of Analytical, Pharmaceutical and Biomedical Sciences, 3, 38-41.
Astari, A. M., & Yuliatun, L. (2020). Nurses' experience of caring for criminals at emergency department. The Malaysian Journal of Nursing (MJN), 12(1), 57-62. https://doi.org/10.31674/mjn.2020.v12i01.007
Brown, A. M., Clarke, D. E., & Spence, J. (2015). Canadian Triage and Acuity Scale: testing the mental health categories. Open Access Emergency Medicine: OAEM, 7, 79–84. https://doi.org/10.2147/OAEM.S74646
Bullard, M. J., Musgrave, E., Warren, D., Unger, B., Skeldon, T., Grierson, R., ... & Swain, J. (2017). Revisions to the Canadian emergency department triage and acuity scale (CTAS) guidelines 2016. Canadian Journal of Emergency Medicine, 19(S2), S18-S27. https://doi.org/10.1017/cem.2017.365
Choy, L. T. (2014). The strengths and weaknesses of research methodology: Comparison and complimentary between qualitative and quantitative approaches. IOSR Journal of Humanities and Social Science, 19(4),99-104.
Fathoni, M., Sangchan, H., & Songwathana, P. (2013). Relationships between triage knowledge, training, working experiences and triage skills among emergency nurses in East Java, Indonesia. Nurse Media Journal of Nursing, 3(1), 511-525. https://doi.org/10.14710/nmjn.v3i1.4466
Goldstein, L. N., Morrow, L. M., Sallie, T. A., Gathoo, K., Alli, K., Mothopeng, T. M. M., & Samodien, F. (2017). The accuracy of nurse performance of the triage process in a tertiary hospital emergency department in Gauteng Province, South Africa. SAMJ: South African Medical Journal, 107(3), 243-247. https://doi.org/10.7196/SAMJ.2017.v107i3.11118.
Ismail, I. (2016). Visions of Knowledge a Nurse about the Triage System in Health Services at Emergency Care Unit at General Hospital Dr Wahidin Sudirohusodo Makassar. International Journal of Sciences: Basic and Applied Research (IJSBAR), 25(1), 151-156. https://www.gssrr.org/index.php/JournalOfBasicAndApplied/article/view/5131
Isa, R., Rahmad, N., Mohd, S. N. S., Fauzi, R., & Isa, S. N. I. I. (2022). Knowledge and Practice of Basic Life Support (BLS) Among Registered Nurse at a Private Hospital in Seremban. The Malaysian Journal of Nursing (MJN), 13(3), 58-64. https://doi.org/10.31674/mjn.2022.v13i03.009
Massey, D., Chaboyer, W., & Aitken, L. (2014). Nurses' perceptions of accessing a medical emergency team: a qualitative study. Australian Critical Care, 27(3), 133-138. https://doi.org/10.1016/j.aucc.2013.11.001
McGhee, T. L., Weaver, P., Solo, S., & Hobbs, M. (2016). Vital signs reassessment frequency recommendation. Nursing Management, 47(9), 11-12. https://doi.org/10.1097/01.NUMA.0000491132.98848.22
Meilyana, B. D., Andarini, S., & Hayati, Y. S. (2021). Accuracy of allen score in predicting stroke type. The Malaysian Journal of Nursing (MJN), 12(4), 22- 27. https://doi.org/10.31674/mjn.2021.v12i04.004.
Netti, N., & Suryarinilsih, Y. (2022). Effectiveness of Range of Motion (ROM) and Deep Breathing Exercise (DBE) in Increasing Muscle Strength in Post-Stroke Patients at Pariaman Hospital in 2018. The Malaysian Journal of Nursing (MJN), 14(2), 128-132. https://doi.org/10.31674/mjn.2022.v14i02.021
Pek, J. H., Lim, S. H., Ho, H. F., Ramakrishnan, T. V., Jamaluddin, S. F., Mesa‐Gaerlan, F. J. C., ... & Hori, S. (2016). Emergency medicine as a specialty in Asia. Acute Medicine & Surgery, 3(2), 65-73. https://doi.org/10.1002/ams2.154.
Pich, J. V., Kable, A., & Hazelton, M. (2017). Antecedents and precipitants of patient-related violence in the emergency department: Results from the Australian VENT Study (Violence in Emergency Nursing and Triage). Australasian Emergency Nursing Journal, 20(3), 107-113.
Siddiqui, E. (2012). Emergency Triage: Extend of our knowledge. Journal of Pakistan Medical Association, 62(8), 839.
Sutton, J., & Austin, Z. (2015). Qualitative research: Data collection, analysis, and management. The Canadian Journal of Hospital Pharmacy, 68(3), 226. https://doi.org/10.4212/cjhp.v68i3.1456
Tilahun, A. (2016). Assessment of Knowledge and Skills of Triaging and Associated Factors among Nurses Working in Emergency Department of Governmental Hospital in Addis Ababa, Ethiopia, 2016 (Doctoral dissertation, Addis Ababa University).
Zhang, E., Hung, S. C., Wu, C. H., Chen, L. L., Tsai, M. T., & Lee, W. H. (2017). Adverse event and error of unexpected life-threatening events within 24 hours of ED admission. The American Journal of Emergency Medicine, 35(3), 479-483. https://doi.org/10.1016/j.ajem.2016.11.062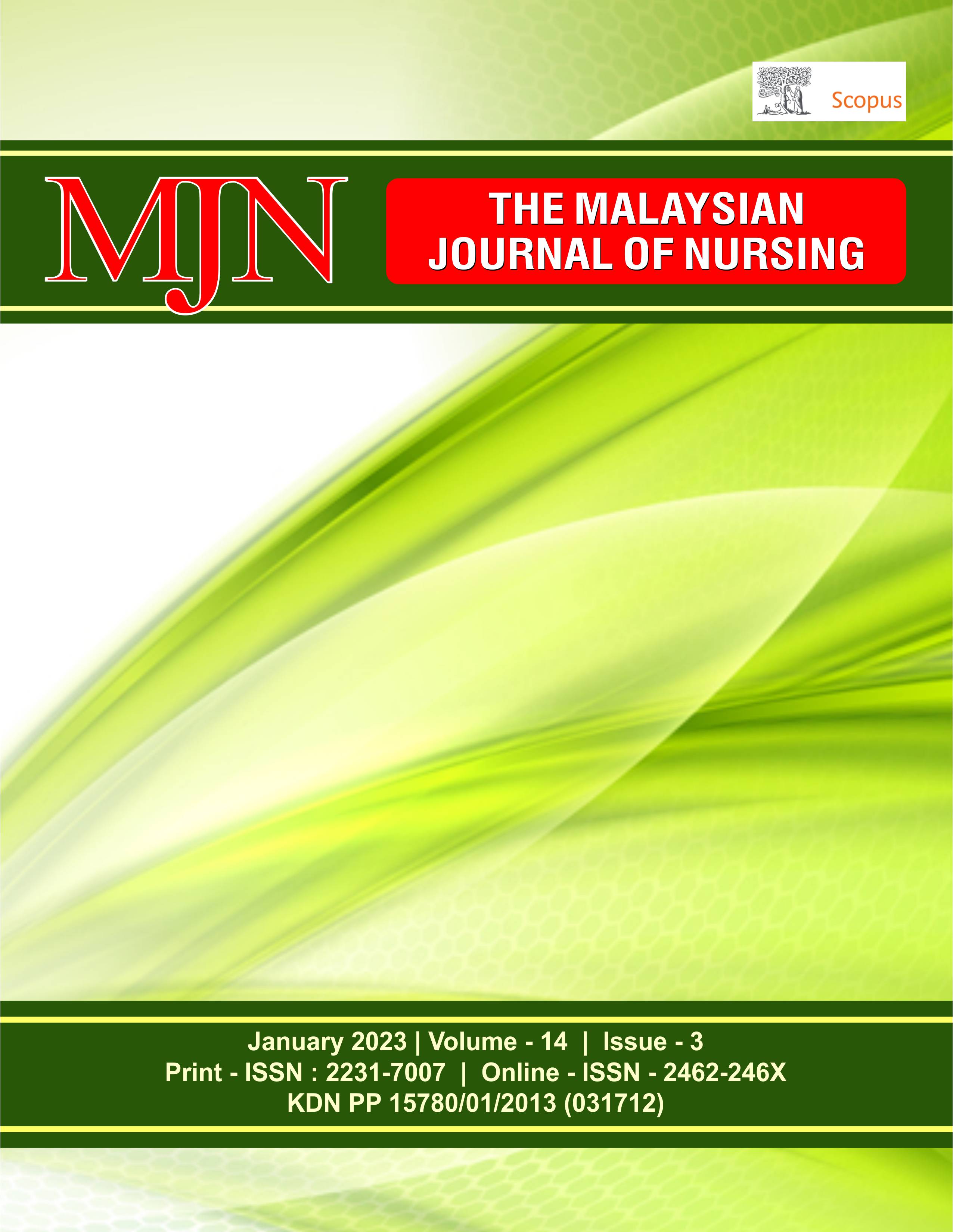 How to Cite
Binti Ariffin, N. A. ., Mat, S. B. ., & Yahya, F. . (2023). Knowledge and Skills in Triage Assessment among Nurses in Emergency Department Hospital Saudi Arabia. The Malaysian Journal of Nursing (MJN), 14(3), 132-142. https://doi.org/10.31674/mjn.2023.v14i03.016
License
Copyright (c) 2022 The Malaysian Journal of Nursing (MJN)
This work is licensed under a Creative Commons Attribution-NonCommercial-NoDerivatives 4.0 International License.