Knowledge among Pregnant Women Regarding Pregnancy-Induced Hypertension at a Public Hospital in Malaysia
Abstract
Background: Pregnancy Induced Hypertension (PIH) is a significant contributor to various pregnancy complications. Therefore, an effective way to avoid possible fatal complications of the disease is to create awareness among pregnant women. Pregnant women who are aware of the danger signs of pregnancy will take responsibility for seeking medical attention if any complications arise. However, there is a lack of study done at public hospitals in Selangor regarding the knowledge level of PIH.
Aim: To determine the level of knowledge regarding PIH among pregnant mothers.
Methods: A cross-sectional design with systematic sampling was used. A total of 283 pregnant mothers who attended the antenatal clinic were recruited. All data were analysed using the Statistical Analysis Package for Social Sciences (SPSS) version 20.
Results: The results showed that only 32.9% of the respondents had good knowledge of PIH, while 67.1% had poor knowledge regarding PIH. Most of them had a higher level of education, such as tertiary (62.9%), two-thirds were employed (68.2%), the majority were Malays (89.8%), had children between 2 and 4 years of age (36.4%), and 30.0% were currently pregnant for 16 to 20 weeks. Meanwhile, 53.0% of the respondents attended antenatal check-ups fewer than eight times. The result indicated a significant association between parity and level of knowledge on PIH (χ²= 7.848; p= 0.049).
Conclusion: The majority of pregnant mothers have poor knowledge of PIH. Health education on PIH is needed to reduce the rate of delay in seeking treatment.
Keywords:
Knowledge, Pregnancy-Induced, Hypertension, Pregnant Mothers
Downloads
Download data is not yet available.
References
Amasha, H. A., Abdel-Haleem, S. A., & Gamal, A. M. (2020). Assessing The Competence of Nurses in Rendering Postpartum Care and its Effect on Women's Satisfaction. The Malaysian Journal of Nursing (MJN), 11(4), 99-110. https://doi.org/10.31674/mjn.2020.v11i04.011
Arshad, A., Pasha, W., Khattak, T. A., & Kiyani, R. B. (2011). Impact of pregnancy induced hypertension on birth weight of newborn at term. Journal of Rawalpindi Medical College (JRMC), 15(2), 113-115. 10.1111/j.1365-3016.2004.00553.x.
Fadare, R. I., Akpor, O. A., & Oziegbe, O. B. (2016). Knowledge and attitude of pregnant women towards management of pregnancy-induced hypertension in Southwest Nigeria. Journal of Advances in Medical and Pharmaceutical Sciences, 11(2), 1-11. https://eprints.abuad.edu.ng/id/eprint/470
James, E. O., Mgbekem, M. A., & Edem, O. A. (2009). Knowledge, attitude and preventive practices towards pregnancy induced hypertension among pregnant women in General Hospital, Calabar, Cross River State, Nigeria. Pakistan Journal of Social Sciences, 6(1), 1-5.
Ibrahiem, N. M., Ali, M. R., Elbahlowan, G. A., Gida, N., & Abdel-Azeem, N. (2022). Planned Teaching Programme Through Booklet for Primi Gravidae Women Regarding Lactation Problems. The Malaysian Journal of Nursing (MJN), 13(3), 85-98. https://doi.org/10.31674/mjn.2022.v13i03.013
Krejcie, R. V., & Morgan, D. W. (1970). Determining sample size for research activities. Educational and Psychological Measurement, 30(3), 607-610.
SS, L. (2013). Usage Of Home-Based Maternal Health Record in Antenatal Monitoring Among Malaysian Women Attended University Kebangsaan Malaysia Medical Centre. Malaysian Journal of Public Health Medicine, 1-10.
LoBiondo-Wood, G., & Haber, J. (2017). Nursing research-e-book: methods and critical appraisal for evidence-based practice. Elsevier Health Sciences. Malaysia, M. M. S. (2014). Department of Statistics, Malaysia. Change, 2015. Jaypee Brothers Medical Publishers, London.
Malhotra, N., Puri, R., Malhotra, J., Kurjak, A., & Chervenak, F. A. (2012). Donald School Manual of Practical Problems in Obstetrics. Jaypee Brothers Medical Publishers; first edition.
Maputle, S., Khoza, L., & Lebese, R. (2015). Knowledge towards Pregnancy-induced hypertension among pregnant women in Vhembe District, Limpopo Province. Journal of Human Ecology, 51(1-2), 47-54. https://doi.org/10.1080/09709274.2015.11906893
Muti, M., Tshimanga, M., Notion, G. T., Bangure, D., & Chonzi, P. (2015). Prevalence of pregnancy induced hypertension and pregnancy outcomes among women seeking maternity services in Harare, Zimbabwe. BMC Cardiovascular Disorders, 15(1), 1-8. https://doi.org/10.1186/s12872-015-0110-5
Okhae, K. R., & Arulogun, O. S. (2017). Knowledge of pre-eclampsia among pregnant women attending adeoyo Maternity Hospital, Yemetu Ibadan North Local Government Area, Nigeria. International Journal of Science and Research, 6(2), 559-564. https://doi.org/10.21275/ART2017680
Okour, A., Alkhateeb, M., & Amarin, Z. (2012). Awareness of danger signs and symptoms of pregnancy complication among women in Jordan. International Journal of Gynecology & Obstetrics, 118(1), 11-14. https://doi.org/10.1016/j.ijgo.2012.01.020
Oyeyemi, A. O., & Asaolu, M. F. (2015). Reproductive hormones and pregnancy-induced hypertension cases in Nigerian women. J Environ Sci Toxicol Food Technol, 9(3), 10-14.
Pacagnella, R. C., Cecatti, J. G., Osis, M. J., & Souza, J. P. (2012). The role of delays in severe maternal morbidity and mortality: expanding the conceptual framework. Reproductive Health Matters, 20(39), 155-163. https://doi.org/10.1016/S0968-8080(12)39601-8
Pembe, A. B., Urassa, D. P., Carlstedt, A., Lindmark, G., Nyström, L., & Darj, E. (2009). Rural Tanzanian women's awareness of danger signs of obstetric complications. BMC Pregnancy and Childbirth, 9(1), 1-8. https://doi.org/10.1016/S0968-8080(12)39601-8
Purnama, M., & Herliana, L. (2019). Study of demographic factors with lbw events in tasikmalaya general hospital. The Malaysian Journal of Nursing (MJN), 10(4), 33-38. https://doi.org/10.31674/mjn.2019.v10i04.005
Rahman, L. A., Hairi, N. N., & Salleh, N. (2008). Association between pregnancy induced hypertension and low birth weight; a population-based case-control study. Asia Pacific Journal of Public Health, 20(2), 152-158. https://doi.org/10.1177/101053950731155
Satpathy G, Rani A, Tripathi P. Poojita, Kulshreshta, A. (2016) A survey of knowledge, attitude and belief towards Pregnancy Induced Hypertension among pregnant women attending Sir Sunderlal Hospital, BHU, Varanasi. World Journal of Pharmaceutical Research. 5(4), 1664-71.
Teng, S. P., & Keng, S. L. (2016). Knowledge of preeclampsia among antenatal women in a tertiary referral teaching hospital. The Malaysian Journal of Nursing (MJN), 7(2), 8-13.
Teng, S. P., Zuo, T. C., Jummaat, F. B., & Keng, S. L. (2015). Knowledge of pregnancy danger signs and associated factors among Malaysian mothers. British Journal of Midwifery, 23(11), 800-806. https://doi.org/10.12968/bjom.2015.23.11.800
Xavier, G., Ting, A. S., & Hun, T. J. (2019). Study of adverse pregnancy outcomes among female healthcare workers in Kuching, Sarawak. The Malaysian Journal of Nursing (MJN), 11(1), 68-75. https://doi.org/10.31674/mjn.2019.v11i01.010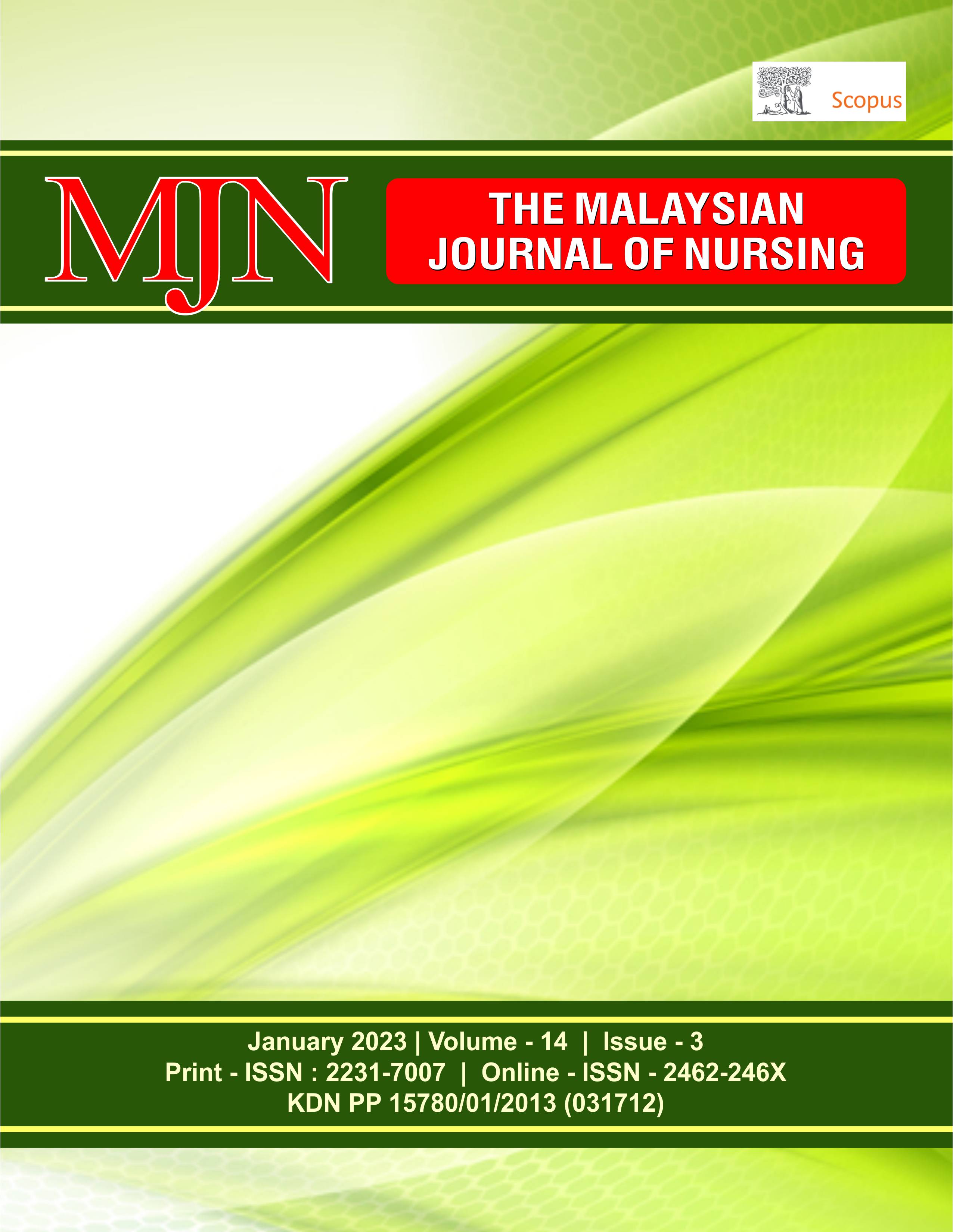 How to Cite
Khuan, L. . ., Mohd Zulkifli , N. Q. N. ., Abdul Rashid, N., & Mohammed, A. . (2023). Knowledge among Pregnant Women Regarding Pregnancy-Induced Hypertension at a Public Hospital in Malaysia. The Malaysian Journal of Nursing (MJN), 14(3), 102-109. https://doi.org/10.31674/mjn.2023.v14i03.012
License
Copyright (c) 2022 The Malaysian Journal of Nursing (MJN)
This work is licensed under a Creative Commons Attribution-NonCommercial-NoDerivatives 4.0 International License.