The Effectiveness of Mind-Body Therapy for Managing Elderly Depression Scale
Abstract
Background: Aging is a process whereby biological or physical decline begins to have an important psychomotor sensation, perception, and appearance in the ADL (Activity Daily Living). Situations like this of course also will affect the psychological condition of the elderly and can be a stressor that can cause negative feelings of feeling helpless, useless, frustrated, hopeless, sad and feeling isolated.  It can trigger the occurrence of mental disorders, especially depression. This study aims to determine the effect of mind-body therapy on depression level reduction in elderly at UPTD Griya Werdha Surabaya. Methods: The design of this study was Pre-Experimental with One group pre-post-test design, with sampling of 32 elderly. The data were collected using a Geritric Depression Scale (GDS-15) questionnaire and mind-body therapy mind-eye. Data analysis using Wilcoxson Signed Rank Test. Results: The results of this study indicate that there is influence of mind-body therapy to decrease depression level in elderly in UPTD Griya Werdha Surabaya 0.000 (ρ <0.05). Conclusion: Depression levels are influenced by sex, age, physical illness. The implication of this research is the need of more support from related institutions or UPTD Griya Werdha Surabaya in developing elderly program to decrease depression level in elderly.
Keywords:
Mind Body Therapy, Depression, Elderly
Downloads
Download data is not yet available.
References
Arianti, D., & Novera, M. (2019). The Influence of Progressive Muscle Relaxation on Insomnia in the Elderly in the Health Center of Kuranji Padang. Malaysian Journal of Medical Research (MJMR), 3(1), 67-71. https://doi.org/10.31674/mjmr.2019.v03i01.01
Fajar, D.A. (1967) (penulis). Irwan Kurniawan (editor); Mathori Alwustho (editor). (2011). Epistemologi doa : meluruskan, memahami dan mengamalkan / Dadang Ahmad Fajar, M.Ag. ; editor, Irwan Kurniawan, Mathori Alwustho. Bandung :: Nuansa Cendikia.
Irawan, H. (2013). Gangguan depresi pada lanjut usia. Cermin Dunia Kedokteran, 40(11), 815-819.
Iyus, Y., & Sutini, T. (2014). Buku Ajar Keperawatan Jiwa dan Advance menthal health Nursing (Cet. 6.). Bandung: Refika Aditama.
Katona, C. L., Cooper, C., & Robertson, M. (2015). Psychiatry at a Glance. John Wiley & Sons.
Kusumawati, F., & Hartono, Y., (2012). Buku Ajar Keperawatan Jiwa (1). Jakarta: Salemba Medika.
Marlina, T. T., & Pujiastuti, V. I. (2021). The Effect of Knee Exercise and Param Ginger to Reduce Knee Pain in Elderly. The Malaysian Journal of Nursing (MJN), 12(4), 54-59. https://doi.org/10.31674/mjn.2021.v12i04.00
Marta, O. F. (2012). Determinan tingkat depresi pada lansia di panti sosial tresna werdha Budi
Mulia 4 Jakarta Selatan (Skripsi, Universitas Indonesia). Universitas Indonesia, Jakarta.
Njoto, E. N. (2014). Mengenali Depresi pada Usia Lanjut Penggunaan Geriatric Depression Scale (GDS) untuk Menunjang Diagnosis. Cermin Dunia Kedokteran, 41(6), 472-474.
Prayitno, S. H. (2015). Doa dan dzikir sebagai metode menurunkan depresi penderita dengan penyakit kronis. In Seminar Psikologi dan Kemanusiaan (pp. 354-358).
Sari, D. R. (2015). Pengaruh Senam Pernapasan Terhadap Sensibilitas Sensorik Kaki Dan Kadar Glukosa Darah Pada Penderita Diabetes Mellitus Rawat Jalan Puskesmas Di Kecamatan Ungaran Kabupaten Semarang.
Setyoadi, K. (2011). Terapi modalitas keperawatan pada klien psikogeriatrik. Jakarta: Salemba Medika, 145.
Stuart, G.W, Budi, A.K, & Jesika, P. (2016). Prinsip dan Praktik Keperawatan Kesehatan Jiwa Stuart, Buku 1. Saunders Elsevier.
Syarniah. (2010). Pengaruh Terapi Kelompok Reminiscence Terhadap Depresi Pada Lansia Di Panti Sosial Tresna Werdha Budi Sejahtera Provinsi Kalimantan Selatan. Tesis Fakultas Ilmu Keperawatan Universitas Indonesia.
Wahbeh, H., Elsas, S. M., & Oken, B. S. (2008). Mind–body interventions: Applications in neurology. Neurology, 70(24), 2321-2328. https://doi.org/10.1212/01.wnl.0000314667.16386.5e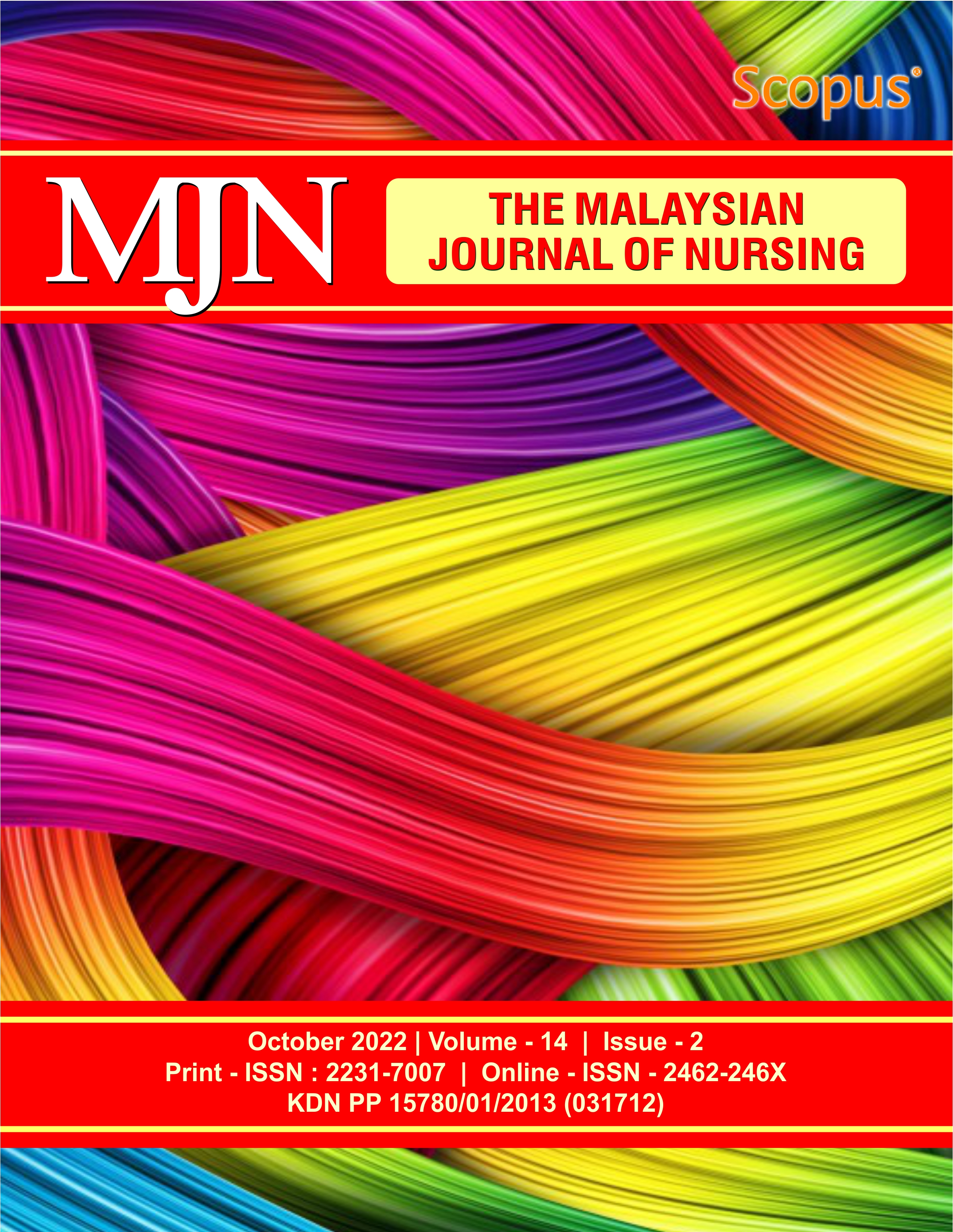 How to Cite
Nurlela, L., Kirana, S. A. C. ., & Fatikha Sari, A. . (2022). The Effectiveness of Mind-Body Therapy for Managing Elderly Depression Scale. The Malaysian Journal of Nursing (MJN), 14(2), 46-50. https://doi.org/10.31674/mjn.2022.v14i02.008
License
Copyright (c) 2022 The Malaysian Journal of Nursing (MJN)
This work is licensed under a Creative Commons Attribution-NonCommercial-NoDerivatives 4.0 International License.