The Relationship of Empathy with Prosocial Behavior in PMI City Volunteer KSR, Surabaya
Abstract
Background: The Voluntary Corps (KSR) is the spearhead of PMI in the field. KSR members must have the awareness to devote themselves to humanitarian tasks. The empathy that KSR volunteers have can motivate volunteers to help others. Volunteers who have high levels of empathy will improve their prosocial behavior. Methods: Correlation analytic research design uses a Cross Sectional study approach. Sampling research using Simple Random Sampling was dine on as many as 110 volunteers KSR PMI Surabaya City. Empathy and Prosocial Behavior Factors in volunteers were measured using an online questionnaire (via google form). Data analysis used Spearman Rho test with significance (p < 0.050). Results: The results showed that 106 (97.3%) respondents had moderate empathy, with 104 respondents having moderate prosocial behavior. About 4 other respondents have low prosocial behavior and 1 respondent has high prosocial behavior. The results also show that 3 (2.7%) respondents have low empathy with low prosocial behavior in 1 person and moderate prosocial behavior among 2 people. Spearman Rho test showed that there was a relationship between empathy and prosocial behavior in KSR PMI volunteers in Surabaya City with p value = 0.040 (p <0.050) r = 0.196. Conclusion: Empathy possessed by KSR volunteers is an important factor for prosocial behavior. The results of this study indicate that the active role of KSR volunteers is needed to motivate their colleagues and to cultivate a sense of empathy in order to grow high prosocial behavior.
Keywords:
Volunteer Corps, Empathy, Prosocial Behavior
Downloads
Download data is not yet available.
References
Anam, A. K. (2018). Peran Relawan Dalam Penanggulangan Bencana Erupsi Gunung Kelud Di Kabupaten Blitar. Journal of Borneo Holistic Health, 1(2), 205-216.. https://doi.org/10.35334/borticalth.v1i2.493
Anderson, W. C., Batson, C. D., Berry, D. R., & Boren, E. A. (2017). The Oxford Handbook of Hypo-egoic Phenomena (K. W. Brown & M. K. Leary (eds.)). Oxford University Press.
Asih, G. Y., & Pratiwi, M. M. S. (2010). Perilaku Prososial Ditinjau Dari Empati Dan Kematangan Emosi. Jurnal Psikologi Universitas Muria Kudus, I(1), 33–42. https://eprints.umk.ac.id/268/1/33_-_42.PDF
Bencana, P. K. B. N. P. (2011). nomor 17 tahun 2011, tentang Pedoman Relawan Penanggulangan Bencana. Jakarta: Mentri Hukum Dan Hak Asasi Manusia Republik Indonesia. Pub. L. No. 17(3). https://peraturan.bpk.go.id/Home/Details/219653/perka-bnpb-no-17-tahun-2011
Batson, C. D. (2009). These things called empathy: eight related but distinct phenomena. In J. Decety & W. Ickes (Eds.), The Social Neuroscience of Empathy (p. 0). The MIT Press. https://doi.org/10.7551/mitpress/9780262012973.003.0002
Diwyarthi, N. D. M. S., Putri, D., Ajeng, D., Ismainar, H., Hasbi, I., Darmawan, I. P. A., Asriandi, I., Nurhayati, I., Arifianto, C. F., Halik, A., Jalal, N. M., & Bahri, A. S. (2021). Psikologi Sosial. In A. Masruroh (Ed.), Widiana Bhakti Persada Bandung (Edisi 1, Vol. 1). Widiana Bhakti Persada Bandung.
Fitrianto, M. R. (2020). Evaluasi Kebijakan Penanggulangan Bencana (Studi Pada BPBD Kabupaten Kediri). Jurnal Ilmiah Administrasi Publik, 006(02), 197–201. https://doi.org/10.21776/ub.jiap.2020.006.02.4
Nuryanti, S. (2020). Empathy and happiness of disaster volunteers. Jurnal Ilmu-Ilmu Sosial, 12(2), 10–21.
Pitria, M. (2013). Pembinaan dan Pengembangan Relawan Palang Merah Indonesia melalui Temu Karya Nasional. IRC. https://blogs.icrc.org/indonesia/pembinaan-dan-pengembangan-relawan-palang-merah-indonesia-melalui-temu-karya-nasional/
Rahayu, I. (2018). Hubungan empati dan peril aku prososial: dimoderasi oleh kepribadian agreeableness pada mahasisw a keperaw atan stikes yarsi mataram [Universitas Muhammadiyah Malang]. https://eprints.umm.ac.id/40004/
Rosyida, A. H. (2020). Efektivitas Terapi Film Dalam Meningkatkan Empati. Psikoborneo: Jurnal Ilmiah Psikologi, 8(2), 211. https://doi.org/10.30872/psikoborneo.v8i2.4904
Ryan, R. M., & Deci, E. L. (2001). On Happiness and Human Potentials: A Review of Research on Hedonic and Eudaimonic Well-Being. Annual Review of Psychology, 52(1), 141–166. https://doi.org/10.1146/annurev.psych.52.1.141
Sagita, M. (2017). The Description of Volunteer Corps Knowledge of Diploma Program of Nursing Blitar about Post Traumatic Stress Disorder (PTSD). Jurnal Ners Dan Kebidanan (Journal of Ners and Midwifery), 3(3), 292-297. https://doi.org/https://doi.org/10.26699/jnk.v3i3.art.p292-297
Sudarmin, R. (2022). Implementasi Layanan Psikososial Dalam Pemulihan Psikis Pasca Bencana Banjir Di Desa Maipi Kabupaten Luwu Utara [Universitas Muhammadiyah Palopo]. https://repository.umpalopo.ac.id/2170/
Sukma, R., Puspita, D., & Gumelar, G. (2014). Pengaruh Empati Terhadap Perilaku Prososial Dalam Sosial Di Jejaring Sosial Twitter. 3(1), 1–7. https://doi.org/https://doi.org/10.21009/JPPP.031.01
Taufik, T. (2016). Empati: pendekatan psikologi sosial. Rajawali Pers. http://hdl.handle.net/11617/10712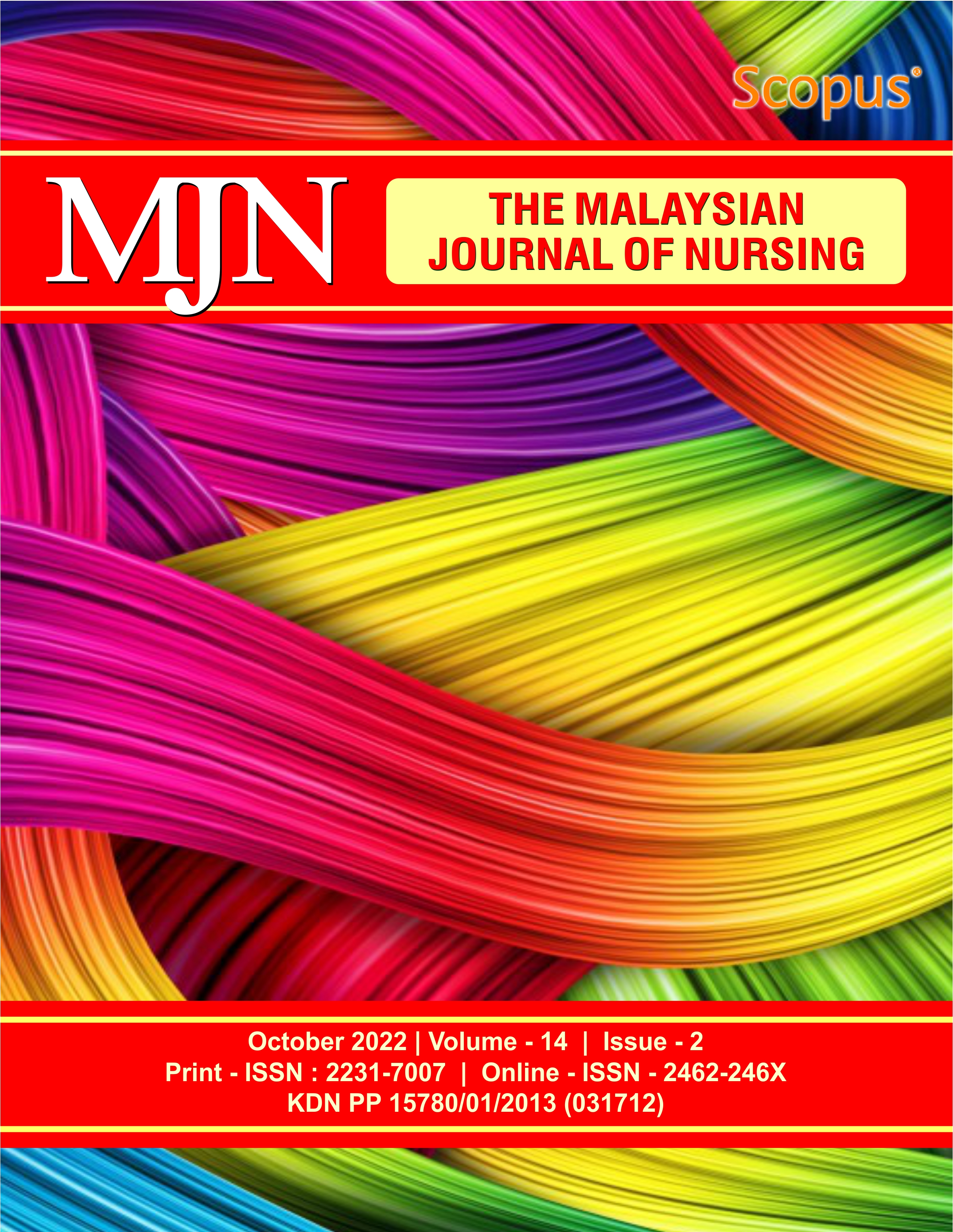 How to Cite
Prasetya, T. A., Anggoro, S. D. ., Sari, N. A. ., & Sari, M. R. P. . (2022). The Relationship of Empathy with Prosocial Behavior in PMI City Volunteer KSR, Surabaya. The Malaysian Journal of Nursing (MJN), 14(2), 26-30. Retrieved from https://ejournal.lucp.net/index.php/mjn/article/view/1738
License
Copyright (c) 2022 The Malaysian Journal of Nursing (MJN)
This work is licensed under a Creative Commons Attribution-NonCommercial-NoDerivatives 4.0 International License.