Effect of Implementing Acupressure Technique on Gastrointestinal Problems and Pain Control for Children Post Abdominal Surgeries
Abstract
Abdominal surgeries are defined as procedures carried out by surgeons for the children's abdominal regions for treating a medical condition. Pediatric surgical problems are a broad spectrum of surgical condition that occurs in children. Sometimes, it is considered a proper option of pediatric management to save children's lives and prevent and decrease disabilities and death. Aim: evaluate the effect of the acupressure technique on gastrointestinal problems and pain control for children post-abdominal surgeries. Methods: the study was a quasi-experimental research design and used for 80 children from the Tanta Main University Hospital's pediatric surgical department. Tools: were used to collect data: A structured Interview Schedule to assess the socio-demographic characteristic and medical history of children, a Rhodes index of nausea and vomiting form to assess nausea and vomiting, and a visual analog scale to assess nausea, vomiting and pain. Results: The current study found statistically significant differences in the occurrence of postoperative nausea, vomiting, and pain on the first- and second-days following implementation. Conclusion: There are a significant improvement in the children's nausea, vomiting, and pain after abdominal surgeries. Recommendations: Acupressure should be utilized as a collaborative nursing intervention method to minimize post-operative gastrointestinal side effects (nausea and vomiting) in pediatric surgery patients.
Keywords:
Children, Acupressure Technique, Abdominal Surgeries, Nausea, Vomiting, Pain
Downloads
Download data is not yet available.
References
Alrzoq, R., Alhaji, A., & Alolayt, I. (2018). The Incidence of inguinal hernia among children. The Egyptian Journal of Hospital Medicine, 70(3), 483-6. https://doi.org/10.12816/0043492
Baxter, A. (2011). Visual analog scale for nausea and vomiting. Pediatrics Journal, 127(6), 1542-1549.
Beth, D., & Robert, G. (2019). Reading the Medical Literature: Basic & Clinical Biostatistics. 5thed. New York: McGraw – Hill Co., Ch.7-9, P161-218 and Ch. 13, P305-14. https://www.bioassay.de/
Dimitri, P., & Vitaliy, S(2018). Acute acalculous cholecystitis in children. World Journal of Gastroenterology, 43(24), 4870–79. https://doi.org/10.3748/wjg.v24.i43.4870
El-Moazen, A., Mohamed, S., & Kereem, M. (2018). Effect of selected play activities on preoperative anxiety level and fear among children undergoing abdominal surgeries. Egyptian Nursing Journal, 15(3), 205-16. https://doi.org/10.4103/ENJ.ENJ_2_1
Esmail, N., & Darwish, A., & El Sayed, E. (2014). Effect of progressive muscle relaxation technique versus acupressure on chemotherapy induced nausea and vomiting in leukemic children. International Journal of Current Research, 6(7), 7674-7682. http://www.journalcra.com
Fairbank, J. C., Couper, J., Davies, J. B., & O'Brien, J. P. (1980). The Oswestry low back pain disability questionnaire. Physiotherapy, 66(8), 271-273.
Garbuzenko, D. (2018). Current Issues in the Diagnostics and Treatment of Acute Appendicitis. 1st Edition. London. United Kingdom: Intech Open Publishing Co., Ch3, P13-42. https://dx.doi.org/10.5772/intechopen70917-020-00306-3
Genc, A., Can, G., & Aydiner, A. (2013). The efficiency of the acupressure in prevention of the chemotherapy-induced nausea and vomiting. Support Care Cancer, 21(1), 253- 61. https://doi.org/10.1007/s00520-012-1519-3
Mahna, S., & Ouda, W. (2020). Assessment of post-operative pain for children undergoing abdominal surgery. Egyptian Journal of Health Care, 11(3), 185-90. https://doi.org/10.21608/EJHC.2020.109230
Miao, J., & Kauret, H. (2017). Effects of acupressure on chemotherapy-induced nausea and vomiting-a systematic review with meta-analyses and trial sequential analysis of randomized controlled trials. International Journal of Nursing Studies, 70(2), 27-37. https://doi.org/10.1016/j.ijnurstu.2017.02.014.
Mohammed, H., Hussien, H., & Khaled, W. (2018). Effect of acupressure on frequency and severity of nausea and vomiting among leukemic children undergoing chemotherapy. Medical Journal Cairo University, 86(3), 1465-73. https://doi.org/10.21608/mjcu.2018.56348
Mohsen, A., & Mahmood, E. (2013). Effect of acupressure of Ex-Le7 point on pain, nausea and vomiting after appendectomy: A randomized trial. Journal of Research in Medical Sciences, 18(6), 482–486. PMID: 24250696; PMCID: PMC3818617.
Namrouti, A., Elsaid, R., & Samara, A. (2021). Assessment of pain and postoperative nausea and vomiting and their association in the early postoperative period: an observational study from Palestine BMC Surgery, 21(1),177- 9. https://doi.org/10.1186/s12893-021-01172-9
Peter, S., & Snyder, C. (2016). Operative management of appendicitis. Seminars in Pediatric Surgery, 25(4), 208-11. https://doi.10.1053/j.sempedsurg.2016.05.003.
Pogatzki, Z., Segelcke, D., & Schug, S. (2017). Postoperative pain-from mechanisms to treatment. PAIN Reports, 2(2), 588. https://doi.org/10.1097/PR9.0000000000000588
Pouy, S, Etebarian, K., & Yaghobi, Y. (2019). Effect of acupressure on post tonsillectomy pain in adolescents: a randomized, single-blind, placebo-controlled trial study. International Journal of Adolescent Medicine and Health, 9(1),1-9. https://doi.org/10.1515/ijamh-2019-0065
Rhodes, V. A., & McDaniel, R. W. (1999). The Index of Nausea, Vomiting, and Retching: a new format of the lndex of Nausea and Vomiting. In Oncology Nursing Forum (Vol. 26, No. 5, pp. 889-894).
Sartelli, M., Baiocchi, G., & Saverio, S. (2018). Prospective observational study on acute appendicitis worldwide. World Journal of Emergency Surgery (WJES),19(13), 430-55. https://doi.10.1186/s13017-018-0179-0
Di Saverio, S., Podda, M., De Simone, B., Ceresoli, M., Augustin, G., Gori, A., ... & Catena, F. (2020). Diagnosis and treatment of acute appendicitis: 2020 update of the WSES Jerusalem guidelines. World Journal of Emergency Surgery, 15(1), 1-42.
Urits, I., Orhurhu, V., & Jones, M. (2020). Postoperative Nausea and Vomiting in Paediatric Anaesthesia. Turkish Journal of Anaesthesiology & Reanimation, 48(2), 88-95. https://doi.org/10.5152/TJAR.2019.67503
Zaghal, A., & El Rifa, A. (2021). Abdominal Surgery: Abrief Overview. 1st edition London United Kingdom: Intech Open Publishing Co., Ch1, P1-5. https://www.intechopen.com.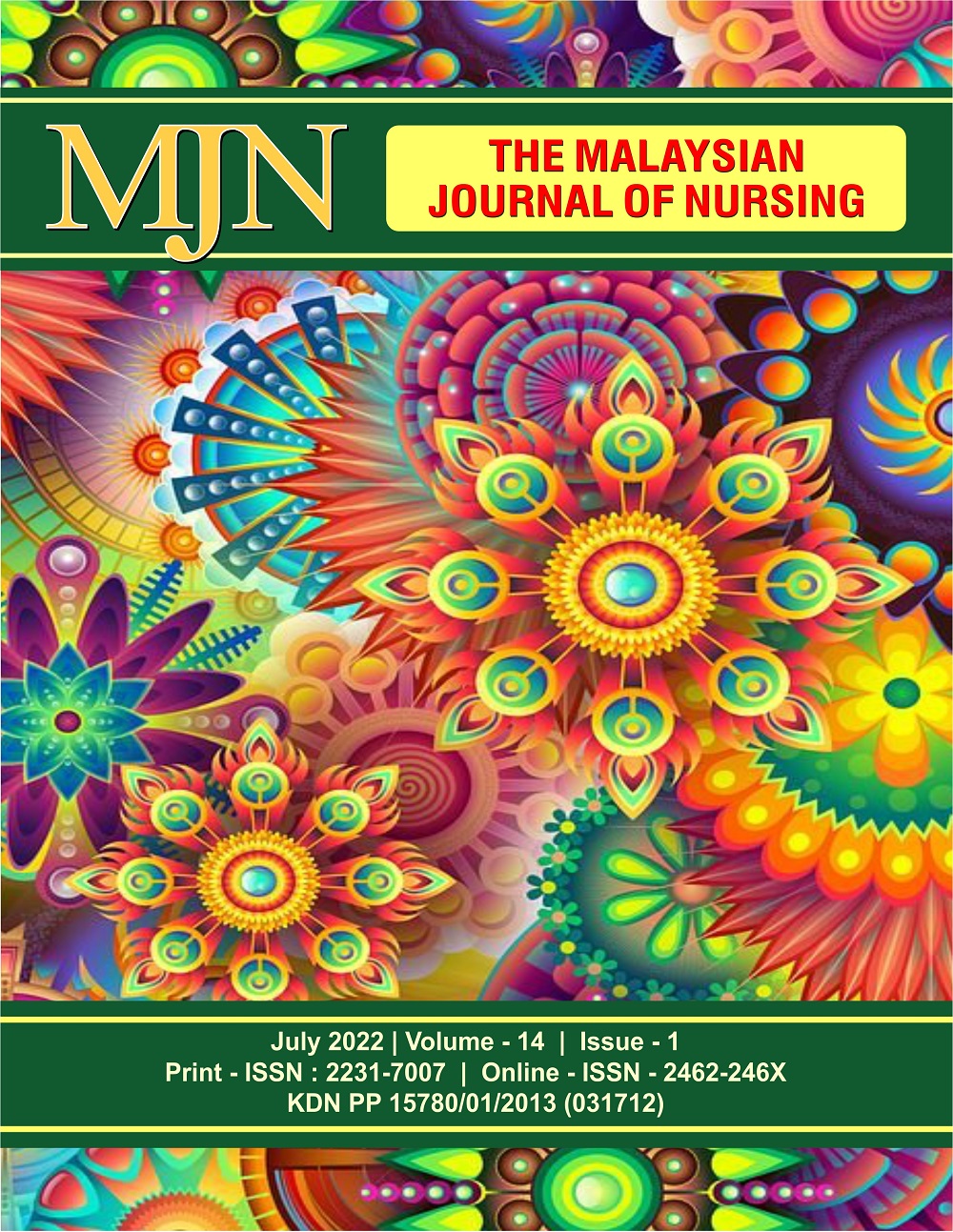 How to Cite
Basuony, G. M. ., Bahgat, R. S., Elkhedr, . S. M. ., & Mohamed, H. I. . (2022). Effect of Implementing Acupressure Technique on Gastrointestinal Problems and Pain Control for Children Post Abdominal Surgeries. The Malaysian Journal of Nursing (MJN), 14(1), 74-83. https://doi.org/10.31674/mjn.2022.v14i01.011
License
Copyright (c) 2022 The Malaysian Journal of Nursing (MJN)
This work is licensed under a Creative Commons Attribution-NonCommercial-NoDerivatives 4.0 International License.