Examining the Relationship Between Patient's Spiritual Well-Being, as Influenced by the Internal and External Variables of the Patient, and the Nurse's Spiritual Care Competence, in Southern Philippines
Abstract
Background: Nurses and other healthcare providers must become culturally competent as well as culturally aware to meet the needs of culturally diverse patients. This descriptive inferential study investigated whether the patient's internal and external characteristics, as well as the nurse's spiritual care competency, influenced the patient's spiritual well-being. 
Methods: Descriptive correlation research design was utilized to capture information on the variables that were assumed to have an influence on the older persons' spiritual well-being and to test the hypotheses concerning the existence of significant relationships between the variables under investigation. Three sets of questionnaires were answered by three separate groups of respondents: 117 older persons aged 60 years and older admitted in Amai Pakpak Medical Center in Marawi City, 117 family members, and 117 nurses providing care to the patients. Linear regression and path analysis were used to analyze the data.
Results: The results showed that the nurse's spiritual care competency was determined through the internal and external variables of the patient. Moreover, the patients' satisfaction in spiritual nursing care as a mediating variable of spiritual well-being was dependent on the patient's trust and the spiritual care competence of the nurse. Lastly, the spiritual well-being of the patient was significantly dependent on the spiritual care competence of the nurse and the patient's satisfaction.
Conclusion: To attain optimal spiritual well-being, the patient, the family, and the nurse must work together in a harmonious triumvirate relationship.
Keywords:
Spiritual Nursing Care, Spiritual Well-Being, Care for Older Persons, Gerontology, Nursing, Philippines
Downloads
Download data is not yet available.
References
Abrigo, M. (2019). Philippines a slowly ageing society - PIDS study. Social Science and Medicine, 52(4), 609–620.
Balboni, T. A., Vanderwerker, L. C., Block, S. D., Paulk, M. E., Lathan, C. S., Peteet, J. R., & Prigerson, H. G. (2007). Religiousness and spiritual support among advanced cancer patients and associations with end-of-life treatment preferences and quality of life. Journal of Clinical Oncology: Official Journal of the American Society of Clinical Oncology, 25(5), 555–560. https://doi.org/10.1200/jco.2006.07.9046
Utriainen, K., & Kyngäs, H. (2009). Hospital nurses' job satisfaction: a literature review: Hospital nurses' job satisfaction. Journal of Nursing Management, 17(8), 1002–1010. https://doi.org/10.1111/j.1365-2834.2009.01028.x
Tabari-Khomeiran, R., Kiger, A., Parsa-Yekta, Z., & Ahmadi, F. (2015). Competence Development Among Nurses: The Process of constant interaction. Journal of Continuing Education in Nursing, 38(5), 211–218. https://doi.org/10.3928/00220124-20070901-01
van Leeuwen, M. L., van Baaren, R. B., Martin, D., Dijksterhuis, A., & Bekkering, H. (2009). Executive functioning and imitation: Increasing working memory load facilitates behavioural imitation. Neuropsychologia, 47(14), 3265–3270. https://doi.org/10.1016/j.neuropsychologia.2009.06.005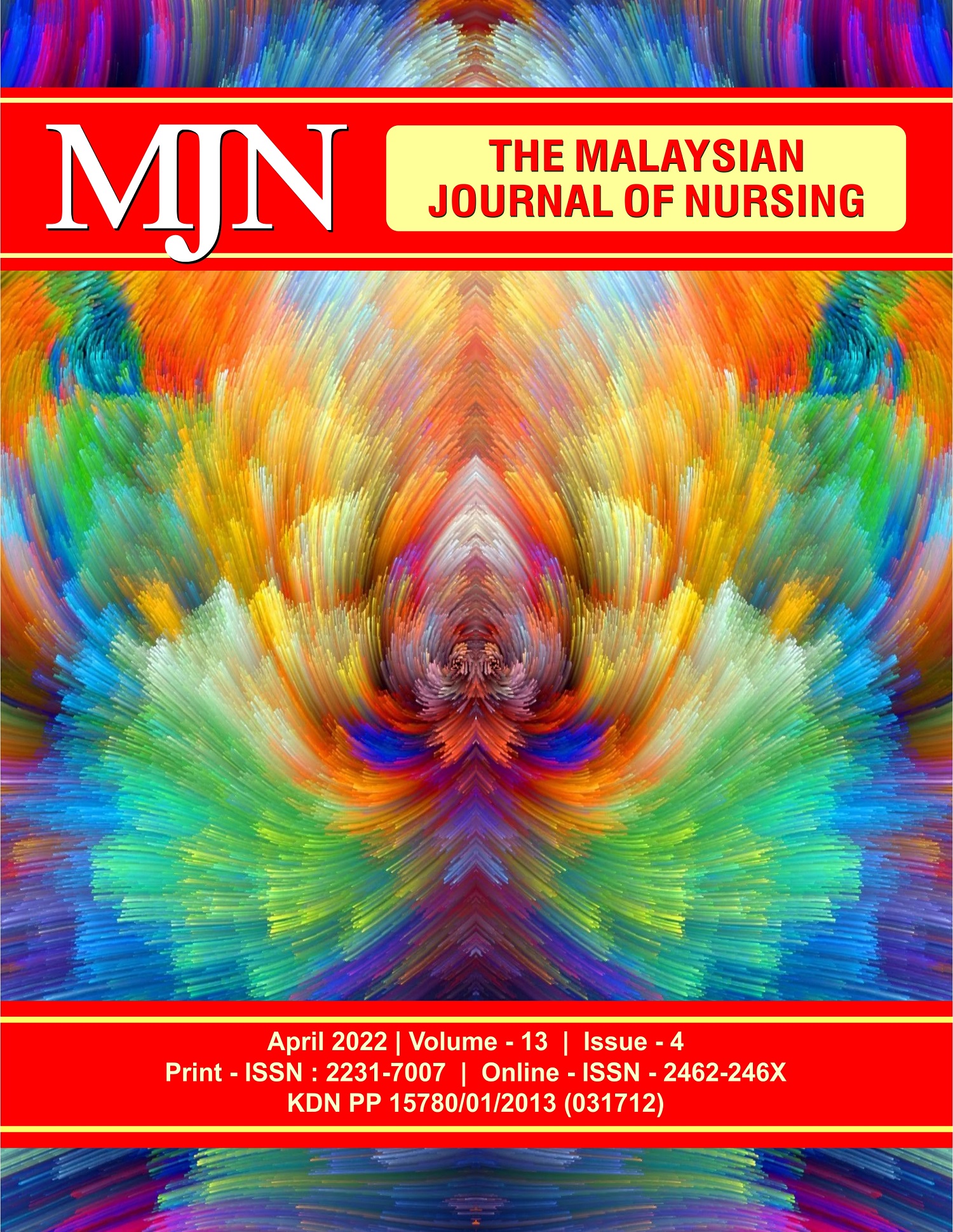 Downloads
How to Cite
Ashley A. Bangcola. (2022). Examining the Relationship Between Patient's Spiritual Well-Being, as Influenced by the Internal and External Variables of the Patient, and the Nurse's Spiritual Care Competence, in Southern Philippines . The Malaysian Journal of Nursing (MJN), 13(4). Retrieved from https://ejournal.lucp.net/index.php/mjn/article/view/1674
License
Copyright (c) 2022 The Malaysian Journal of Nursing (MJN)
This work is licensed under a Creative Commons Attribution-NonCommercial-NoDerivatives 4.0 International License.