Effectiveness of Range of Motion (ROM) and Deep Breathing Exercise (DBE) in Increasing Muscle Strength in Post-Stroke Patients at Pariaman Hospital in 2018
Abstract
Cerebrovascular injury (CVA) is an abnormal functioning of the central nervous system (CNS) caused by disruption of normal blood flow to the brain. Stroke is divided into two, namely ischemic (85%) and bleeding (15%), the top 3 causes of death in recent years. Stroke has an impact on the socio-economy due to the disability it causes. In 2015, the medical records of Pariaman Hospital, the number of stroke patients treated in the neurological ward was 103 people, in 2016 it increased by 117 people, in 2017 it increased very significantly, as many as 215 people. The purpose of this study is how the effect of Range of Motion and deep breathing exercise (DBE) in increasing muscle strength of post-stroke patients who are treated at Pariaman Hospital.
The research design was a quasi-experimental design with a one-group before and intervention design. The population of this study were post-stroke patients who were treated at RSUD Pariaman. Sampling was purposive sampling, amounting to 40 respondents. The data were processed and analyzed univariate and bivariate.
The results showed that there was a difference in the mean value of muscle strength before the therapy was 2.75 with a standard deviation of 0.439 and after the therapy was 3.50 with a standard deviation of 0.506. The results of statistical tests show that the value of p = 0.000 means that there is a significant difference between the mean value of muscle strength in patients before the procedure and after ROM and DBE therapy.
Keywords:
Stroke, ROM, DBE
Downloads
Download data is not yet available.
References
Andarmoyo, S. (2013). Proses dan Konsep Keperawatan Nyeri.
Damhudi, D., Irawaty, D., & Hariyati, R. T. S. (2012). Efektifitas Metode NIHSS dan ESS Dalam Membuat Diagnosa Keperawatan Aktual Pada Pasien Stroke Berat Fase Akut. Jurnal Keperawatan Indonesia, 15(1), 7-12. https://doi.org/10.7454/jki.v15i1.41
Fitria, C. N. (2012). Keefeektifan Range of Motion (Rom) Terhadap Kekuatan Otot Ekstremitas Pada Pasien Stroke. Profesi (Profesional Islam): Media Publikasi Penelitian, 9.
Kelana, D. K. (2011). Metodologi penelitian keperawatan panduan melaksanakan dan menerapkan Hasil Penelitian. Jakarta: Trans Info Media.
Laily, S. R. (2017). Relationship Between Characteristic and Hypertension with Incidence of Ischemic Stroke. Jurnal Berkala Epidemiologi, 5(1), 48-59. http://doi.org/10.20473/jbe.v5i1.2017.48-59
Muttaqin, A. (2008). Buku Ajar Asuhan Keperawatan Dgn Gangguan Sistem Persarafan. Penerbit Salemba.
Putri, Y., & Wijaya, A. (2013). Keperawatan Medikal Bedah. Yogyakarta: Nuha Medika.
Rahayu, K. I. N. (2015). Pengaruh pemberian latihan range of motion (rom) terhadap kemampuan motorik pada pasien post stroke di rsud gambiran. Jurnal keperawatan, 6(2), 102–107. https://doi.org/10.22219/jk.v6i2.2864
Riskesdas, L. N. (2018). Kementerian Kesehatan RI Badan Penelitian dan Pengembangan Kesehatan. https://ejournal2.litbang.kemkes.go.id/index.php/lpb/article/view/3757
Smeltzer, S. C., Bare, B. G., Hinkle, J. L., Cheever, K. H., Townsend, M. C., & Gould, B. (2008). Brunner and Suddarth's Textbook of Medicalsurgical Nursing 10th Edition. Philadelphia: Lipincott Williams & Wilkins.
Smeltzer, S. C. (2013). Keperawatan Medikal Bedah Brunner & Suddarth.
Sukmaningrum, F., Kristiyawati, S. P., & Solechan, A. (2012). Efektivitas Range of Motion (Rom) Aktif-Asistif: Spherical Grip Terhadap Peningkatan Kekuatan Otot Ekstremitas Atas Pada Pasien Stroke Di Rsud Tugurejo Semarang. Karya Ilmiah.
Šupínová, M., & Sklenková, G. (2018). The quality of life of patients after an acute stroke. Kontakt, 20(2), e153-e159. https://doi.org/10.1016/j.kontakt.2018.02.001
Timby, B. K., & Smith, N. E. (2013). Introductory medical-surgical nursing. Lippincott Williams & Wilkins.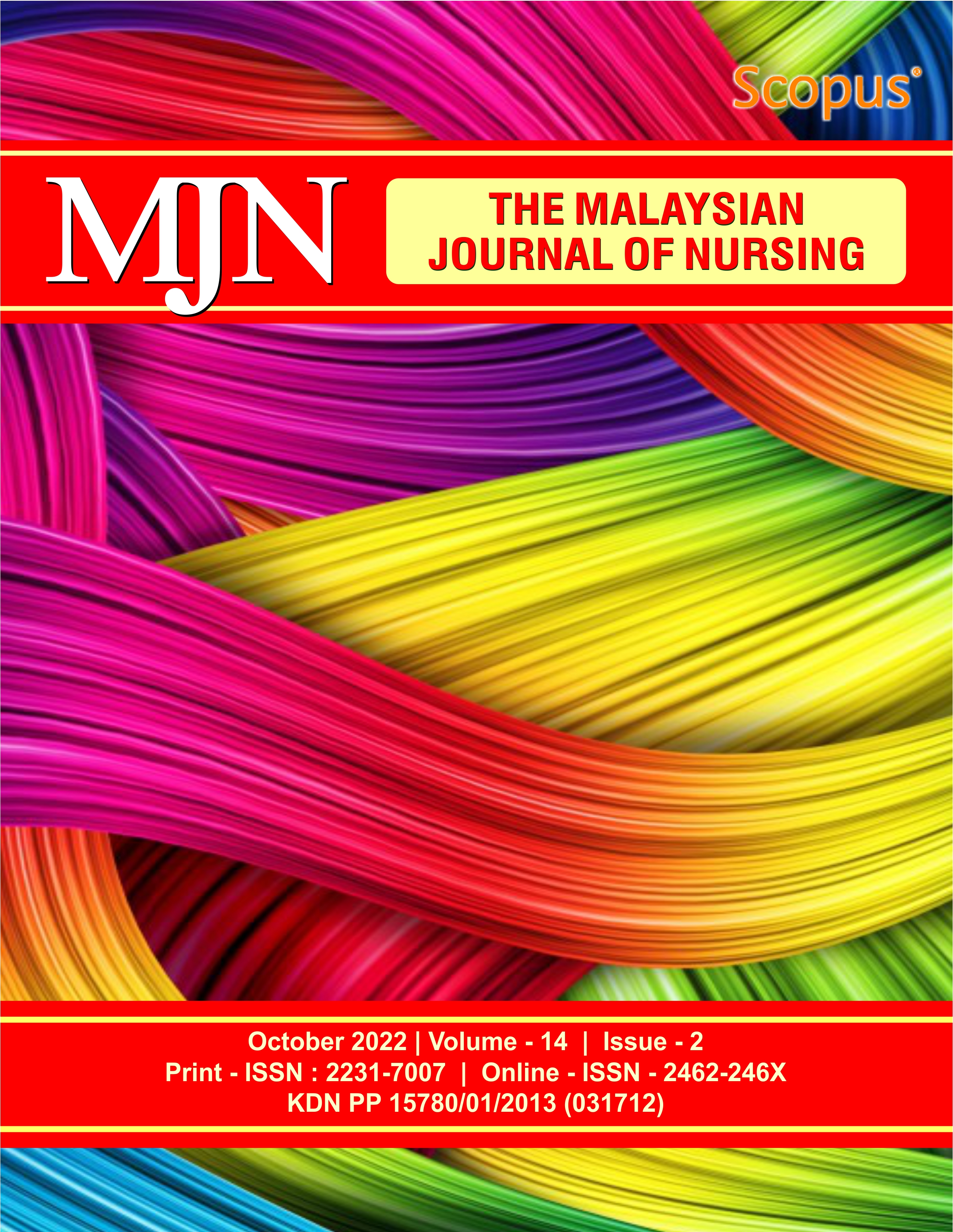 How to Cite
Netti, N., & Suryarinilsih, Y. . (2022). Effectiveness of Range of Motion (ROM) and Deep Breathing Exercise (DBE) in Increasing Muscle Strength in Post-Stroke Patients at Pariaman Hospital in 2018. The Malaysian Journal of Nursing (MJN), 14(2), 128-132. https://doi.org/10.31674/mjn.2022.v14i02.021
License
Copyright (c) 2022 The Malaysian Journal of Nursing (MJN)
This work is licensed under a Creative Commons Attribution-NonCommercial-NoDerivatives 4.0 International License.