Religion and Spirituality in Coping with Cancer among Muslims: A Literature Review
Abstract
Active religious practice is central to the lives of Muslims. Few studies have examined how religious engagement by Muslims who are coping with cancer affects their psychological health during treatment. Objective: To determine how and the extent to which religion and spirituality are employed as coping mechanisms by Muslims through a literature review. Methods: The electronic Medline, Cinahl, Google Scholar, and PubMed databases were used to identify relevant articles. Grey literature, including websites, was also looked over. Studies including patients with cancer of all types and stages were included. Results: Eight articles were included in the review. Key topics of interest were how the characteristics of Muslim religiosity and spirituality are involved in coping with cancer, including whether they further enable a Muslim to give meaning to cancer, how cancer affects the religious beliefs of Muslim patients with cancer, and whether religion influences treatment considerations. Conclusion: Religion and spirituality are crucial for Muslim patients to find meaning in cancer, and both are used as primary means of coping. Thus, nurses must be aware of and sensitive to the importance of religion in caring for such patients.
Keywords:
Religiousity, Spirituality, Coping, Cancer, Nursing
Downloads
Download data is not yet available.
References
Ahmad, F., & Abdullah, A. A. (2011). Religion and spirituality in coping with advanced breast cancer: perspectives from Malaysian Muslim women. Journal of Religion and Health, 50(1), 36-45.
Ahmadi, F., Erbil, P., Ahmadi, N., & Cetrez, Ö. A. (2019). Religion, culture and meaning-making coping: A study among cancer patients in Turkey. Journal of Religion and Health, 58(4), 1115-1124.
Al-Azri, M. H., Al-Awisi, H., Al-Rasbi, S., & Al-Moundhri, M. (2014). Coping with a diagnosis of breast cancer among Omani women. Journal of Health Psychology, 19(7), 836-846.
Banning, M., Hafeez, H., Faisal, S., Hassan, M., & Zafar, A. (2009). The impact of culture and sociological and psychological issues on Muslim patients with breast cancer in Pakistan. Cancer Nursing, 32(4), 317-324.
Baqutayan S. M. (2012). The effect of anxiety on breast cancer patients. Indian journal of Psychological Medicine, 34(2), 119–123. https://doi.org/10.4103/0253-7176.101774
Basri, N. A., Gan, C. H., & Ng, A. L. L. (2014). The relationship between Islamic religiosity, depression, and anxiety among Muslim cancer patients.
Baumer, W. H. (1971). Science and civilization in Islam: Seyyed Nasr, Harvard University Press: Cambridge, Mass., 1968. xiv+ 384 pp. $8.95. Studies in History and Philosophy of Science Part A, 2(2), 183-190.
George, L. K., Larson, D. B., Koenig, H. G., & McCullough, M. S. (2000). Spirituality and health: What we know. Journal of Social and Clinical Psychology, 19(1), 200.
Grossoehme, D. H., Friebert, S., Baker, J. N., Tweddle, M., Needle, J., Chrastek, J., Thompkins, J., Wang, J., Cheng, Y. I., & Lyon, M. E. (2020). Association of Religious and Spiritual Factors with Patient-Reported Outcomes of Anxiety, Depressive Symptoms, Fatigue, and Pain Interference Among Adolescents and Young Adults With Cancer. JAMA Network Open, 3(6), e206696. https://doi.org/10.1001/jamanetworkopen.2020.6696
Harandy, T. F., Ghofranipour, F., Montazeri, A., Anoosheh, M., Bazargan, M., Mohammadi, E., Ahmadi, F., & Niknami, S. (2009). Muslim breast cancer survivor spirituality: coping strategy or health seeking behavior hindrance? Health Care for Women International, 31(1), 88-98.
John, R., & Ross, H. (2010). The global economic cost of cancer: a report summary. American Cancer Society.
Lazarus, R. S. (1993). Coping theory and research: Past, present, and future.
Lin, H. R., & Bauer‐Wu, S. M. (2003). Psycho‐spiritual well‐being in patients with advanced cancer: an integrative review of the literature. Journal of Advanced Nursing, 44(1), 69-80.
Narayanasamy, A. (2001). Spiritual care: A Practical Guide for Nurses and Health Care Practitioners. Quay Books.
Niedzwiedz, C. L., Knifton, L., Robb, K. A., Katikireddi, S. V., & Smith, D. J. (2019). Depression and anxiety among people living with and beyond cancer: a growing clinical and research priority. BMC Cancer, 19(1), 1-8.
Obeidat, R. F., Lally, R. M., & Dickerson, S. S. (2012). Arab American women's lived experience with early-stage breast cancer diagnosis and surgical treatment. Cancer Nursing, 35(4), 302-311.
Park, C. L. (2005). Religion as a meaning‐making framework in coping with life stress. Journal of Social Issues, 61(4), 707-729.
Rochmawati, E., Wiechula, R., & Cameron, K. (2018). Centrality of spirituality/religion in the culture of palliative care service in Indonesia: An ethnographic study. Nursing & Health Sciences, 20(2), 231-237.
Shaheen Al Ahwal, M., Al Zaben, F., Sehlo, M. G., Khalifa, D. A., & Koenig, H. G. (2016). Religious beliefs, practices, and health in colorectal cancer patients in Saudi Arabia. Psycho‐oncology, 25(3), 292-299.
Sung, H., Ferlay, J., Siegel, R. L., Laversanne, M., Soerjomataram, I., Jemal, A., & Bray, F. (2021). Global cancer statistics 2020: GLOBOCAN estimates of incidence and mortality worldwide for 36 cancers in 185 countries. CA: A Cancer Journal for Clinicians, 71(3), 209-249.
World Health Organization's International Agency for Research on Cancer. Latest global cancer data: Cancer burden rises to 18.1 million new cases and 9.6 million cancer deaths in 2018. https://www.iarc.who.int/wp-content/uploads/2018/09/pr263_E.pdf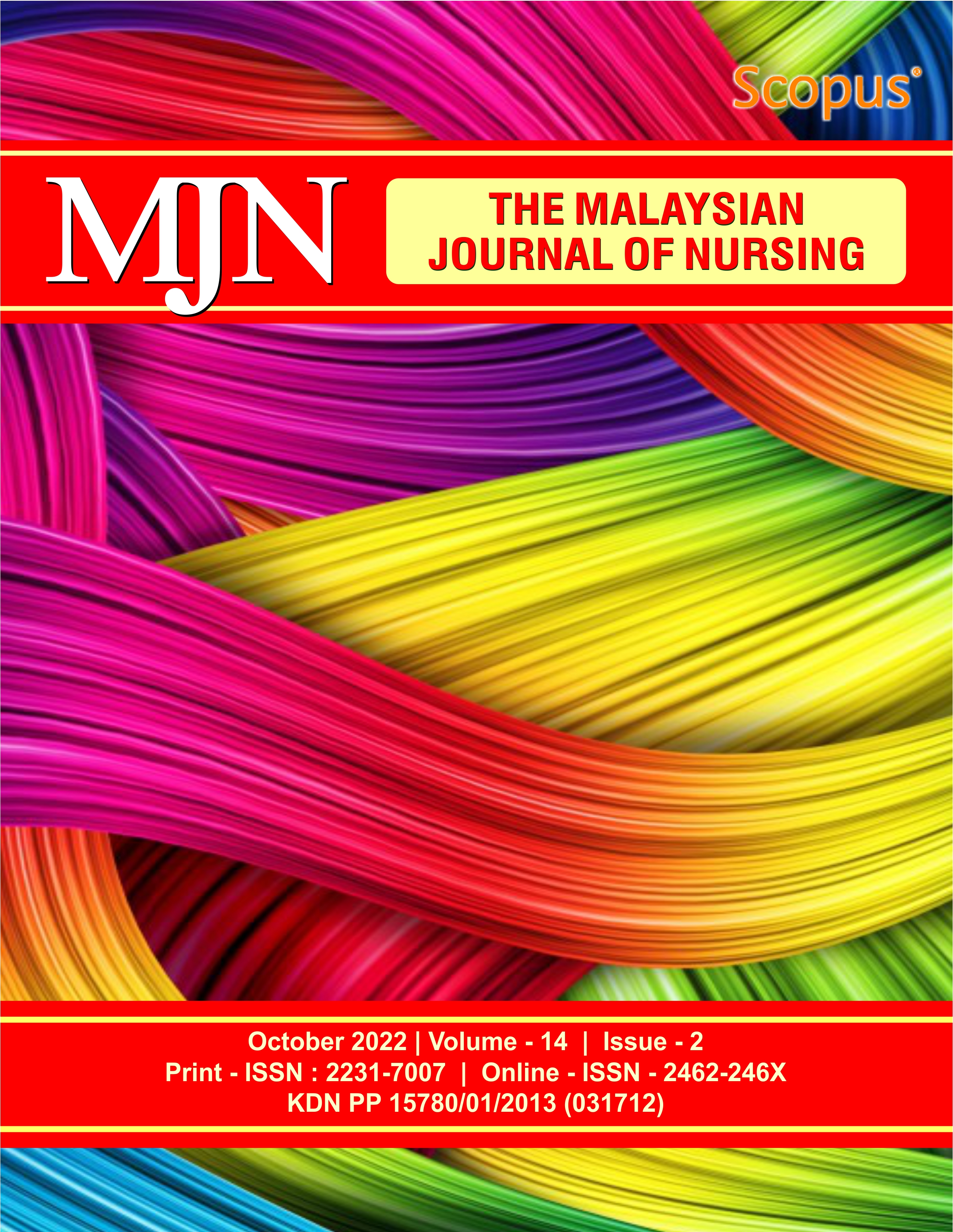 How to Cite
Nurul Huda, Nurchayati, S. ., Pranata, S. ., & Sansuwito, T. . (2022). Religion and Spirituality in Coping with Cancer among Muslims: A Literature Review. The Malaysian Journal of Nursing (MJN), 14(2), 151-156. Retrieved from https://ejournal.lucp.net/index.php/mjn/article/view/1655
License
Copyright (c) 2022 The Malaysian Journal of Nursing (MJN)
This work is licensed under a Creative Commons Attribution-NonCommercial-NoDerivatives 4.0 International License.