Knowledge and Awarness Among Registered Nurses in the Prevention of Venous Thromboembolism (Vte) for High-Risk Antenatal and Postnatal Mothers
Abstract
Background: There is an increment in the incidence of venous thromboembolism (VTE) among the Asian population. This study is conducted to investigate the level of knowledge and awareness of the nurses regarding VTE. Methods: A cross-sectional descriptive study was conducted with 170 respondents who fulfilled the inclusion criteria. The respondents' knowledge and awareness were assessed by using an individual VTE self-efficacy items with 5-point Likert scale. Results: The finding shows no significant relationship between age, education level, nurse grade, experience, attend CNE with the knowledge level. There is significant relationship between attend CNE and level of awareness. Conclusion: In this study, it was discovered that the level of knowledge and awareness among nurses in the government hospital were at good level. However, more studies should be conducted to compare among the hospitals. This will capture a clear picture regarding nurses' knowledge and awareness regarding VTE management.
Keywords:
Venous Thromboembolism, Knowledge, Awareness, Nurses
Downloads
Download data is not yet available.
References
Boddi, M., Cecchi, A., Bonizzoli, M., Barbani, F., Franci, A., Anichini, V., Batacchi, S., Parodo, J., Gensini, G. F. & Peris, A. (2014). Follow-up after four-year quality improvement program to prevent inferior limb deep vein thrombosis in intensive care unit. Thrombo Resp, 134(3), pp 578-583. https://doi.org/10.1016/j.thromres.2014.06.011.
Clinical Practice Guidelines. (2013). Prevention and Treatment of Venous Thromboembolism, Ministry of Health Malaysia. https://www.moh.gov.my/moh/attachments/9005.pdf
Das, S., Sahoo, A. & Swain, R. (2014). Effectiveness of the Planned Teaching Program on Deep Vein Thrombosis among the Staff Nurses of selected hospital. Journal of Nursing and Health Science, 3(1), pp 48-51. https://doi.org/10.9790/1959-03134851
Ekwere, T.A., Ino-Ekanem, B.M. & Ekanem, A. (2015). Venous thromboembolism: awareness and practice of thromboprophylaxis among physicians in a tertiary-care hospital. International Journal of Medicine and Biomedical Research, 4(1), pp 14-20. https://doi.org/10.14194/ijmbr.4.1.3
Lee, J.A., Grochow, D., Drake, d., Johnson, L., Reed, P. & Servellen, G. (2014).Evaluation of hospital nurses' perceived knowledge and practices of venous thromboembolism assessment and prevention. Journal of Vascular Nursing, 32(1), pp 18-24. https://doi.org/10.1016/j.jvn.2013.06.001
Ma, Y.F., Xu, Y., Chen, Y.P., Wang, X.J., Deng, H.B., He, Y. & Wu, X.J. (2018). Nurses' objective knowledge regarding venous thromboembolism prophylaxis. Medicine, 97(14), pp e0338. https://doi.org/10.1097/MD.0000000000010338
Ministry of Health, Malaysia. (2013). VTE and Maternal death. Maternal Health Sector Family Health Development Division. https://hoshas.moh.gov.my/hoshasv4/attachments/article/76/VTE2017%20VTE%20and%20 Maternal%20Mortality_DrMajdah.pdf
Oh, H., Boo, S. & Lee J.A. (2017). Clinical nurses' knowledge and practice of venous thromboembolism risk assessment and prevention in South Korea: a cross‐sectional survey. Journal of Clinical Nursing, 26(3), pp 427-435. https://doi.org/10.1111/jocn.13424
Sarkar, P. & Ray, M. (2018). An Experimental Study on The Effectiveness of a Structured Teaching Programme Among the Clinical Nurses' Perceived Knowledge and Practice in Deep Vein Thrombosis. International Journal of Scientific Research, 7(6), pp 32-36. https://doi.org/10.36106/ijsr
Simcox, L. E., Ormesher, L., Tower, C., & Greer, I. A. (2015). Pulmonary thrombo-embolism in pregnancy: diagnosis and management. Breathe, 11(4), 282-289. https://doi.org/10.1183/20734735.008815
Tang, X., Sun, B., Yang, Y.H. & Tong, Z.H. (2015). A Survey of the Knowledge of Venous Thromboembolism Prophylaxis among the Medical Staff of Intensive Care Units in North China, PLoS One, 10(9), pp e0139162. https://doi.org/10.1371/journal.pone.0139162
Zobeiri, M. & Najafi, F. (2011). Prophylaxis for deep venous thrombosis: Knowledge and practice of surgeons. Pakistan Journal of Medical Sciences, 27(1), pp 16-20.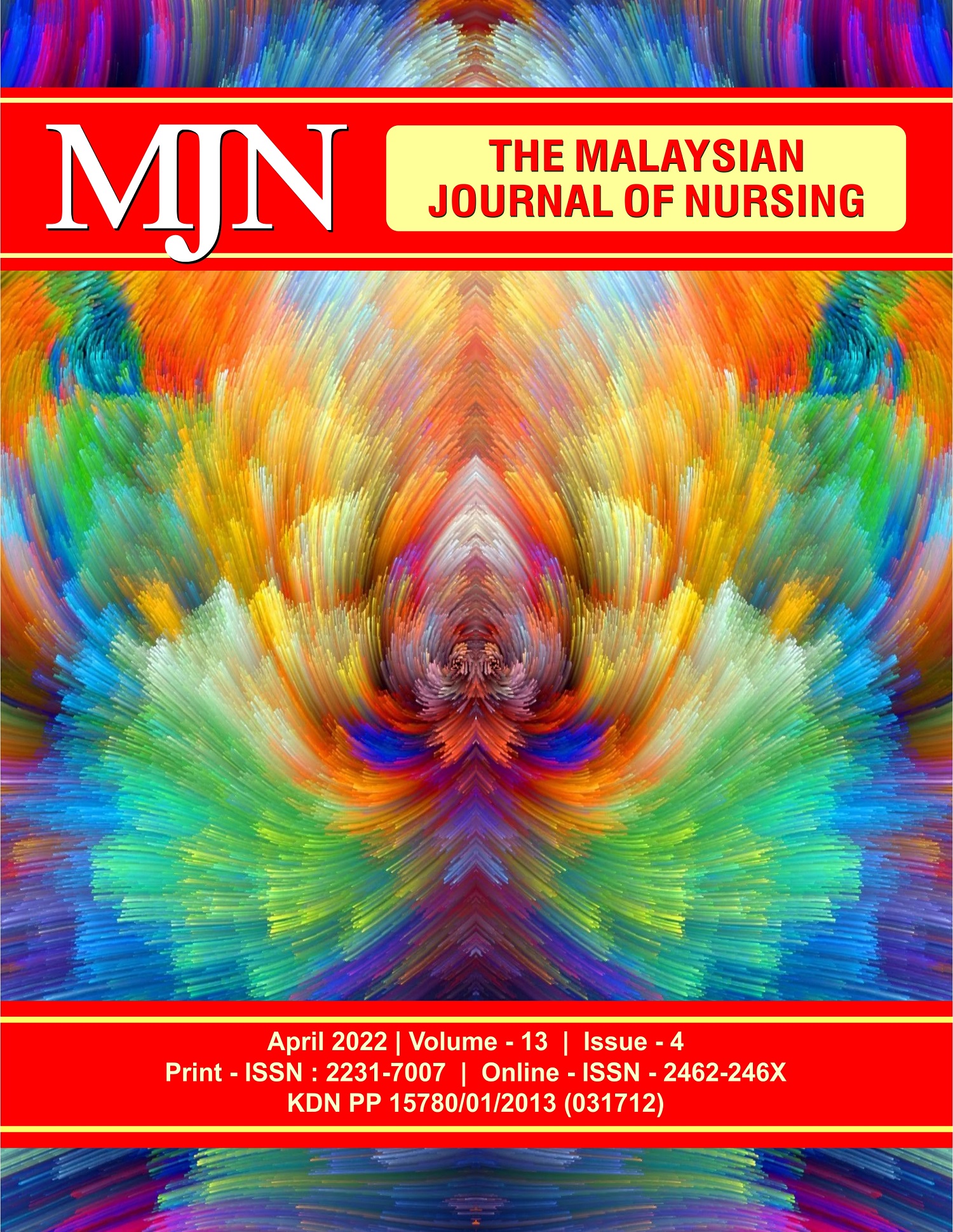 Downloads
How to Cite
Bit Lian Yee, Janet Anak Sano, & Rosnida Abu Bakar. (2022). Knowledge and Awarness Among Registered Nurses in the Prevention of Venous Thromboembolism (Vte) for High-Risk Antenatal and Postnatal Mothers . The Malaysian Journal of Nursing (MJN), 13(4). Retrieved from https://ejournal.lucp.net/index.php/mjn/article/view/1626
License
Copyright (c) 2022 The Malaysian Journal of Nursing (MJN)
This work is licensed under a Creative Commons Attribution-NonCommercial-NoDerivatives 4.0 International License.