EFFECT OF EDUCATIONAL PROGRAM ABOUT DIETARY AND PHYSICAL ACTIVITY ON FUNCTIONAL CONSTIPATION FOR ELDERLY PEOPLE AT ASSIUT GERIATRIC CLUBS
Abstract
Background: Constipation is a preventable and treatable health concern that develops as people age owing to a variety of reasons. Aim: This study evaluates the effect of educational program about dietary and physical activity on functional constipation among elderly. Research design: Quasi-experimental research design was used. Setting: This study was conducted in Assiut geriatric clubs. Sample: The sample composed of 145 elderly. Tools: Four tools were used: 1st tool included three parts: Part (1): Socio demographic characteristic according to El-Gilany, Part (2): Medical history, Part (3): Knowledge about constipation. 2nd tool: Assess the functional constipation in elderly. 3rd tool: Assess Constipation Symptoms. 4th tool: consist of two parts: First part: Physical Activity Scale for the Elderly (PASE). Second part: 3-day food-recall diary, used to assess dietary statues and dietary habits. Results: Mean age of studied elderly was 64.67±2.64, while 94.5% were female. All study elderly in pretest complained about functional constipation, while in post, and follow up test it changed to 9.7% and 51.7 % of them had functional constipation at post, and follow up test respectively. There was a statistically significant difference between the functional constipation and drink water, fenugreek, herbs and soup, eaten brown bread and oates, nuts. Conclusion: Functional constipation symptom was severe in elderly which is related to low physical activity also suitable dietary intake help in relieving these symptoms of functional constipation. Recommendations: Health education program about functional constipation were effective in improving the outcome of functional constipation criteria by using effective teaching media like videos, role-play, and demonstration.
Keywords:
Elderly, Functional Constipation, Dietary & Physical Activity
Downloads
Download data is not yet available.
References
Alimoradzadeh, R., Mokhtare, M., Agah, Sh. (2017). [Comparing the Prevalence of Constipation Risk Factors in the Elderly with and Without Constipation in Hazrat-e Rasoul (PBUH) Hospital (Persian)]. Scale for health research in Egypt. Iranian Journal of Ageing, 12 (1), 78-89.
Central Intelligence Agency. (2018). Egypt demographic profile 2018. https://www.indexmundi.com/agypt/ demographic_ profile.html.
Colleen, C. (2012). Methods of physical activity assessment in older adults. Graduate Theses and Dissertations. 12809. Retrieved from: https://lib.dr.iastate.edu/etd/12809.
Dobarrio-Sanz, I., Hernández-Padilla, J. M., López-Rodríguez, M. M., Fernández-Sola, C., Granero-Molina, J., & Ruiz-Fernández, M. D. (2020). Non-pharmacological interventions to improve constipation amongst older adults in long-term care settings: A systematic review of randomised controlled trials. Geriatric Nursing.
El-Gilany, A. El-Wehady, & M. El-Wasify (2012). Updating and validation of the socioeconomic status. EMHJ, 18 (9), 962-8.
Emmanuel, A., Mattace‐Raso, F., Neri, M. C., Petersen, K. U., Rey, E., & Rogers, J. (2017). Constipation in older people: A consensus statement. International journal of clinical practice, 71(1), e12920.
Farahat, T. M., El-Esrigy, F. A., & Salama, W. E. S. I. (2019). Risk factors for constipation among elderly attending family health center in Damietta District, Damietta Governorate, Egypt. Menoufia Medical Journal, 32(1), 145.
Forootan, M., Bagheri, N., & Darvishi, M. (2018). Chronic constipation: A review of literature. Medicine, 97(20).
Fragakis, A., Zhou, J., Mannan, H., & Vincent, Ho. (2018). Association between Drug Usage and Constipation in the Elderly Population of Greater Western Sydney Australia. Int J Environ Res Public Health. 15(2), 226.
Gao, R., Tao, Y., Zhou, C., Li, J., Wang, X., Chen, L., ... & Guo, L. (2019). Exercise therapy in patients with constipation: a systematic review and meta-analysis of randomized controlled trials. Scandinavian journal of gastroenterology, 54(2), 169-177.
George, S. E., & Borello-France, D. F. (2017). Perspective on physical therapist management of functional constipation. Physical therapy, 97(4), 478-493.
Mohamed, R. A., Awad, M. M., Shalaby, S. I., & Abdelsatar, H. N. (2013). Effect of nutritional health education program on elderly nutritional knowledge, attitude and practice in Abu Khalifa Primary Health Care Center, Ismailia Governorate. The Medical Journal of Cairo University, 81(2), 405-409.
National Institute for Health and Care Excellence. (2017). Constipation. https://cks.nice.org.uk/constipation#!scenario.
Nour Eldein, H., Hind, M., Abdulmajeed, A., & Khaled, S. (2014). The effect of lifestyle modification on severity of constipation and quality of life of elders in nursing homes at Ismailia city, Egypt. Journal of Family and Community Medicine, 21(2), 100-106.
Ozturk, M. H., & Kılıc, S. P. (2019). Effective of education on quality of life and constipation severity in patients with primary constipation. Patient education and counseling, 102(2), 316-323.
Rondanelli, M., Faliva, M. A., Miccono, A., Naso, M., Nichetti, M., Riva, A., ... & Perna, S. (2018). Food pyramid for subjects with chronic pain: foods and dietary constituents as anti-inflammatory and antioxidant agents. Nutrition research reviews, 31(1), 131.
Roque, M., & Bouras, E. (2015). Epidemiology and management of chronic constipation in elderly patients. Clinical interventions in aging, 10, 919. https://doi.org/10.2147/CIA.S54304.
Sierżantowicz, R., Lewko, J., & Jurkowska, G. (2020). The Impact of an Individual Educational Program on the Quality of Life and Severity of Symptoms of Patients with Irritable Bowel Syndrome. International Journal of Environmental Research and Public Health, 17(12), 4230.
Taniguchi, K., Komae, K., Takahashi, A., Yoshioka, T., & Sone, Y. (2017). Effect of waxy barley, Kirarimochi, consumption on bowel movements of late-stage elderly residents at Roken nursing home. Journal of Physiological Anthropology, 36(1), 17.
United Nations Department of Economic and Social Affairs, Population Division (2020). World Population Ageing 2020 Highlights: Living arrangements of older persons (ST/ESA/SER.A/451).
Vargas-García, E. J., & Vargas-Salado, E. (2013). Food intake, nutritional status and physical activity between elderly with and without chronic constipation. A comparative study. Cirugia y cirujanos, 81(3), 214-220.
Yeun, Y., & Lee, J. (2015). Effect of a double-coated probiotic formulation on functional constipation in the elderly: a randomized, double blind, controlled study. Archives of pharmacal research, 38(7), 1345-1350.
Zisberg, A., Shulyaev, K., Gur-Yaish, N., Agmon, M., & Pud, D. (2021). Symptom clusters in hospitalized older adults: Characteristics and outcomes. Geriatric Nursing, 42(1), 240-246.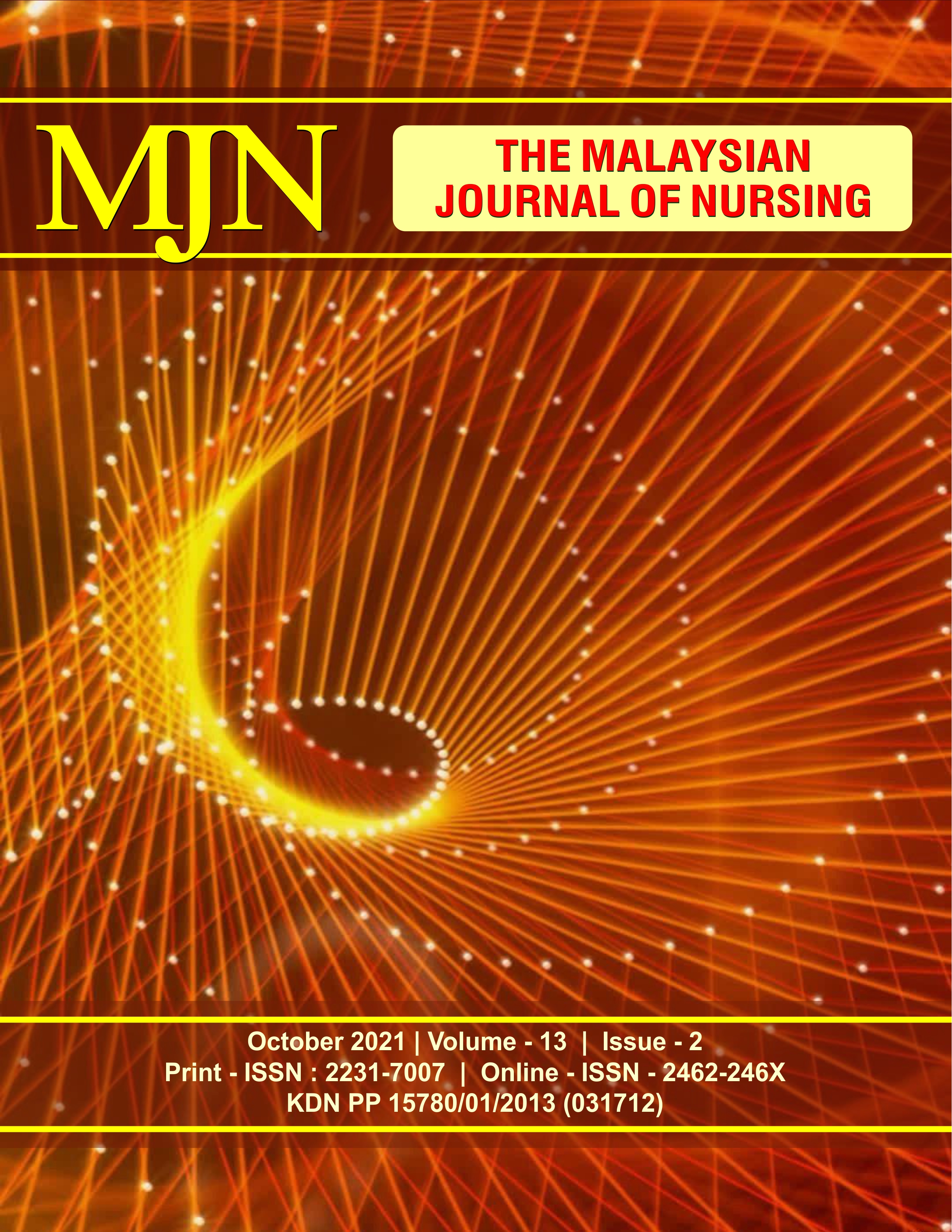 How to Cite
Asmaa Gomaa Ragab, Safaa Ahmed Mohamed Kotb, Rabaa Hamed Hassanein, & Hanaa Moukhtar Ibrahim. (2021). EFFECT OF EDUCATIONAL PROGRAM ABOUT DIETARY AND PHYSICAL ACTIVITY ON FUNCTIONAL CONSTIPATION FOR ELDERLY PEOPLE AT ASSIUT GERIATRIC CLUBS. The Malaysian Journal of Nursing (MJN), 13(2), 90-101. https://doi.org/10.31674/mjn.2021.v13i02.015
License
Copyright (c) 2022 The Malaysian Journal of Nursing (MJN)
This work is licensed under a Creative Commons Attribution-NonCommercial-NoDerivatives 4.0 International License.