WILLINGNESS TO BE VACCINATED AGAINST COVID-19 AMONG HIGHER EDUCATION INSTITUTION
Abstract
Background: The increasing COVID-19 cases worldwide ignite pharmaceutical companies' effort to discover safe vaccines have been eyed globally. Informed perspectives across medical profession explaining beneficial effects of inoculation, however, various personal views persist which lead to confusion among general public.
Objectives: To describe demographic characteristics among education institutions and their willingness to be vaccinated. 
Methods: Data were collected by google forms, in February 2021. The online form was then pre-tested on 10 respondents to refine questions prior to commencing the survey. Convenience sampling was administered for the selection of voluntary respondents. Data cleaning was done prior to the data analysis. Recoding of string variables and omittion of invalid responses were also done. Descriptive statistics was undertaken in a genuine licensed software of IBM SPSS Statistics version 26.
Results: A total of 401 respondents answered the survey. More than half of the respondents are female constituting 62.1% of the sample, whereas males constitute 37.9%, mostly faculty members, single (63.1%), earning 20,000 (54.2%) per month. More than half of the respondents are willing to get vaccinated against COVID-19 (54.6%) and have no preference for a specific type of COVID-19 vaccine (54.9%). Around 30.4% are still unsure if they should get vaccinated or not and 15% have indicated negatively. Comparing both sexes, a larger frequency of males is willing to get vaccinated constituting 69.1% and females (45.8%).
Conclusion: Males showed more willingness to be inoculated regardless of COVID-19 vaccine types. Education and continuous campaign on the importance of vaccination program is a must to increase success rate to end the health crisis.
Keywords:
Caring, Covid-19, Gender, Higher Education, Vaccination Hesitancy
Downloads
Download data is not yet available.
References
Acob, J. R. U. (2018). Caring as Unending Expression of Nursing (CUEN): A theory of nursing. The Malaysian Journal of Nursing (MJN), 10(2), 52-57.
Acob, J. R. U. (2020). Appreciating positivity of COVID-19. Belitung Nursing Journal, 6(6), 226-228.
Fadda, M., Albanese, E., & Suggs, L. S. (2020). When a COVID-19 vaccine is ready, will we all be ready for it? International journal of public health, 65(6), 711–712.
Grech, V., Bonnici, J., & Zammit, D. (2020). Vaccine hesitancy in Maltese family physicians and their trainees vis-a-vis influenza and novel COVID-19 vaccination. Early Human Development.
Mukattash, T. L., Jarab, A. S., Abu-Farha, R. K., Nusair, M., Mukattash, I. L., Obaidat, R. M., Khdour, M., Basheti, I., (2020). Willingness and readiness to test for COVID‐19; A qualitative exploration of community pharmacists. International Journal of Clinical Practice, 74(12), e13620.
Mundra, A., & Garg, B. S. (2020). Prospects of Vaccine against COVID-19. Indian Journal of Community Medicine: Official Publication of Indian Association of Preventive & Social Medicine, 45(4), 391.
The ASEAN. (2021). Covid-19 Vaccines for All. Double Issue August–September 2021. https://asean.org/wp-content/uploads/2021/10/The-ASEAN-Vaccines-For-All-August-Sept-2021.pdf
World Health Organization (2019). Ten Threats to Global Health in 2019. https://www.who.int/news-room/spotlight/ten-threats-to-global-health-in-2019.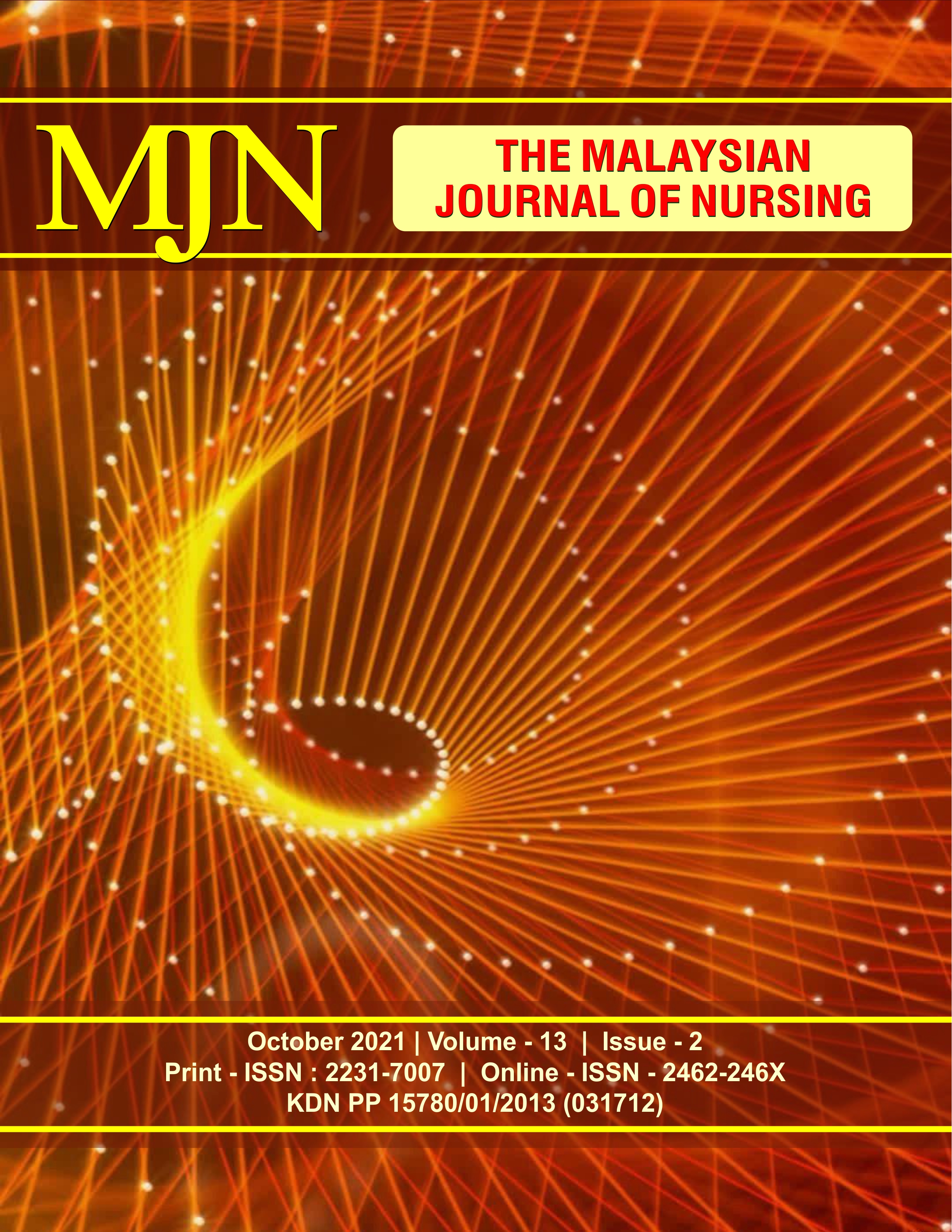 How to Cite
Joel Rey Acob, Moises Neil V. Seriño, Reyvin N. Sabanal, Therese C. Ratilla, Elwin Jay Yu, Lilian B. Nuñez, & Maria Hazel I. Bellezas. (2021). WILLINGNESS TO BE VACCINATED AGAINST COVID-19 AMONG HIGHER EDUCATION INSTITUTION. The Malaysian Journal of Nursing (MJN), 13(2), 56-62. https://doi.org/10.31674/mjn.2021.v13i02.010
License
Copyright (c) 2021 The Malaysian Journal of Nursing (MJN)
This work is licensed under a Creative Commons Attribution-NonCommercial-NoDerivatives 4.0 International License.