THE IMPACT OF COVID-19 TO THE MENTAL HEALTH OF HOUSEWIVES AND THE ADAPTATION PROCESS FROM A CULTURAL PERSPECTIVE
Abstract
Background: The existence of lockdown regulation during the COVID-19 pandemic has an impact on the psychological pressure of housewives. Their role becomes more extensive as they have to be a teacher for their children and also have to get over the economic problems. Housewives are required to adapt by using appropriate coping strategies so that they do not undergo stress problem and remain mentally healthy. This study aims to describe the mental health and coping strategies of housewives in Sungai Bawang Culture village and analyze the adaptation process from the cultural perspective of the Dayak Kenyah tribe. Methods: This study was a descriptive study using standard instruments such as the Depression, Anxiety and Stress Scales (DASS-21) questionnaire to measure stress levels and the Ways of Coping Questionnaire to describe the coping strategies used. Structured interviews were conducted by researchers to find cultural perspectives that affect the adaptation process. Results: The results showed that the majority of housewives in Sungai Bawang culture village used problem focus coping strategies and the majority did not experience stress. Researchers also obtained data on the existence of cultural links that support the use of these coping strategies. Conclusion: Although the strategy used was focused on the problems. Further studies are necessary to find solutions to overcome these problems or find solutions to reduce the impact of the problems.
Keywords:
COVID-19, Coping, Mental Health, Culture
Downloads
Download data is not yet available.
References
Adliyani, Z.O.N. (2015). Pengaruh Perilaku Individu terhadap Hidup Sehat. Jurnal Majority, 4(7), 109-114. https://doi.org/10.22146/jpsi.10037
Bakhtiar, M. I., & Asriani, A. (2015). Effectiveness Strategy of Problem Focused Coping and Emotion Focused Coping In Improving Stress Management Student Of SMA Negeri 1 Barru. Guidena: Jurnal Ilmu Pendidikan, Psikologi, Bimbingan dan Konseling, 5(2), 69-82. https://doi.org/10.24127/gdn.v5i2.320
Banerjee, D. (2020). The COVID-19 outbreak: Crucial role the psychiatrists can play. Asian Journal of Psychiatry, 50, 102014. https://doi.org/10.1016/j.ajp.2020.102014
Brooks, S.K., Webster, R.K., Smith, L. E., Woodland, L., Wessely, S., Greenbergh, N., & Rubun, G. J., (2020). The Psychological Impact of Quarantine and How to Reduce it: Rapid Review of the Evidence. The Lancet, 395(10227), 912-920. https://doi.org/10.1016/S0140-6736(20)30460-8
Di Giorgio, E., Di Riso, D., Mioni, G., & Cellini, N. (2021). The interplay between mothers' and children behavioral and psychological factors during COVID-19: An Italian study. European Child & Adolescent Psychiatry, 30(9), 1401-1412. https://doi.org/10.1007/s00787-020-01631-3
Dumatubun, A. E. (2002). Kebudayaan, kesehatan orang Papua dalam perspektif antropologi kesehatan. Jurnal Antropologi Papua, 1(1), 24-33.
Fornes-Vives, J., Garcia-Banda, G., Frias-Navarro, D., & Rosales-Viladrich, G. (2016). Coping, stress, and personality in Spanish nursing students: A longitudinal study. Nurse Education Today, 36, 318-323. https://doi.org/10.1016/j.nedt.2015.08.011
Harsanto, F. H. (2020). Kenyah di Desa Budaya Pampang: Studi Kasus Perubahan Sosial Budaya Masyarakat tahun 1972-2015. Skripsi: Program Studi Ilmu Sejarah Fakultas Sastra Universitas Sanata Dharma. http://repository.usd.ac.id/31939/2/144314008_full.pdf
Lau, D.K., Agustina, V., & Setiawan H. (2019). Gambaran Tingkat Ansietas dan Strategi Koping Pada Mahasiswa Keperawatan Dalam Menghadapi Ujian Praktek Laboratorium. Jurnal Keperawatan Jiwa, 7(2), 215-226. https://doi.org/10.26714/jkj.7.2.2019.217-228
Lazarus, R. S., & Folkman, S. (1984). Coping and adaptation. The Handbook of Behavioral Medicine, 282325.
Manullang, C. M., Ranimpi, Y. Y., & Pilakoannu, R. T. (2020). Kesehatan Mental dan Strategi Koping Dalam Perspektif Budaya: Sebuah Studi Sosiodemografi di Kampung Aminweriri. Insight: Jurnal Pemikiran dan Penelitian Psikologi, 16(1), 30-45. https://10.3258/ins.v%vi%i.3167
Mesuri, R. P., Huriani, E., & Sumarsih, G. (2014). Hubungan Mekanisme Koping dengan Tingkat Stres Pada Pasien Fraktur. Ners Jurnal Keperawatan, 10(1), 66-74.
Nadatien, I., & Mulayyinah, M. (2019). Hubungan Mekanisme Koping Dengan Tingkat Stres Pada Pasien Kanker Di Yayasan Kanker Indonesia Cabang Jawa Timur. JI-KES (Jurnal Ilmu Kesehatan), 2(2), 68-71. https://doi.org/10.33006/ji-kes.v2i2.121
Potter, P. A., & Perry, A. G. (2010). Fundamental Keperawatan, Buku 3. Jakarta: Salemba Medika.
Qadariah, L., Abidin, F.A., Lubis, F.Y., & Anindhita V. (2020). Socio-demographic Determinants of Indonesian Mothers' Psychological Distress during COVID-19 Pandemic. Makara Human Behavior Studies in Asia, 24(2), 101-108. https://doi.org/10.7454/hubs.asia.2201020
Rahmatika, R. (2014). Hubungan antara emotion-focused coping dan stres kehamilan. Jurnal Psikogenesis, 3(1), 92-103. https://doi.org/10.24854/jps.v3i1.54
Rodiyah, I., & Irianto, J. (2019, March). Gender-Based Affirmative Policy for Female Migrant Workers. In ICEMSS 2018: Proceedings of the 1st International Conference on Emerging Media, and Social Science, ICEMSS 2018, 7-8 December 2018, Banyuwangi, Indonesia (p. 7). European Alliance for Innovation. http://dx.doi.org/10.4108/eai.7-12-2018.2281775
Satrio, G. P., Soenarih, A., Suprapti, S., & Wijaya, R. (2020). Optimalisasi Peran Perempuan Adat Dayak Kenyah Melalui Pengembangan Usaha Kerajinan Tradisional di Desa Budaya Sungai Bawang. Jurnal Perspektif: Jurnal Kajian Sosiologi dan Pendidikan, 3(3), 535-547. http://dx.doi.org/10.24036/perspektif.v3i3.327
Syakriah, A. (2020). COVID-19 pandemic forces Indonesian mothers to do it all. The Jakarta Post.https://www.thejakartapost.com/news/2020/04/21/covid-19-pandemic-forces-indonesian-mothers-to-do-it-all.html
Tarehy, M. G. K., Nusawakan, A. W., & Soegijono, S. P. (2019). Kesehatan Mental dan Strategi Koping Dalam Perspektif Budaya: Sebuah Studi Sosiodemografi di Ambon. Jurnal Keperawatan Muhammadiyah, 4(1).
Vibriyanti, D. (2020). Kesehatan mental masyarakat: mengelola kecemasan di tengah pandemi COVID-19. Jurnal Kependudukan Indonesia, 69-74. https://doi.org/10.14203/jki.v0i0.550
Whitty, M. T. (2003). Coping and defending: age differences in maturity of defence mechanisms and coping strategies. Aging & Mental Health, 7(2), 123–132. https://doi.org/10.1080/1360786031000072277
Zhang, J., Wu, W., Zhao, X., & Zhang, W. (2020). Recommended Psychological Crisis Intervention Response to the 2019 Novel Coronavirus Pneumonia Outbreak in China: A Model of West China Hospital. Precision Clinical Medicine, 3(1), 3–8. https://doi.org/10.1093/pcmedi/pbaa006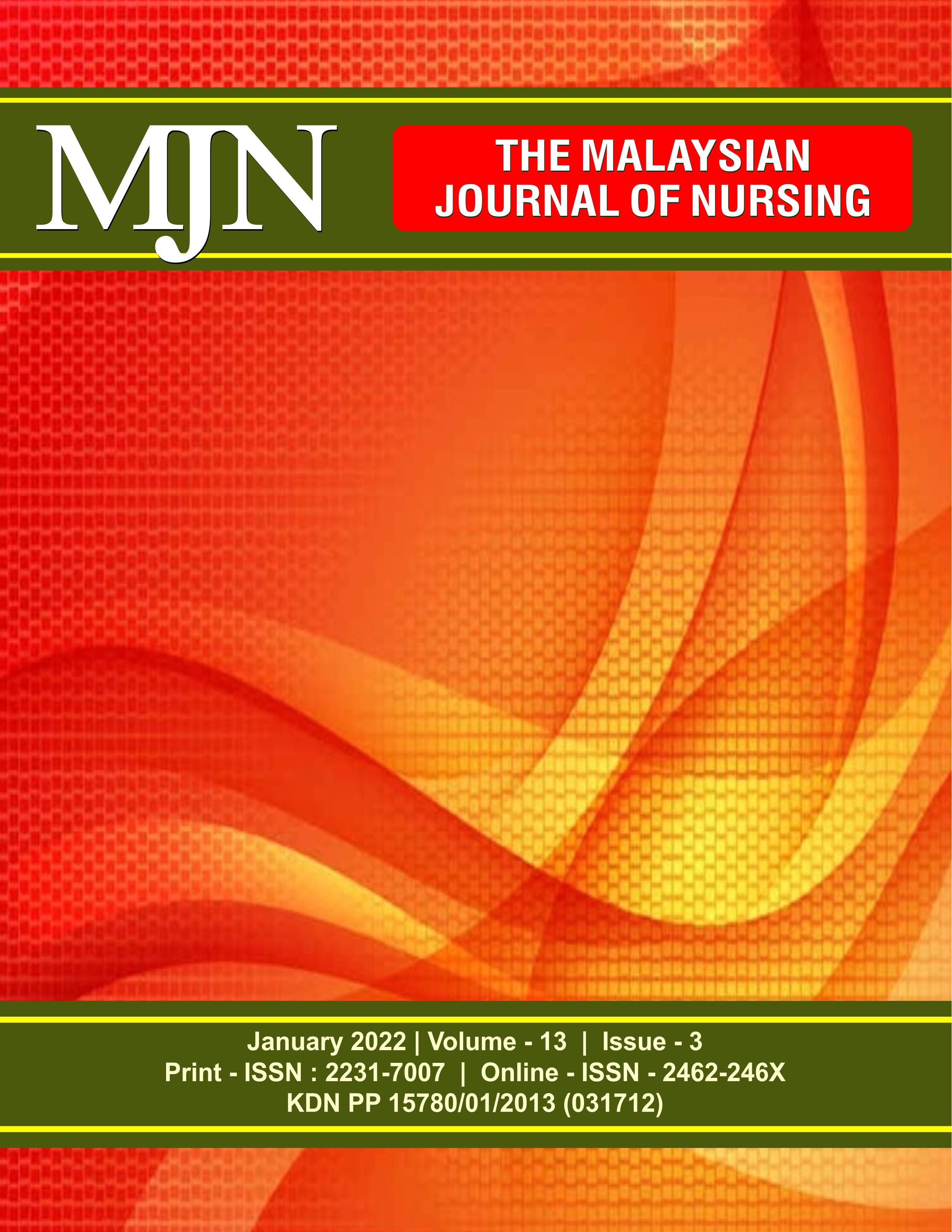 How to Cite
Maria Floriana Ping, Elfina Natalia, & Rufina Hurai. (2022). THE IMPACT OF COVID-19 TO THE MENTAL HEALTH OF HOUSEWIVES AND THE ADAPTATION PROCESS FROM A CULTURAL PERSPECTIVE. The Malaysian Journal of Nursing (MJN), 13(3), 71-76. https://doi.org/10.31674/mjn.2022.v13i03.011
License
Copyright (c) 2021 The Malaysian Journal of Nursing (MJN)
This work is licensed under a Creative Commons Attribution-NonCommercial-NoDerivatives 4.0 International License.